Racists Anonymous meetings continue Sacred Conversations on Race
As part of its vision of becoming a social action church, Trinity United Church of Christ is taking a unique approach to sacred conversations on race — focusing on the issue in a 12-step program aimed at addressing the racial divide in its community of Concord, N.C.
Each Wednesday for the past six weeks, Trinity UCC hosts a Racists Anonymous meeting, inviting anyone to come in to discuss racism or their racist tendencies from a spiritual perspective.
"It really goes back to the UCC Sacred Conversations on Race that started about nine years ago," said the Rev. Nathan King, Trinity's pastor. "More recently, with the escalation of violence in our society, particularly against black men, we had to do something. We were coming into church every Sunday and we were praying for someone who had died in a tragic way perpetrated by violence."
About a dozen people have been continually attending the Racists Anonymous meetings, and each successive meeting has attracted new people to Trinity UCC, explains Carol Stanley, the group facilitator.
"The first week we only had church members attend, but after that we've had more and more people from the community," Stanley said. "It is a multi-ethnic, multi-cultural, multi-age group. We have a couple of millennials as well as 80 year-olds. We also have a few LGBTQ attending."
Each meeting starts with a prayer and greeting before moving into the Statement of the Problem and the Statement of the Solution. Stanley then shares the 12 steps of the program the attendees hope to accomplish, and the group goes around introducing themselves — some even admitting they are racist and others saying they aren't sure. From there, the members share with each other the ways in which they experience racist actions.
 
"This is based on racism that permeates every area of our lives since we were born — the systemic racism in our society," Stanley said. "That is a difficult topic to grasp and apply. None of us want to be a racist — we want to be a 'good guy'. We are slowly beginning to realize we need to unearth our deep down racist thoughts and responses in order to change our world, one person and one day at a time."
King and Stanley said the congregation launched the program in North Carolina as a reaction to the number of high profile shootings happening in America— from police shootings of unarmed African Americans, to mass shootings in Orlando and Charleston, S.C.
"It was painful to stand by and watch these events unfold in our country and in our world," Stanley said. "This seemed to be one small thing we could do here in North Carolina. I think it is going pretty well. We are still new and starting out. It is hard to 'confess' our racism, but we are getting a bit more honest about it."
Trinity UCC started Racists Anonymous, adapting a program created by the Rev. Ron Buford, the pastor of Congregational Community Church in Sunnyvale, Calif. and developer of the God is Still Speaking campaign. The California program began with meetings last year under the name "Here I Stand!". "I saw Ron Buford's work and responded to him with interest," Stanley said. "Our church has been thinking that race was our next social justice issue and the time is right. I brought it to our Consistory and they enthusiastically embraced it."
After a trip to Europe, where Buford noticed that racism wasn't directed at him but instead at East European ethnic groups, he sought to find a way to "look at our own racism, to own it, to get rid of it," he said. "It's why, I believe, we have institutional racism everywhere until we rid ourselves of our own racism. If we could get people to be more mindful of the ways they are racist, we might raise a generation of children in a society free of racism."
The program is easily adaptable for any congregation that wants to host its own meetings. "We can send churches out a kit — and it really is a set of documents and it includes a covenant that the resources be used in a particular way, a guide to help create meetings so that people working the 12 steps can come in and find a community," he said.
Buford admits that, early on, he predicted Racists Anonymous would have met for a few weeks and stopped. But now he has seen it expand to different congregations such as Trinity UCC.
"It's the way the church began, in small groups, with small people confessing and giving testimony," Buford said. "It is one of the most Christian of things."
Trinity UCC will continue the current program for a full 90 days — into October, King estimates — and then will assess what tweaks they might make to it.
"I would expect it to continue," King said. "I would hope it would continue. The feedback on this has been predominantly positive. Ninety-nine percent of the feedback we've gotten online has been positive, and we've gotten inquiries from others on how to start this. It seems that this has touched a nerve, and that offers some hope."
The Rev. John C. Dorhauer, general minister and president of the UCC, feels a sense of pride for Trinity's witness. "This is the kind of community mission that matters, and [their] leadership in this is much appreciated," said Dorhauer, who pledged to make white privilege discussions a key initiative of the church.
To move the initiative along, Dorhauer and four others writers have collaborated to create "White Privilege: Let's Talk—A Resource for Transformational Dialogue," an adult UCC curriculum designed to invite church members to engage in safe, meaningful, substantive, and bold conversations on race. The curriculum will be available to the wider church on Thursday, Sept. 1 free of charge from UCC Resources.
"I'm looking forward to the curriculum," said Stanley, who had a Ph.D. and worked as a school psychologist. "I think that will be helpful from a spiritual perspective and not just a psychological one."
---
Related News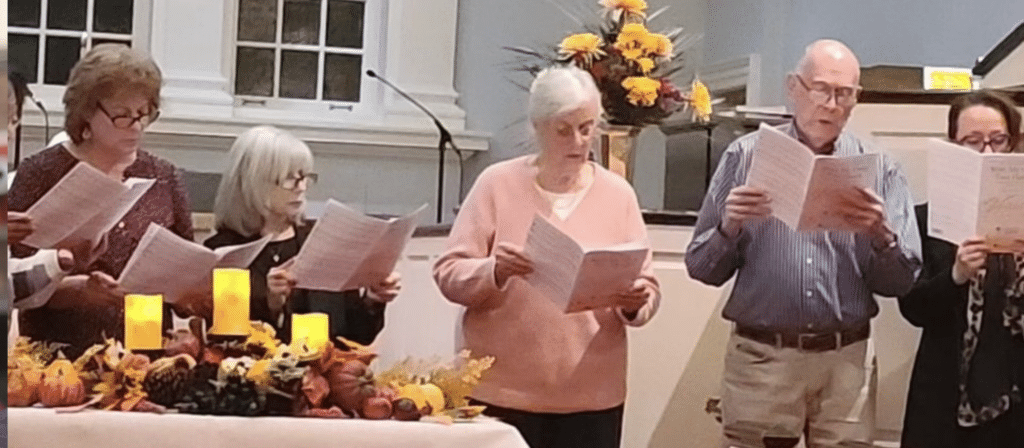 Many United Church of Christ congregations across the country participated in interfaith...
Read More