Racial justice minister: German BIPOC community 'blessed me deeply'
The Rev. Velda Love, the United Church of Christ's minister of racial justice, recently visited partner churches in Germany. She spoke at an annual "Church and Racism" conference in Berlin and met with Black, Indigenous and People of Color church members and theology students. In Westphalia, she spoke at more events and met with church leaders. Some German partners are using the UCC's "Sacred Conversations to End Racism" curriculum authored by Love. It was translated by Josephine Furian, a German church member who became a certified UCC SC2ER facilitator. More German church members have joined the current SC2ER training cohort.
Here are excerpts from Love's thoughts about the trip. Her complete report is available here, at the Join the Movement Toward Racial Justice website. It also contains links to perspectives from Furian of the Evangelical Church of Berlin-Brandenburg-Silesian Upper Lusatia and Christina Biere of the Protestant Church of Westphalia.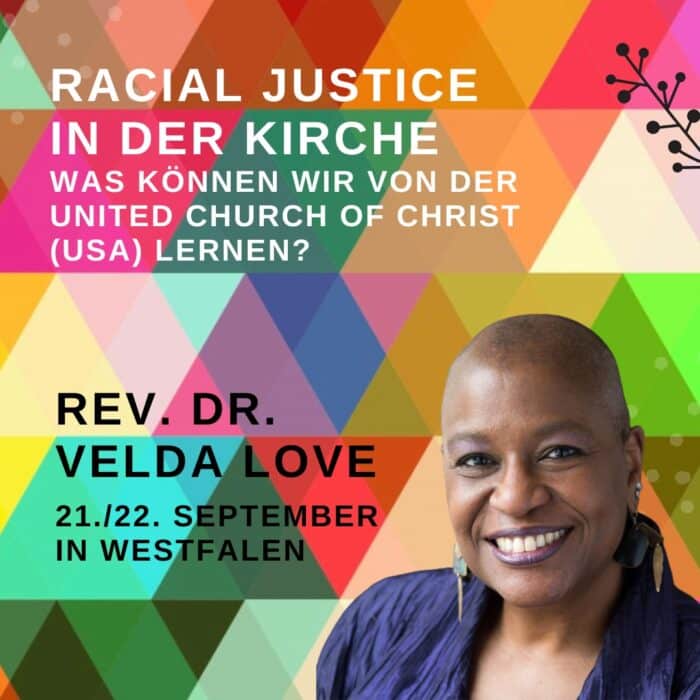 … Leaders within the BIPOC community blessed me deeply as I led anti-racism workshops. I felt their words, in German, moving through my spirit, which often did not need translation because they resonated with sincere desires to be heard, respected, seen, and part of the changes that need to happen so that racial justice is a reality. The future of the German church will be in the capable hands of current theology students, and clergy of diverse people groups of color from across the country.
As we concluded a day of workshops in Berlin, I asked members of the BIPOC community to name out loud what they needed and wanted from their church and white allies. They said:
"We want a church that sees us in our strength and not as victims or in need of help. We want a Church that understands our pain, to experience racism on a daily basis, that grieves with us and keeps us going. We want a Church that is not compliant with injustice. We want a church in which we do not have to explain ourselves again and again. We want a church in which space is made and white people resign because other perspectives are needed for the good of the community. We want a church in which the diversity of theology can stand side by side on an equal footing."
I also met with leaders addressing Germany's long history of colonialism, discrimination and racism. They are committed to seeing the church implement anti-racism policies and practices, develop resources to support clergy of color, and deepen conversations and commitments with faith leaders within Afro-German communities and their white allies.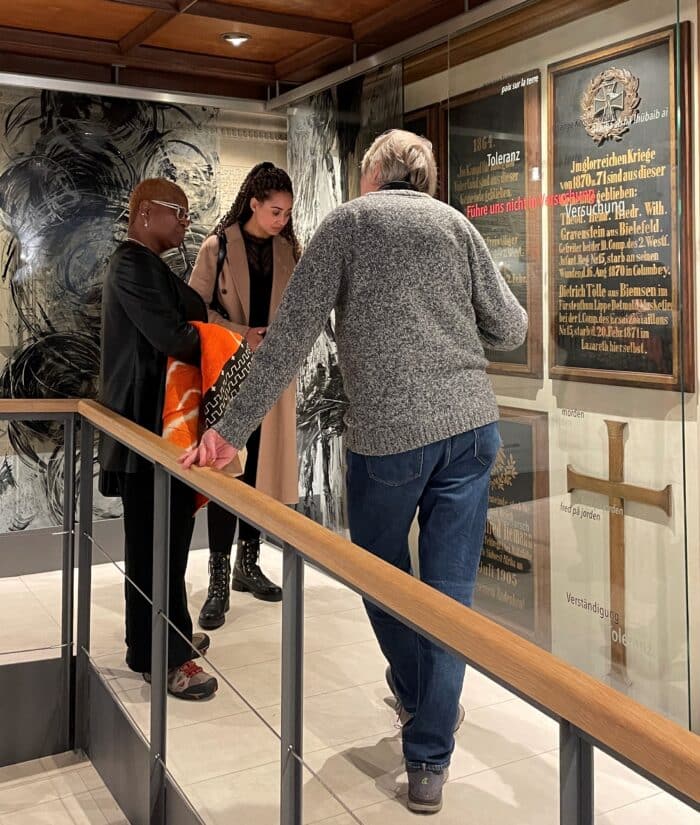 I saw an example of that history in a display of plaques naming members of German colonial troops who, in the early 20th century, committed the genocide of Herero and Nama in today's Namibia. Their victims' descendants are demanding restorative justice from the German government and churches, which were structurally linked to colonial power and still benefit from the conditions of that time.
This reminded me of the profound impact, in the U.S., of the Equal Justice Initiative Museum and Memorial. Located in Montgomery, Ala., it includes the nation's first memorial to the legacy of enslaved Black people: people terrorized by lynching, humiliated by racial segregation and Jim Crow, and burdened with contemporary presumptions of guilt and police violence.
Structural and systemic racism continues to perpetuate violence on people of African descent globally.
Another example came during a walk in Berlin. My racial justice, anti-racism, and anti-colonialism antenna was alerted to massive structures built to honor political leaders during the Prussian empire, host of the Berlin Conference in 1884, which drew lines across a map and colonized Africa. I recalled the enslavement, ethnic cleansing, massive genocide and theft of wealth from the continent. The wealth confiscated then lives on in existing and ongoing building projects in Berlin today.
On that same walk, I visited an anti-colonial protest. I met its leader, Tahir Della, spokesperson of the Initiative of Black People in Germany. We talked about our common work of ending racism and colonialism, raising awareness, and building solidarity among impacted communities of color. Again, I was grateful for another encounter affirming my presence.
I committed to being available to our church partners when needed to share resources, encouragement and support. My hope is to return in two years to share stories, celebrate graduations and continue our shared work toward racial justice. I left Germany with a heart full of gratitude, emotional connections with my BIPOC siblings, and a deeper commitment to remaining a drum major for justice with the guidance of the Holy Spirit.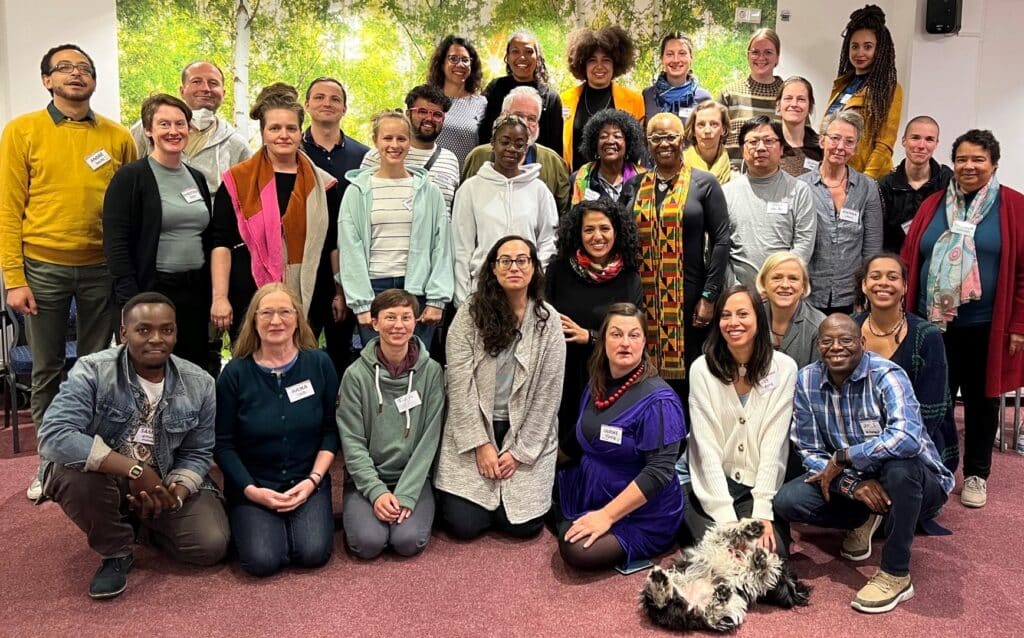 ---
The Rev. Velda Love serves in Justice and Local Church Ministries as minister of racial justice and leader of Join the Movement Toward Racial Justice.
---
This article was updated on Oct. 17, 2022, adding a link to the Rev. Velda Love's full report on her trip.
---
Content on ucc.org is copyrighted by the National Setting of the United Church of Christ and may be only shared according to the guidelines outlined here.
---
Related News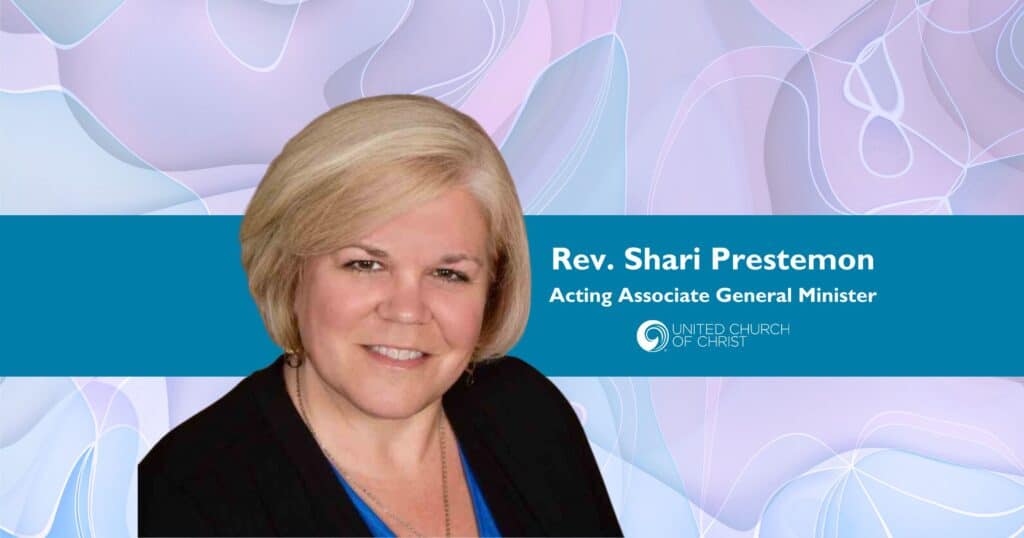 A new United Church of Christ national leader has been called. The UCC Board voted in a...
Read More