Progressive faith community in Arizona readies for Trump rally
The progressive Protestant leadership in Arizona is uniting behind a call against the evil of white supremacy in advance of President Donald Trump's visit to Phoenix Tuesday evening, as two UCC faith communities and the Southwest Conference organize an assembly of love and justice in response to the president's rally at the Phoenix Convention Center.
"With the absence of morality in government leaders, the church has to stand up to be the moral voice, even more so in today's political climate," said the Rev. William Lyons, conference minister of the United Church of Christ Southwest Conference. He and the pastors of two UCC churches are sponsoring a Unity March against Hate and Bigotry in downtown Phoenix, which begins with a vigil Tuesday evening at First Church UCC, followed by a march from the church to St. Mary's Basilica Courtyard near the convention center, which is being set up as a safe space. From there, demonstrators gathered outside the convention center plan to process to the state capitol.
"As religious leaders we have a fundamental belief that people are good and can rise to unity, justice and peace when called to do so," said Lyons. In addition to local pastors, he'll be joined at the rally of love and compassion by General Minister and President the Rev. John C. Dorhauer.
"It is getting harder and harder for us to keep pace with our commitments to build a just world for all," said Dorhauer. "Three weeks ago we were reacting to the Trans ban in the military. Two weeks ago we were responding to a threatened all out nuclear war with North Korea and an unforeseen military engagement with Venezuela. One week ago, Charlottesville happened and tried to drag us back into the race wars of our past. We are committed to standing for justice in all of these areas, as we also continue to stand against the mass deportation of our undocumented friends in so many of our churches and communities."
The UCC's ecumenical vigil is one of several being organized to mark Trump's visit to Phoenix, with a local paper counting at least ten events planned in protest. Concern about violence remains. 
"Currently tensions are running very high and those tensions carry over to Trump's visit to Phoenix and are heightened by the possibility of President Trump granting a pardon to former Sheriff Joe Arpaio," said the Rev. Kenneth Heintzelman, senior minister, Shadow Rock UCC. "The pardon would add moral injury onto our already wounded and beleaguered Latino neighbors."
That's why Heintzelman is one of a group of faith leaders organizing a safe space for prayer outside the Phoenix Convention Center. 
"Our presence at this place and our action to create a safe zone is an intentional counter message to the violence and conflict which is dominating our attention and really has no place in our society," Heintzelman said. "Such bigotry, intolerance, hate, fear, and lack of imagination is causing too much pain and creating a breach that will take a long time to heal. We want to be part of a greater America shaped by the American values of inclusion, justice and freedom."  
Those values are strongly underscored in a joint letter going out today, from the Bishops and Executives Roundtable of Arizona, written by Lyons and signed by the area leaders of four other denominations, which "affirms the value of every human being."
"We stand together to bear witness to what is happening in our streets, offering a truthful counter-narrative to stories that blame victims and rationalize bodily harm and murder," the letter reads. "We name as evil the thoughts, words, and deeds of white supremacy, because they violate the image of God in which every human being is created."
"We are mindful of the victims of racially motivated violence in our nation, most recently in Charlottesville, Va.," the letter states. "May the comfort and healing of God be with them and with their families. It is because of that tragedy and others like it we have chosen this moment to speak out. Our words reflect the call of ones to whom we look as prophets, and the teachings of our sacred texts: to maintain justice and do what is right."
"The time is long overdue to dismantle policies that perpetuate discrimination, white privilege, exclusion, fear, and hate in all our American institutions: government, business, schools, courts, and yes, even in our own communities of faith," the letter continues. "This is not the time to leave unaccountable public officials who have used their power and positions to harm other persons based on their skin color or ethnicity. Sin has consequences even when forgiven."
"These are not words we want to say, these are words we are compelled to say." Lyons said. "To address the evil in our country, to name evil and immorality for what it is."
"I will be speaking tomorrow in Phoenix," Dorhauer said. "We will do our best to establish a narrative that stands in sharp contrast to the divisive, hateful and condemnatory rhetoric now gaining purchase in the highest seats of power and government. There will be a clear call to love, to justice, to peace."
---
Related News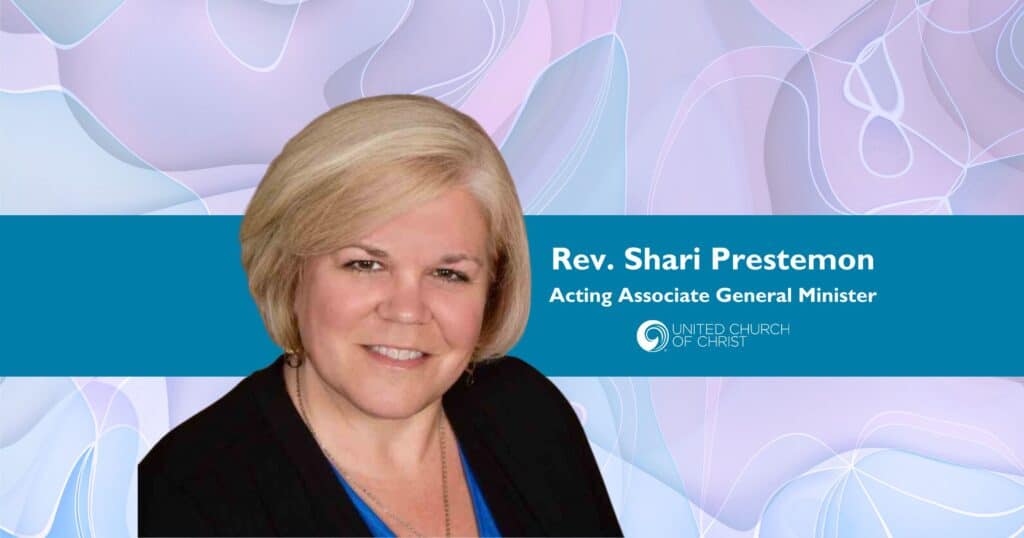 A new United Church of Christ national leader has been called. The UCC Board voted in a...
Read More