A Thanksgiving dinner at an Ohio church brings several groups together in community
A community of several types of people came together Tuesday for a Thanksgiving meal in the fellowship hall of an Ohio church. A transgender support group hosted the dinner, invited members of the Fairlawn-West United Church of Christ congregation, and welcomed four homeless families staying at the Akron-area church as part of the Family Promise program.
Jake Nash, the founding director of TransAlive, said about 85 people gathered Nov. 22 for the meal he and his colleagues prepared, and a wonderful time was had by all.
"In the TransAlive group many individuals don't have families or have been disowned," he said. "[The holidays] can be a very difficult time for people in the community." Meeting usually on the fourth Tuesday of every month, which often falls before Thanksgiving, several years ago "we decided to have a community dinner on the night we have our usual meeting."
It went so well, the group looks forward to continuing the tradition.
"So many folks don't have a place or are anxious to go to family functions," Nash said. "This can be an extremely stressful time. We wanted to do something where people can just come and be who they are. We invited the people from the church because it's important to have supportive allies there. The members of Fairlawn-West have always been so welcoming, we wanted to include them."
And when Nash learned that Fairlawn West was hosting families in transition from the Family Promise, a group which helps homeless families with children stay together until they can secure a stable home environment, they were quickly welcomed too.
"We really wanted to be welcoming to those families," he said. "While the circumstances can be different, both groups of people are going through a difficult time. There's a stigma involved with being part of both groups. We wanted to bring everybody together, to come together as a family even for one night."
"The hope is that everyone will have an experience that we are all God's children, and that each of us faces challenges that are often misunderstood," said the Rev. Debbie Rhinesmith, pastor of Fairlawn-West UCC. "Our members have a history of supporting both TransAlive and Family Promise and so being that 'family' joining the dinner, actively demonstrates the church's love and acceptance." 
"An additional benefit, above gathering together to give thanks, is that now these families have been exposed to trans people, and they could see for themselves that regardless of any differences, all people share a common humanity," Rhinesmith continued.
The pastor said dinner went smoothly. Everybody was kind, friendly to those around them, as they enjoyed the traditional Thanksgiving meal with all the trimmings. Turkey, ham, mashed potatoes and stuffed pumpkins for the vegan and vegetarian folks.
"It's more than Thanksgiving – it's building community," Nash said. "It's about community, coming together as a family when many people don't have family. We can be the only family they have. They make their own family of choice, so that nobody is alone. People who come together, who might not be connected any other way, but the common thread of being trans binds them together. And it has to be a strong thread, so we don't break under societal expectations."
Coming together to celebrate Thanksgiving was especially important to Nash the day after Transgender Day of Remembrance, an annual observance on Nov. 20 that honors the memory of those whose lives were lost in acts of anti-transgender violence.  
He gave thanks for "Pastor Debbie who opened the church on Monday" so people could go in and pray, sit silently or meditate. Rhinesmith also invited Nash to display posterboards in the sanctuary recognizing the 25 trans people killed in the United States this year.
"This is the one thing in our community that sadly, is important to us. We all know that we may be one encounter away from death," Nash said. "Hatred is so visceral. It's shaking our world. The whole event can be traumatizing to the transgender community. It's real, it's wrong, and it's important we don't forget."
"When it's staring you right in the face it's hard not to see these people as human beings," he continued. "Their life is gone because someone didn't like who they were. We're very grateful that Pastor Debbie did that, to make sure transgender and non-conforming members feel a part of that (church)."
---
Related News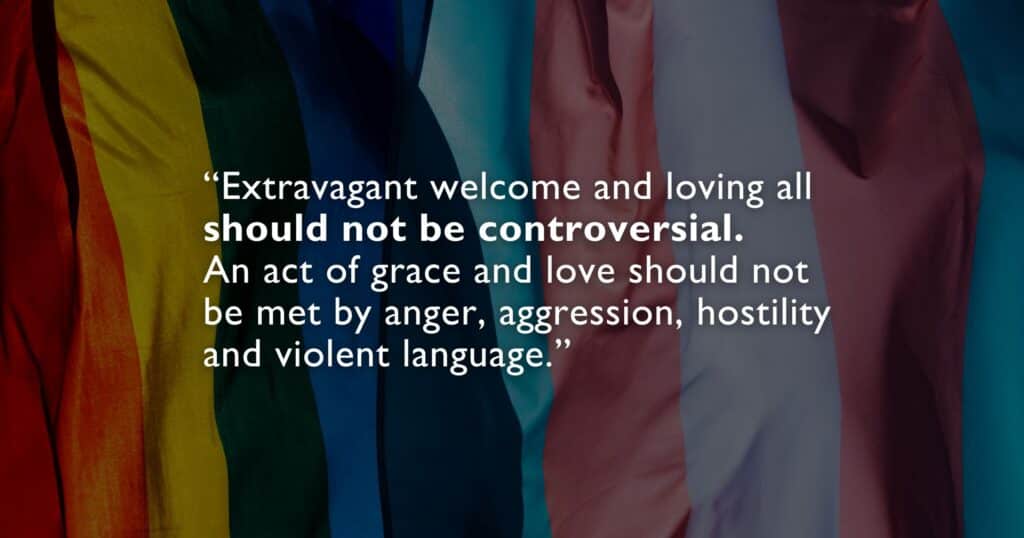 The United Church of Christ National Officers and the Conference Minister of the South Central...
Read More