Praying via video, clergy offer 'special vigil' for LGBTQ lives lost in Holocaust
In observance of International Holocaust Remembrance Day, Thursday, Jan. 27, an interfaith ministry based at a United Church of Christ congregation has offered a prayer and video that rejects "the violation of queer humanity."
"The prayer acknowledges all lives lost in the Holocaust and holds a special vigil for the LGBTQIA community whose dehumanization continues to this day," said Victoria Anderson. She directs content development for Believe Out Loud, based at Cathedral of Hope UCC, Dallas. "The video features Muslim, Jewish, and Christian faith leaders who are located in North America and in Germany." Among them is the Rev. Bruce Lamb, minister of faith formation at The Riverside Church, a New York City congregation affiliated with the UCC and the American Baptist Churches.
Here is the text of the prayer:
God of love. God of mercy. God of remembrance.

God of refinement. God of care. God of comfort.

We come to you with hearts heavy, weary from the wickedness of this world.

Today, we remember the 6 million European Jews, the 5 million prisoners of war, the Jehovah's witnesses, the Romany, and the homosexuals who were targeted and murdered during the Holocaust.

We remember the more than 50,000 men who were sentenced to jail because they were homosexual.

We remember the brutal torture, labor, experimentation, and execution in police prisons rather than in concentration camps.

We cry for the looting, closing, and burning of the extensive collection in the Institute for Sexual Science.

We cry for the 15,000 who were accused of homosexuality and deported to concentration camps where they died, mostly from exhaustion.

We mourn the collective murder of gay detainees, who were sometimes killed hundreds at a time.

We reject the destructive policies and prejudices that drive people apart, sow fear and negativity, and target people because of their identity.

We are reminded of the continuing homophobia and inhumanity against LGBTQIA people and other repressed minorities around the world.

We reject the violation of queer humanity.

We know that although the nations rage and the water may rise, you will deliver us safely through this wilderness of hate and carelessness.

We stand in awe and gratitude of your persistent love for each and all your children: Jewish, Muslim, Christian, and queer too.

We are all precious manifestations of the Divine.

As we stand together in love and light, may our collective courage banish all darkness, prevail over hate, and goodwill triumph over evil.

May it be so.
---
Related News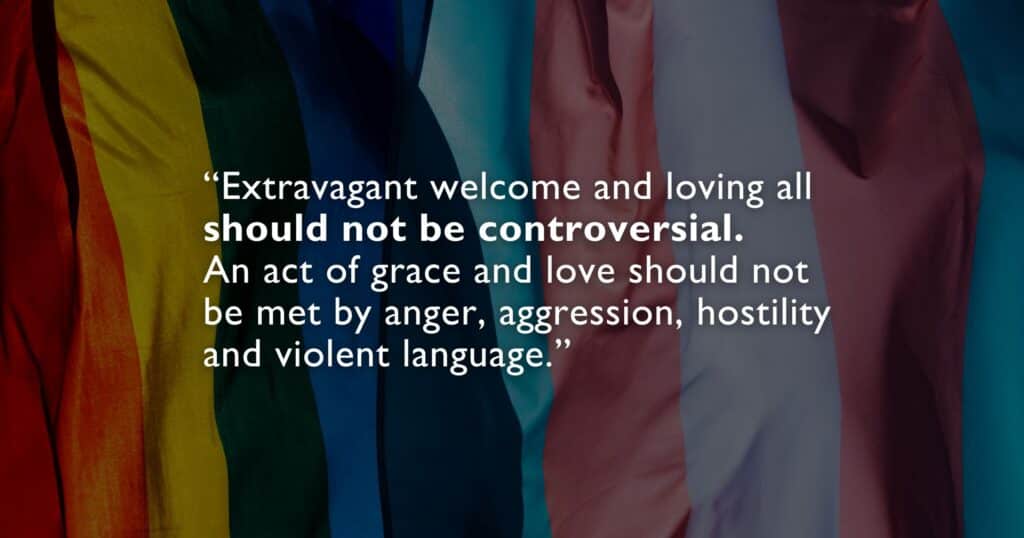 The United Church of Christ National Officers and the Conference Minister of the South Central...
Read More