Pilgrim Firs houses community members touched by COVID-19, welcomes 100th guest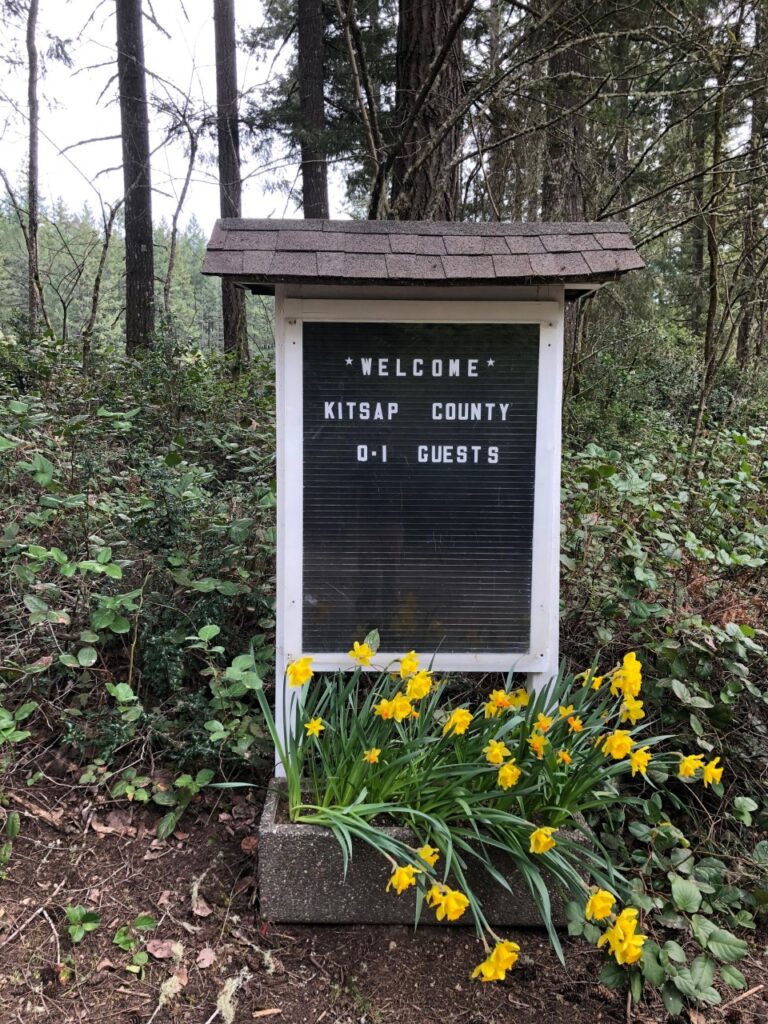 A sacred oasis for creativity and community. That's the purpose of Pilgrim Firs, a camp and retreat center owned by the Pacific Northwest Conference of the United Church of Christ.
Since March of last year, Pilgrim Firs has been serving as an oasis for people in its community touched by COVID-19:
People who have to isolate or quarantine, and in most cases, have no place else to go.
First responders, healthcare workers and others who've tested positive or have been exposed to the virus and can't stay with family.
Members of the homeless community and formerly incarcerated folks who've come after their release have also found a place to recover or await test results. 
On Jan. 25, 2021, the center welcomed its 100th guest.
"It was a no-brainer to help — that's what church does," said Wade Zick, Pilgrim Firs managing director. He approached Kitsap County Commissioners about using the camp not long after the pandemic hit.
Early pandemic response
"This was the first area of the country where it was clear the pandemic was starting to spread," said Conference Minister, the Rev. Mike Denton. "Based on what we were seeing at that point and what we'd already seen in Wuhan, we knew there was a good chance that health facilities would be overrun. We encouraged our churches to offer their spaces and we did the same with our camps."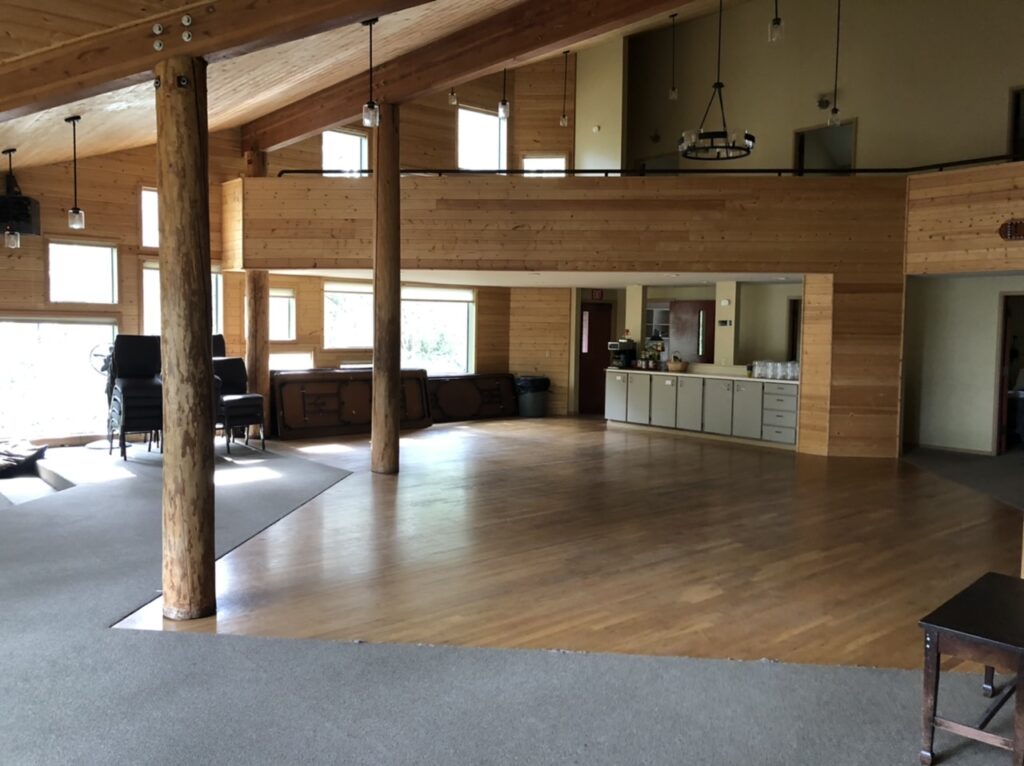 On Feb. 29, 2020, Washington Gov. Jay Inslee declared a state of emergency in all 39 counties. A national emergency declaration for COVID-19 followed on March 13. Three days later, Zick invited Doug Washburn, Human Services Director of Kitsap County, to Pilgrim Firs for a tour.
"The first email I received from Mr. Zick included the line, 'Here's the thing — if we can help keep people safe and do our part for the community, that is what really is necessary. We would of course need to talk through safety stuff on various levels,'" Washburn said.
"It seemed perfect for a quarantine and isolation facility as it was self-contained with lodging and meals on-site, had a collaborative staff and was in a beautiful location."
Tough staffing decisions
On March 19, Washburn brought in other county health and emergency management folks to look around. They were so impressed, that Pilgrim Firs — with a contract signed on March 21 — became Kitsap County's first quarantine and isolation center. The first guest arrived on April 17.
"In the world of government contracting, this was a new record," Washburn said. "Working with Pilgrim Firs and other governmental and private entities, together we were able to set up a new service model, facility, policies and procedures within weeks rather than the normal months or years it would usually take — no exaggeration." 
Zick said his "emotionally tough decision" involved asking the staff "to work around COVID when we were all trying to stay away from the virus." Two hospitality staff members resigned after he announced the camp would be hosting the Kitsap County COVID quarantine and isolation center, because they live with people who are in high-risk groups.
Guests enjoy fishing
But Pilgrim Firs seems to be a perfect spot. Chosen over two dozen other sites, the camp and retreat center is 90 wooded acres outside Port Orchard, Wash., about a 90-minute drive from downtown Seattle. It has 11 cabins, two lodges, and outdoor recreation areas. There's a lake with a floating dock for swimming and canoeing, hiking trails and two campfire areas. There are also indoor and outdoor chapels, meditation areas and lots of quiet space.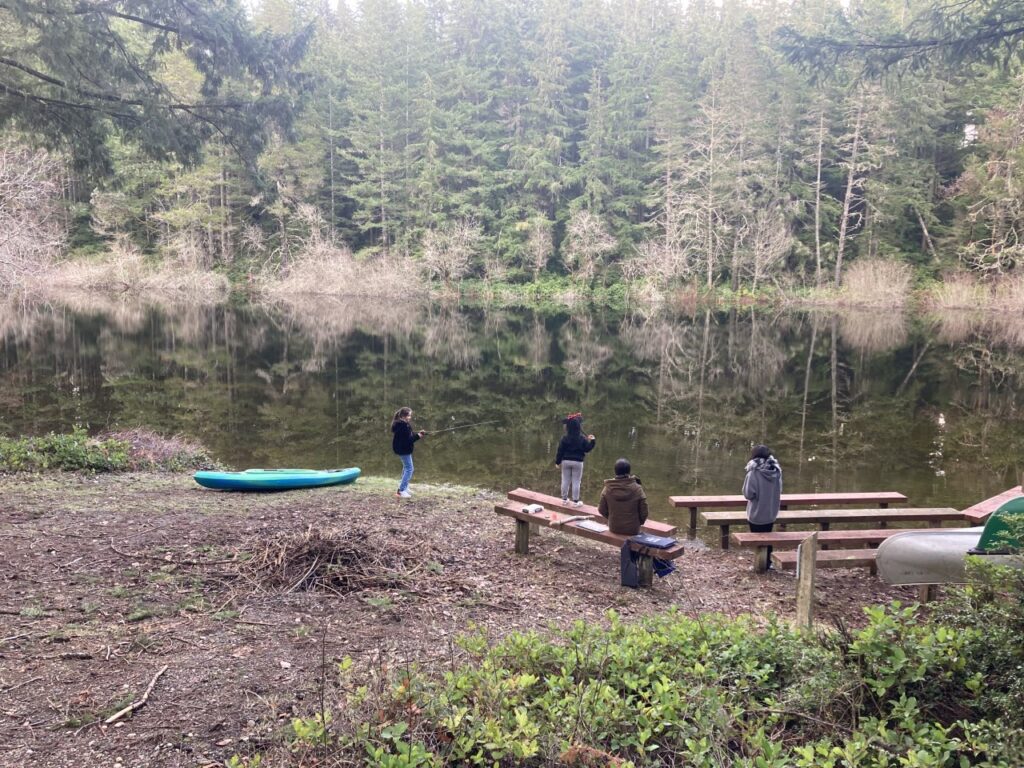 "Fishing has been one of the favorite ways our guests spend time enjoying the camp," Zick said. "We provide the poles and tackle, and the community doctor that visits the guests often has provided the worms."
Guests are referred by local health care providers or first responders. They stay between a few days and two weeks. Zick said the camp has hosted up to 11 people at at time.
"Our guests have ranged in age from infants, several children and several seniors," he said. "They are able to hike the trails, play basketball, walk our labyrinth and play in the lake. All cabins also have a picnic table for outside eating when the weather permits."
Three meals are provided daily, delivered by volunteers. There is a doctor on site to do health checks. The guests are medically monitored and are asked not to leave until they meet specific release requirements. Security staff are on site round the clock. So are the volunteers who keep the camp going.
Volunteers abound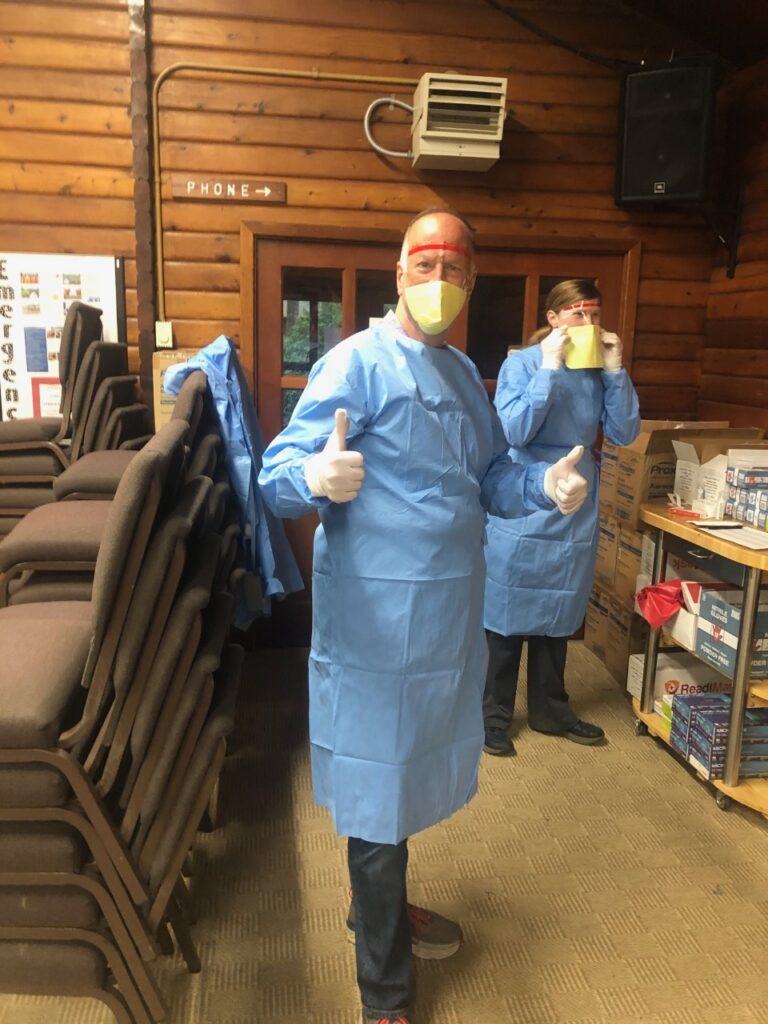 Kitsap County Commissioner Robert Gelder is one of them. "It's a way I could support my neighbors in need during the pandemic. It's key to keep people safe and supported when they feel vulnerable."
Taking a shift a week, usually on the weekends, Gelder has been serving as site manager, "triaging needs of guests, as well as doing intakes or discharges – but mostly we focus on wellness checks, meal delivery and making sure folks have their needs met."
Washburn said the county has 84 people covering volunteer shifts at Pilgrim Firs, focusing on getting guests checked in, fed and looked after, but always at a distance. Safety is key. Personal protective equipment is worn and training is provided in how to use it.
"One of our most faithful community volunteers, John, has volunteered over 100 shifts," Zick said, noting shifts vary between 7 and 10 hours. "John turns 80 in July and is a retired firefighter. He has also become a generous donor to the camp and county work."
Church, civic donations help
The camp and county partner to make sure each guest is taken care of. On arrival, everyone gets a welcome bag with snacks and toiletries. "Personal care items, hand-sewn masks, get-well notes, clothes, games and books have all been donated by local UCC churches," Zick said. "The community library also donated a mobile library for our guests."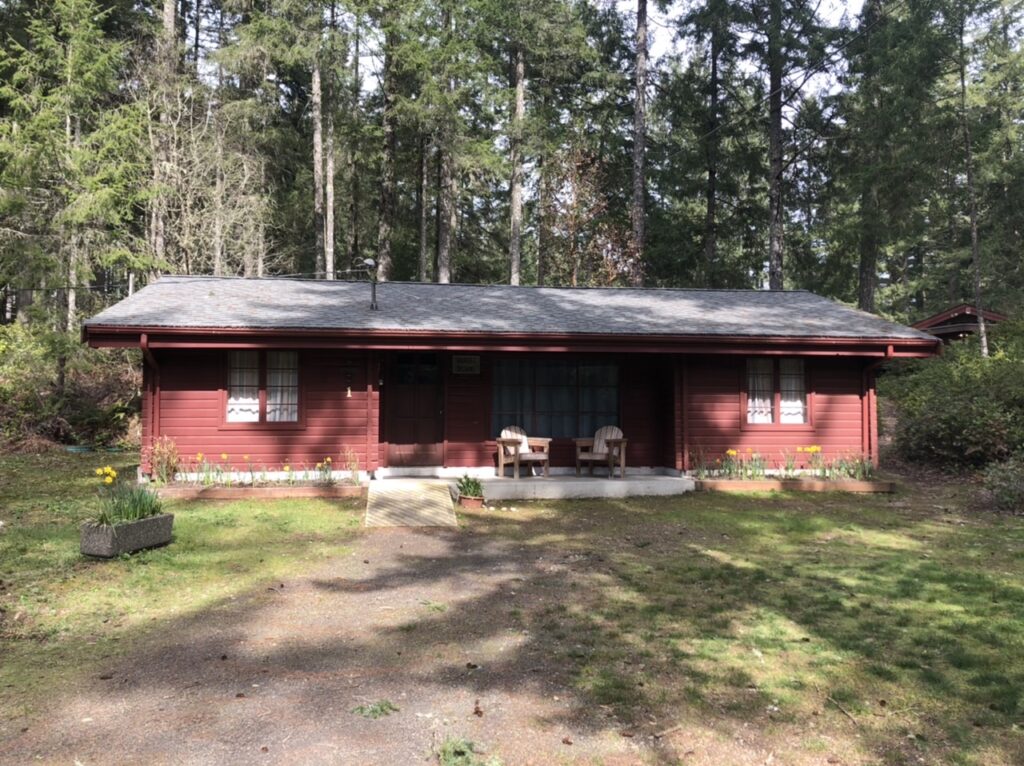 Volunteers are also encouraged to use the camp to rest and recharge. Zick said it's "a joy to have the community volunteers be able to hike around the lake and property to find a calm healing place as well."
One hundred and seven people have come to Pilgrim Firs since April 17. The camp will continue to serve as a place of healing, for quarantine and isolation, at least through the first quarter of 2021. Gelder said the county program could run through June "depending on community spread and demand."
Zick said there have been numerous donations to help make the ministry possible. "The funding from the county does not cover the full costs to the camp and we project that Pilgrim Firs will have invested $120,000 to $130,000 in this endeavor, dollars that are being largely offset by generous donations of churches, church members, partner groups and community individuals."
'Driven only by their mission'
"Those woods and that lake have long been a place of healing for many," Denton said. "That ministry didn't stop with the pandemic."
"As with any partnership, it takes a will, desire and determination to serve the public and make a difficult time for people better," said Gelder. He said the endeavor has been a success in part because the county has a great partner in Pilgrim Firs.
"Pilgrim Firs was never driven by money or the attention this would bring, only by their mission to help their community," Washburn said. "I have tried to live up to this example from our end as well. The very first line on the Pilgrim Firs website is 'Pilgrim Firs provides a sacred oasis for creativity and community.' After this they can add 'healing' to that list."
---
Related News
On a recent trip to Palestine and Israel, the Rev. Allie Perry was part of a delegation that...
Read More