People of faith must stop Line 3, webinar urges
For months now, advocates from across the country have been joining Native Americans gathering at the headwaters of the Mississippi River in Northern Minnesota to stop the expansion of a massive oil pipeline. The movement against Enbridge Line 3, led by the region's Indigenous people, was the subject of a United Church of Christ Creation Justice webinar on June 14.
The Rev. Brooks Berndt, minister of environmental justice, and the Rev. Michael Malcolm, executive director Alabama Interfaith Power and Light and the People's Justice Council, moderated the conversation. The online event shared strategies that one can use to join the movement to stop Line 3 — in person, or from the comfort of home.
"I believe as people of faith, we are being called to do something uncomfortable," Malcolm said. "In a call to stand with our Indigenous family… I believe that Jesus is giving a word of encouragement to let us know that there are numerous ways we can make a difference. That we can engage at any whatever level we need to engage because there is plenty of room."
What Line 3 threatens
The Line 3 Expansion is a tar sands oil pipeline construction project that, if completed, would cross more than 200 bodies of water and the Mississippi River twice. It would also pass near the border of multiple Native nations and across hundreds of miles of treaty-protected land that those communities depend on for drinking water and wild rice gathering.
Malcolm said he made a sacred pilgrimage to Minnesota in early June to stand with Indigenous families. A group of 2,000 people, 350 of whom were part of a multi-faith coalition, came together at the Treaty People Gathering June 5-8.
With the Rev. Jim Bear Jacobs, one of the webinar's three panelists, Malcolm co-led a faith event at the Treaty People Gathering, overlooking LaSalle Lake, the first lake the Mississippi crosses on its way to the Gulf of Mexico.
The group talked about how Line 3's expansion – it would carry 760,000 barrels of oil a day – violates treaties the Indigenous peoples signed with the U.S. government in 1855. They reserved the rights to hunt, fish and travel over these lands, and did not cede them to the U.S. government.
What people can do
Jacobs, program director for racial justice the Minnesota Council of Churches, was joined in the discussion Julia Nerbonne, executive director of Minnesota Interfaith Power and Light, and by Nina Berguland from Youth Council and Indigenous Council for Earth Guardians. They discussed how people of faith can be in solidarity to stop Line 3.
Rev. Roberta Rominger, pastor of the Congregational Church on Mercer Island, Wash., shared a document offering two ways advocates can act.
Call President Biden at the White House (888-724-8946) and leave messages for him and Gina McCarthy, head of the White House Office of Domestic Climate Policy.
Sign the Minnesota Interfaith Power and Light petition.
Other ways, which Berndt suggested, can be found here. In particular he offered these four actions:
Share fact sheets and Line 3 information with your community.
Write articles or letters to the editor of your local paper.
If your bank is listed among the 64 banks backing DAPL and Tar Sands pipeline expansions, find an alternative and move your money. Here's a UCC resource for churches who want to move their money as a way to stop funding pipelines.
Add your voice to the growing demand to banks like Chase, Citi, Bank of America and TD Bank to stop financing Line 3.
"As Christians, there are some reoccurring moral questions that always confront us," Berndt said. "What can I do to love my neighbor? What can I do to care for God's creation? The movement to stop Line 3 gives an answer. It gives us the opportunity to make good on our calling and our core sense of purpose."
---
Related News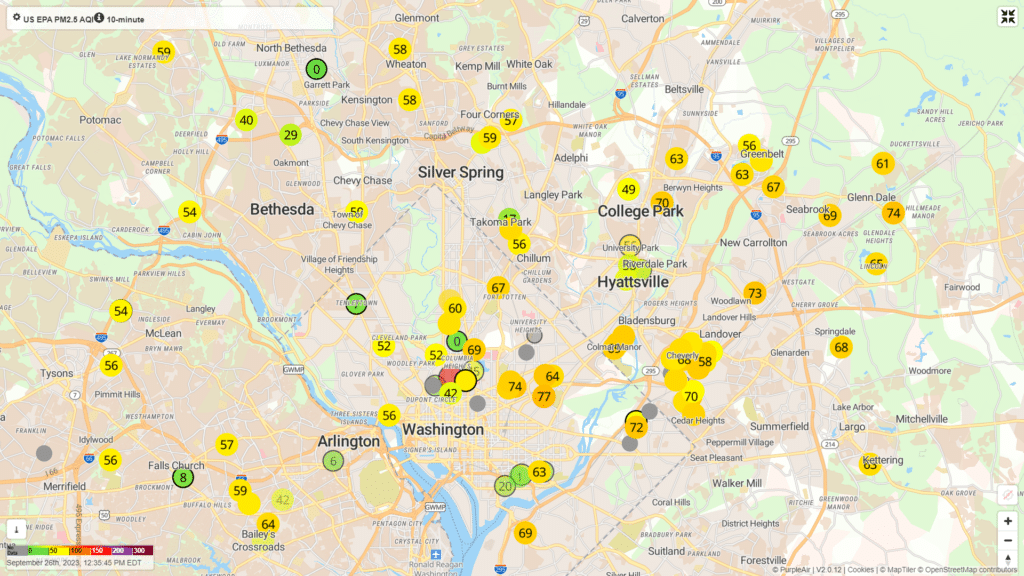 This summer, the United States experienced some of the worst days for wildfire pollution in...
Read More