Peace, diversity and collaboration mark 9/11 anniversary in Northeast Ohio
On the 15th anniversary of the terrorist attacks on 9/11, an Ohio church spearheaded an interfaith day of service designed as a big thank-you to first responders. First Congregational Church of Hudson commemorated the 9/11 anniversary, remembering the fallen of that unforgettable day, by focusing its annual day of service on projects that reached out to police, fire fighters and EMS.
"When the church staff realized our 2016 First Serve date landed on 9/11, we wanted to honor that day in a special way by joining together with other diverse faith communities to serve first responders in love, faith and peace," said Sue Wimer, FCCH's director of Stewardship and Outreach.
Sunday's event, 'First Serve Serve First' brought together almost 700 volunteers of all ages from the Hudson church, Temple Beth Shalom in Hudson and the Islamic Society of Akron and Kent, for four dozen different projects in Cleveland, Akron and surrounding communities that promoted peace, diversity and collaboration with area law enforcement.
One of the projects, Cookies with a Cop, dates back to General Synod 2015 in Cleveland. Wimer and her husband Derry co-chaired the local arrangements committee and when the gathering wrapped up last June, they were faced with a huge surplus of cookies baked for the event by hundreds of churches across Ohio. Planners shared the surplus with Cleveland Police, who came down to the Convention Center, loaded up a van and distributed the goodies at shelters and day care centers in the city.
"Such a simple little gesture," said the Rev. Peter Wiley, FCCH senior pastor, "but really big in trying to create relationships between people who feel hurt by each other."
"Cookies with a Cop has become a tradition at First Congregational Church of Hudson. It started at General Synod 2015, and has continued to be part of our First Serve project list since then," said Wimer. "This year, we are happy to see the program has expanded to other faith communities – with members of Temple Beth Shalom and the Islamic Society of Akron and Kent – also taking part. It's such a simple thing, but significant in its impact."
The cookie tubs left over from General Synod were filled up with fresh baked goodies by all three faith communities, and distributed to several police departments in Cleveland, Akron, Kent, Streetsboro, Hudson and Twinsburg. Officers plan to share the cookies with children at city playgrounds and with adults at neighborhood community centers.
First Serve Serve First grew out of a long-time church party that happened on the Sunday after Labor Day. Five years ago, when the day fell on the tenth anniversary of 9/11, the party, held on the town green,  became a community worship service of hope in the midst of any challenge. In 2012, the concept of community service was added, and birthed the First Serve all-day event. This year, as Wiley said, in the midst of so much divisiveness in our culture, FCCH reached out in faith to Jewish and Muslim friends.
The Sept. 11 event started at 9:00am with a moving sending service that brought the faith leaders of all three worship communities together to bless the volunteers and their projects.
"As our culture speaks more about the divisions between faiths and the divisions between race, it was time to do a day like this," said Wiley. "It was a real joy to have a service to begin the day together, to share leadership with Imam and the rabbi and have music from three different faiths as well."
Then the volunteers spent six hours on a beautiful, sunny Sunday in different areas of northeast Ohio, cleaning up alleys with Cleveland police and playgrounds with Akron officers, doing bike safety checks in an Akron neighborhood, as well as yard cleanup and meal delivery at different police and fire houses. A group of kids even went out to wash police cruisers.
"First Serve committee members worked with first responder leadership to identify needed projects," said Wimer. "Other ideas were brainstormed by the team."
After a day of hard work, the event wrapped up at the church with food and fellowship. Local restaurants brought all different types of items in for a cultural food fest celebration.
"We're starting our church year, reaching out in partnership and relationships to the broader community. It's all about how to build relationships…being repairers of the breach from (the book of) Isaiah," said Wiley. "The whole idea, the entire day, a simple thing, but such an overwhelming spirit –  health in the midst of ill health in so much of our culture. Seeking to live in faith, being sisters and brothers together. People from the mosque and the temple saying…'next year when we do this.' They feel this is the right and good thing to do as well."
---
Related News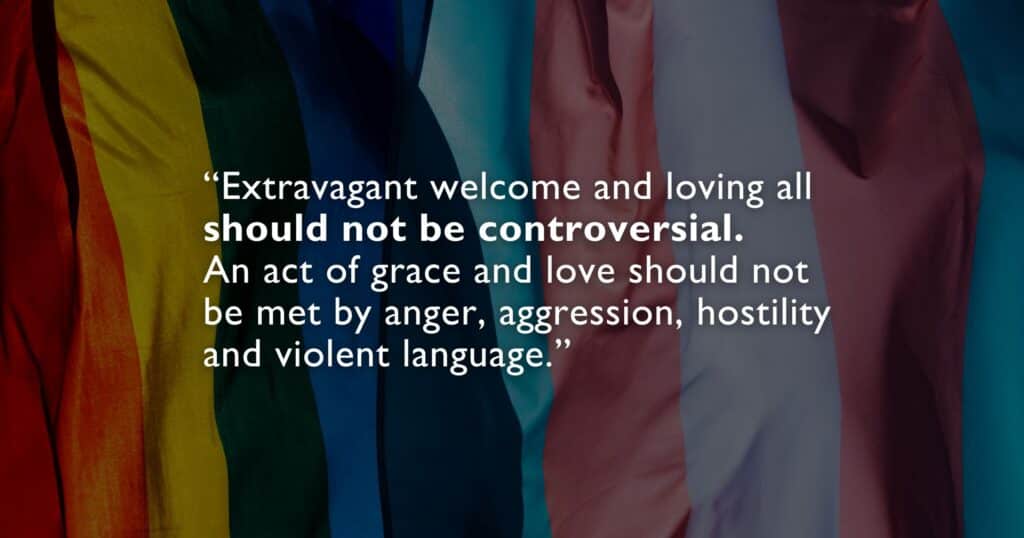 The United Church of Christ National Officers and the Conference Minister of the South Central...
Read More