UCC peace cranes make their way to Charleston
Members of Everett United Church of Christ in Everett, Wash., are sending colorful wishes of peace and solidarity from one corner of the country to another. In a continuation of the peace cranes tradition that has spread throughout the UCC, the church has sent 1,000 folded paper cranes to Circular Congregational Church UCC, located just a few blocks from Mother Emanuel AME Church in Charleston, S.C., where nine people were killed by a gunman last month.
"This is an act of solidarity moving from UCC church to UCC church in or near communities of tragedy," said the Rev. Ruth Brandon, a member of Everett UCC. "It is a phenomenon that quite touched our Everett UCC in Washington when we received them and I suspect that is true in each place."
Everett UCC received the peace cranes from First Congregational Church of Santa Barbara UCC last December following the shooting at Marysville Pilchuck High School in Marysville, Wash., during which five students lost their lives in October 2014. The cranes have been on prominent display at Everett UCC ever since, and the church dedicated them during a service on July 5 before sending them to Circular UCC. The covey of paper cranes is meant to bring love, strength and hope at a time of pain and sorrow, Brandon said, and to be a symbol of solidarity from churches in communities that have been struck by similar tragedies.
"It is one way to show that those facing the current crisis are not alone," she added.
The tradition of the peace cranes began in 2011, when members of Saron UCC in Sheboygan Falls, Wis., folded them to mark the 10th anniversary of the 9/11 attacks. Saron UCC sent the cranes to Pilgrim Christian Church UCC in Chardon, Ohio, after a shooting at Chardon High School in February 2012. Pilgrim Christian Church UCC then sent them to Newtown Congregational UCC after the shooting at Sandy Hook Elementary, and Newtown Congregational sent them to Old South Church UCC in Boston following the Boston Marathon bombing in April 2013.
Last August, Old South Church sent the cranes to Christ the King UCC in Florissant, Mo., after the fatal shooting of unarmed African American teenager Michael Brown in Ferguson, Mo. First Congregational of Santa Barbara received the cranes from Newtown Congregational in June 2014 after a shooting in Isla Vista, Calif., near the campus of University of California, Santa Barbara. A few churches, including Newtown Congregational and First Congregational Church of Santa Barbara, have since folded their own sets of cranes, which they can pass along to fellow churches when another tragedy strikes.
Everett UCC's liturgy to bless the cranes stated: "We send these peace cranes as a sign and testament to our hope for peace with justice in our world and our belief that violence does not have the last word. We send them carrying our love that it may energize for the overcoming of hate and racism. We ask God's blessing on their flight and on their new resting place that once again these humble peace cranes may testify to the presence of God in the midst of trouble."
---
Related News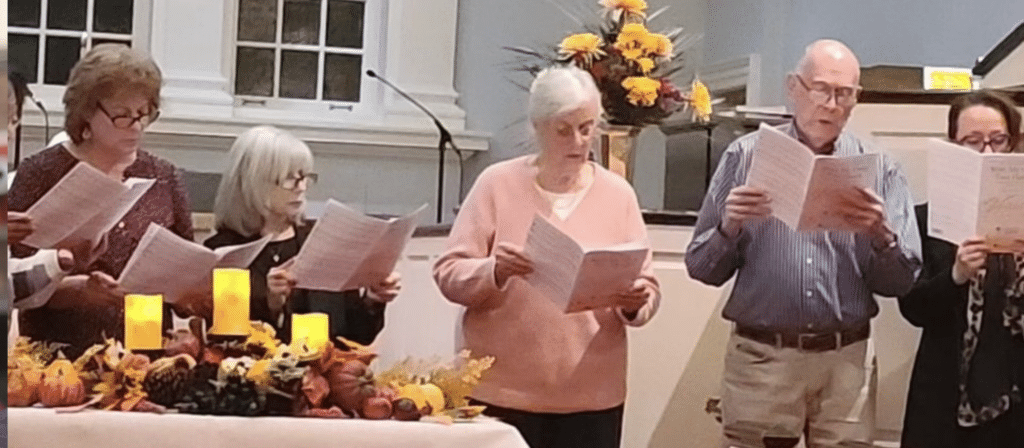 Many United Church of Christ congregations across the country participated in interfaith...
Read More