Peace Cranes fly to Orlando
Peace cranes have taken flight once again to another United Church of Christ congregation in need of healing. After the June nightclub shooting in Orlando, Fla., that left 49 people dead and another 50 injured, the colorful symbols of peace made their way to First Congregational Church of Winter Park UCC in Winter Park, Fla., located just a few miles from where the tragedy took place.
"The gift of the cranes is a sacred one because the sacred resides in tragedy as much as it does in joy," said the Rev. Shawn Garvey, senior minister of First Congregational Church of Winter Park. "And these cranes are symbolic of the profound truth of that."
First Congregational Church of Winter Park received the cranes last week from Circular Congregational Church UCC in Charleston, S.C., which received them from Everett UCC in Everett, Wash., after a gunman killed nine people at nearby Mother Emanuel AME Church in June 2015. A special worship service at First Congregational Church of Winter Park on Sunday, July 3, honored the gesture, which Garvey called a "sacred gift." The cranes were hung in the church's historic main sanctuary. After reading a letter from Circular Congregational Church, Garvey led his congregation in prayer that "they might be the last home for the cranes so they might never again visit another community impacted by violence and tragedy."
The cranes hung in Circular Congregational Church's sanctuary for one year as the Rev. Jeremy Rutledge said his church struggled to "grieve, tell the truth, and begin to address the deep racial wounds in our community," and were blessed during a worship service before they were sent to Winter Park.
"As the cranes make their way through communities affected by gun violence and hate, we pass our prayers from one place to the next. But this is incredibly bittersweet," said Rutledge, senior minister of Circular Congregational Church. "On the one hand, there is the deep and genuine expression of love. On the other hand, we are sickened by the cycle of violence and the inability of our public officials to address it. In the Sunday service there was a palpable sense of grief. It doesn't have to be like this. The cranes bear witness to this truth."
Since the shooting in Orlando, First Congregational Church of Winter Park has been active in the community's healing process. The church has provided counseling, been involved with assistance teams and organizations, donated funds and goods, and participated in vigils and memorial services. In support of the LGBTQ community and the victims of the shooting, which took place at an Orlando gay bar, members have also done performances with the Orlando Gay Chorus.
"Our church has responded in many ways through the incredibly loving ministry of our membership," Garvey said. "I am blessed to be part of one of our area's few truly Open and Affirming churches for our LGBTQ sisters and brothers and their families, as well as to share in the loving ministry of this church."
The tradition of the peace cranes began in 2011, when members of Saron UCC in Sheboygan Falls, Wis., folded them to mark the 10th anniversary of the 9/11 attacks. Saron UCC sent the cranes to Pilgrim Christian Church UCC in Chardon, Ohio, after a shooting at Chardon High School in February 2012. Pilgrim Christian Church UCC then sent them to Newtown Congregational UCC after the shooting at Sandy Hook Elementary, and Newtown Congregational sent them to Old South Church UCC in Boston following the Boston Marathon bombing in April 2013.
In August 2014, Old South Church sent the cranes to Christ the King UCC in Florissant, Mo., after the fatal shooting of unarmed African American teenager Michael Brown in Ferguson, Mo. First Congregational of Santa Barbara UCC received another set of cranes from Newtown Congregational in June 2014 after a shooting in Isla Vista, Calif., near the campus of the University of California, Santa Barbara. Everett UCC received the peace cranes from First Congregational Church of Santa Barbara in December 2014 following the shooting at Marysville Pilchuck High School in Marysville, Wash., during which five students lost their lives in October 2014.
"These cranes are a tangible reminder of the spirits of the communities that came before us and the sobering, frustrating truth that we may also be sending them to another community bound to us by loss and grief," Garvey said. "But I truly pray that's not the case."
---
Related News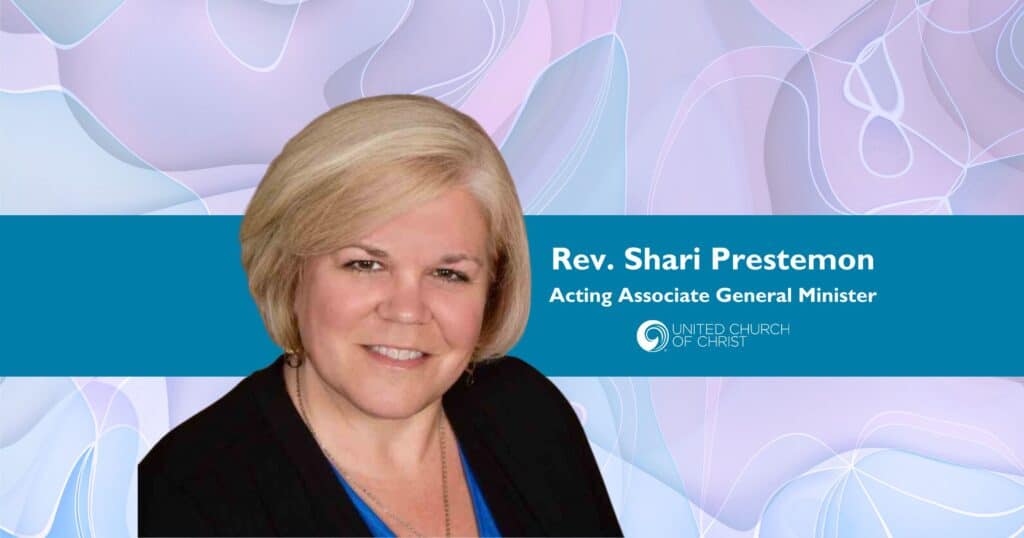 A new United Church of Christ national leader has been called. The UCC Board voted in a...
Read More