Pajamas outside D.C. area church bring attention to plight of migrant children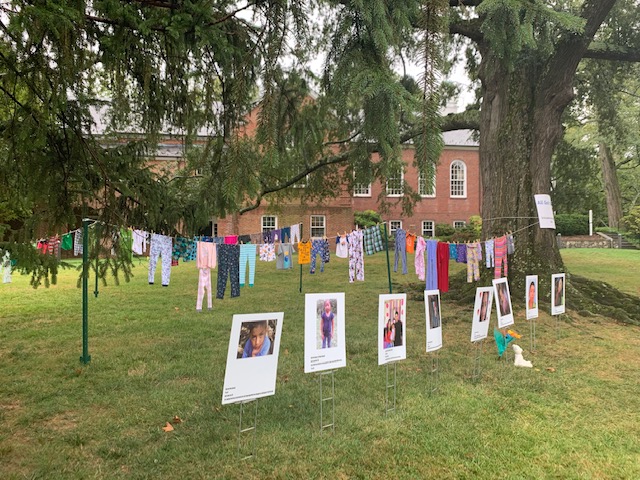 A United Church of Christ congregation in Arlington, Va., is provoking thought with a visible call to action exhibited on the church lawn. Hundreds of children's pajamas are hanging on clothes lines above photos of migrant children who died in the custody of the U.S. immigration system.
The display, "All God's Children," underscores the plight of migrant children separated from their parents at the border by problematic government policies.
"The pajamas represent the way that we believe unaccompanied minors should be with families in communities, not in detention," said the Rev. Laura Martin, associate pastor of Rock Spring Congregational Church. "They represent the way that private operators are profiting from children being detained. They represent the increased criminalization of migrants and refugees, the families separated in ICE raids at workplaces."
Why pajamas? Church senior pastor, the Rev. Kathy Dwyer said, "Every child should be able to sleep in a bed and be tucked in, but some have to sleep in cages."
This exhibit, which went up Aug. 22, was inspired by a pajama display on the National Mall. Rock Spring added the photos, a personal tribute in memory of lost young ones, which has moved people in the community who have seen it.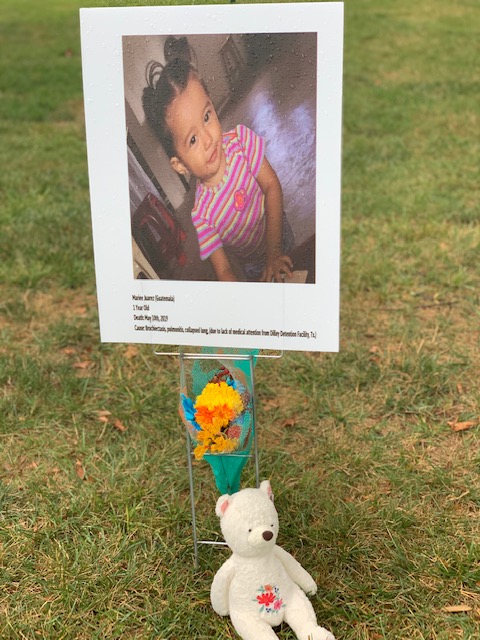 "One of our members was concerned about potential vandalism, which came to mind because we had repeated incidents to our Black Lives Matter signs in 2014 and 2015," said Dwyer. "But under one of the photos we found a teddy bear and flowers – someone has obviously placed them under the photo of a child who died as a memorial."
Dwyer also has noticed cars slowing down to look at the display. One stopped so a young girl could get out of the car to pick up a fact sheet to share with her mother.
"A neighbor, who lives a block or so away from the church, asked me if I was the pastor of Rock Spring," Dwyer said. "She told me that she had brought several people by to see the display and that she plans to start coming to Rock Spring and wants to get involved."
That kind of response is what the exhibit is designed to encourage.
In the fact sheet planted next to the pictures, Rock Spring lists local actions people in the community can take in support of immigrants:
• Join in the work of the Congregation Action Network, an organizing network of congregations in the DC/MD/VA region that provide support and solidarity to neighbors, friends, and family who fear being detained, deported or profiled. In the face of hate and discrimination, the Network is committed to showing love, compassion and hospitality. A primary focus for the Network is Deportation Defense: pulling out all the stops to keep a neighbor facing deportation from being deported. Some congregations are also accompanying people to Immigration and Customs Enforcement check-ins and legal hearings; holding Defend Your Rights trainings; hosting people who are at risk of deportation; supporting congregations that are hosting; and pressing their cities and states to get ICE out of schools, jails and courts and to end all policies that racially profile and over-incarcerate people of color. The Congregation Action Network and other groups are mobilizing now against plans to build a private detention center for children in our area.
• Join in the work of Sanctuary DMV to accompany immigrants to court (providing solidarity and support, not legal counsel) or in rapid response training to respond to ICE raids and support the family left behind.
• Support RAICES (Refugee and Immigrant Center for Education and Legal Services) in their work of promoting justice by providing free and low-cost legal services to underserved immigrant children, families and refugees.
• Support immigrants in Arlington by hiring workers at SEEC (Shirlington Education and Employment Center, http://www.seecjobs.org) or by signing up to cook or serve a meal or to provide bagged lunches. Rock Spring has groups that cook and serve meals and you are always welcome to join us or lead your own team!
• Consider a trip to the border to "go and see."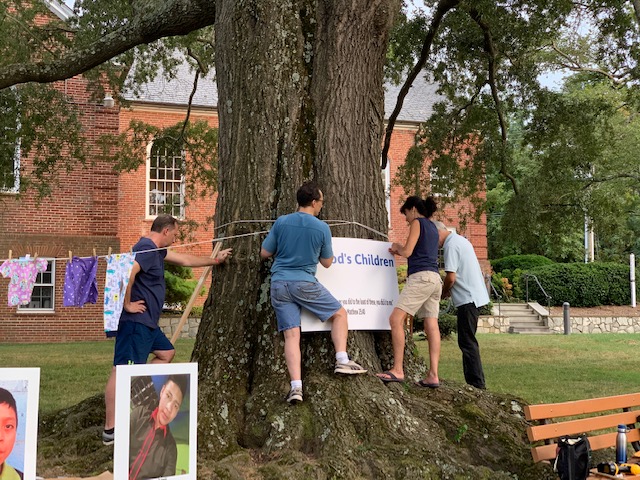 The Rock Spring exhibit will come down on Sunday, Sept. 1, but the congregation will continue to care for migrant families in the D.C. area.
"Our work with refugees is a major focus for our mission efforts," Dwyer said. "We currently partner with a couple other agencies in town to provide direct support and circle of care teams to refugees in the area. We are also a part of Sanctuary DMV and the Congregation Action Network. We also have several members who are trained in rapid response for ICE raids and who accompany refugees to court appointments."
On the fact sheet, their biblical mandate is very clear. "Whatever you do to the least of these, my brothers and sisters, you do it to me."-Matthew 25:40
"We bold the word least here in recognition of Jesus' emphasis on caring for others. Scripture consistently tells to welcome the foreigner, to give to those who cannot repay us, and to work for a world where God's compassion and justice are made real."
---
Related News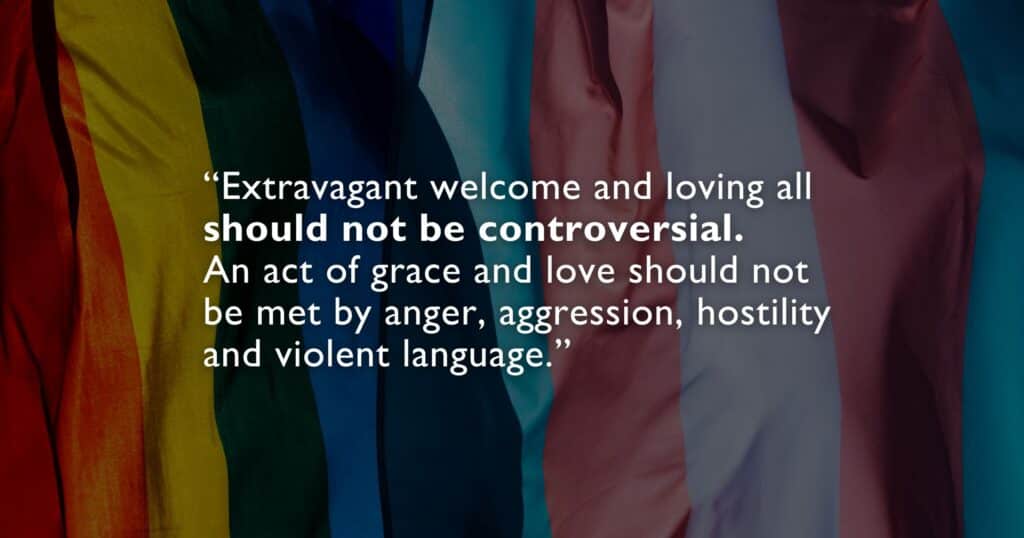 The United Church of Christ National Officers and the Conference Minister of the South Central...
Read More