Online Synod activities connect youth and young adults with each other and the church
They meet each afternoon this week at 3:30 Eastern Time. Groups of United Church of Christ youth and groups of UCC young adults discuss their role in the church.
They learn a bit of theology and church polity as they gain greater insight on how their peers in other cities and towns think about youth and young adult stuff like relationships, schools, music.
And most of these participants have not met each other. At least not yet.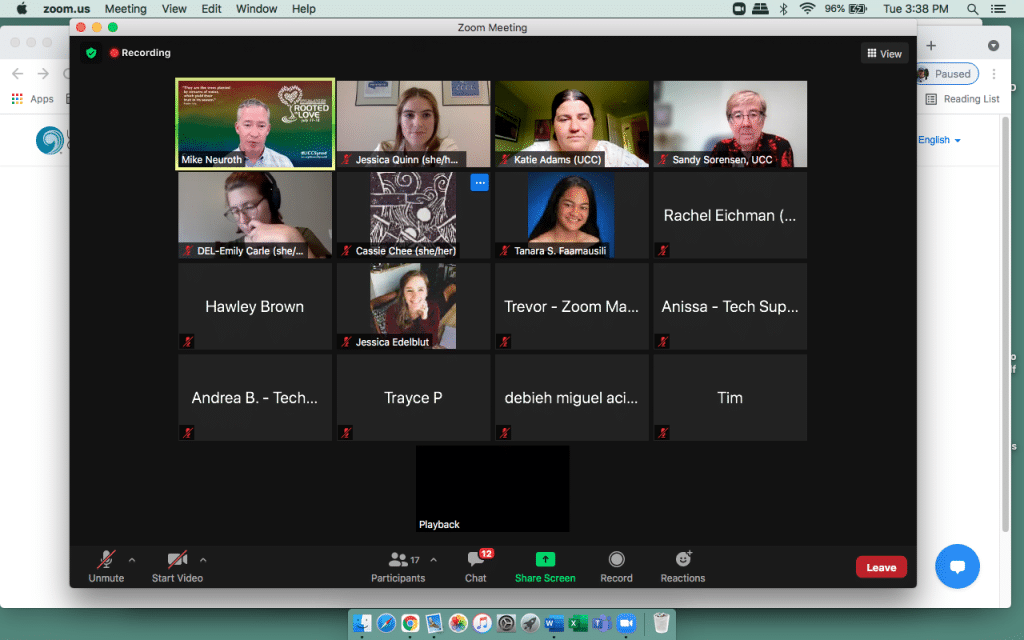 Like everything else at this year's "Special Edition" General Synod, the youth and young adult programs have gone virtual. Missing, at least temporally, are the large rooms filled with the noise of dozens of teens and pre-teens being teens and pre-teens, replaced, for the time being, with noisy – but productive – online sessions keeping these important age groups involved in the life of the church.
They care about relationships
Since the event had to be online, the Rev. Trayce Potter, minister for youth and young adult engagement, and her planning committee decided to make the most of it. In discussions with youth and young adults last fall, after move to a virtual Synod was announced, Potter and her team asked, "What is important to you right now?" The overwhelming response was "relationship building."
"It was important for us to figure out how can we begin to build relationships so people can come out of isolation," she said. "Everything we designed was around connecting people and giving space and process to what the past 17 to 18 months has been about."
Giving space also meant not taking too much time from other activities. "We scaled back some of the programming," Potter said. "Our kids have been doing this Zoom thing for months. Now that the world is opening up we didn't want them to think they had to choose between Synod or being with their friends. We wanted to balance programming that is meaningful but also allow them to catch up on what they've been missing out on."
'Community feel'
Eighteen-year-old Avery Lapis, a member at First Congregational Church, South Hadley, Mass., attended the Youth @ Synod program in 2017 in Baltimore, and was part of the planning group for youth at this synod. "We always knew the programming was going to be similar and kind of like the same. We were always going to have a different theme each day. We had to really adjust how it looks and how it's executed."
Except for the obvious difference of not meeting in person, Lapis finds much that is familiar this year. "There's still the community feel of making new friends, meeting new people, and building the community of youth."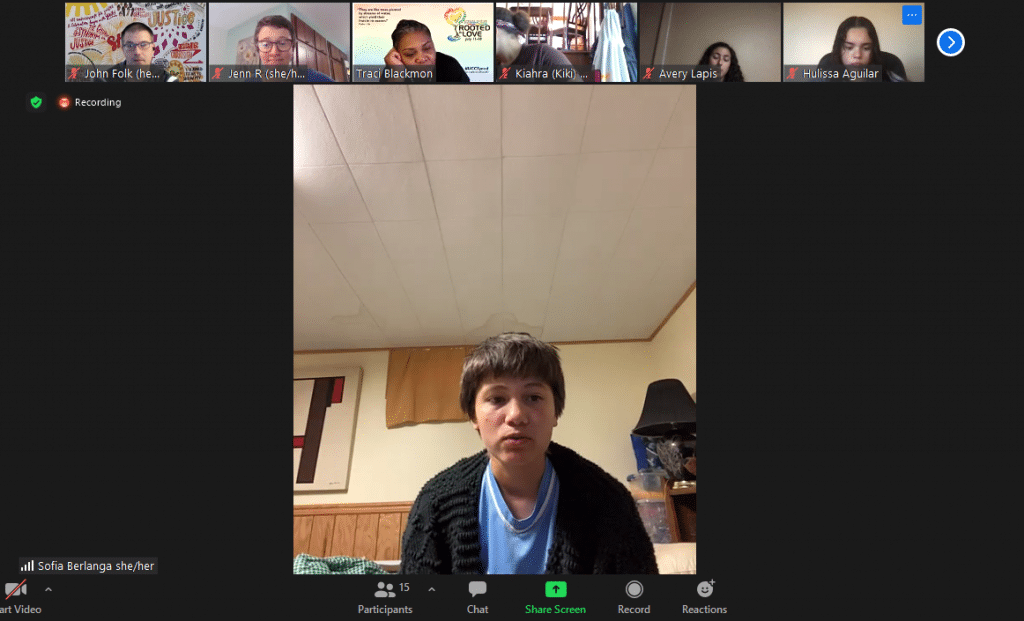 Sofia Berlanga attends UCC of Midland, Mich., and helped plan last year's National Youth Event. When that event was postponed due to COVID-19, the group produced online components they hoped would serve as a place holder until they can meet again — videos that have not drawn a lot of viewers. That made Berlanga nervous about a virtual Synod. But, "we've had quite a few youth engaging, we've had our Zoom meetings, and the worship has been super great — and in a way that we couldn't have experienced at an in-person Synod," she said.
Daily activities
More than 40 youth, grade six through twelve, and young adults, high school grads and above, from around the country are participating in this week's programs. In addition, this is the first Synod with a program designed separately for young adults.
Daily online gatherings for both groups begin with age-appropriate activities based on the Synod theme, "Rooted in God's Love." These programs also feature music by The Many, a collective which wrote and produced songs to open and close some sessions. In between, the youth use their creativity to express "roots of love," liberation, nature, and how these are found in God's love. The young adults explore God's love in justice, the environment, diversity, the ordinary and the extraordinary.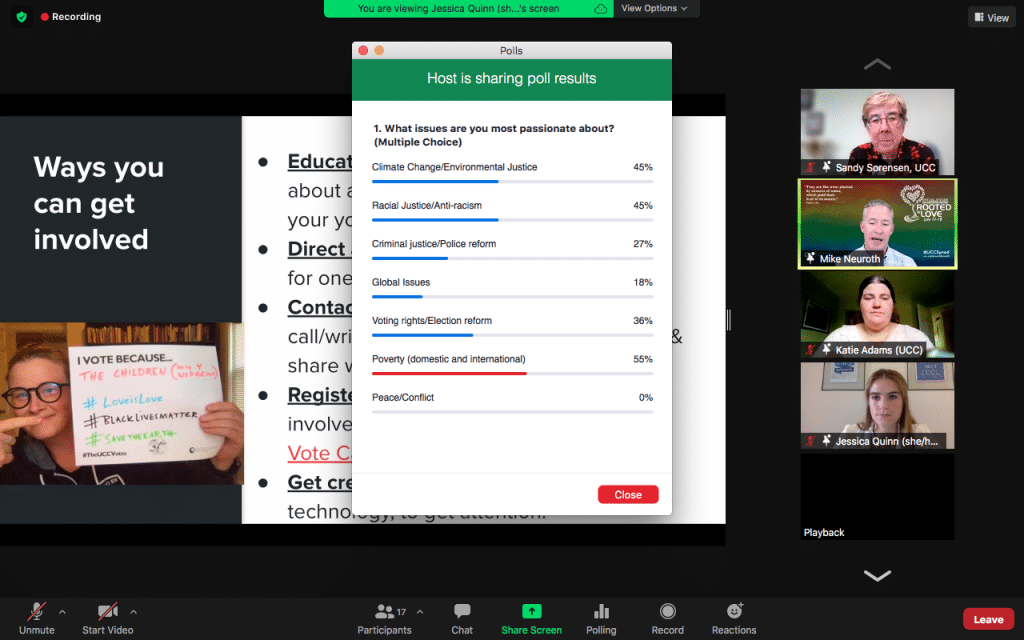 Guest speakers from UCC agencies and leadership are meeting each day with both groups, helping to bring the topics to life. "Being an advocate is not about being an expert. It's about being passionate," Sandy Sorensen, director of UCC Washington D.C. office, shared with the young adult group one afternoon.
At the same time, the youth were talking about justice with Associate General Minister Traci Blackmon. "Our ultimate goal is not to pay consequences, but to be in right relationships," she shared. Their lively discussion explored justice in feeding the hungry, housing the homeless, providing health care, and responsibilities to immigrants.
Connecting like minds
The participants in each track then separate into "home groups." "Home," not as in where one lives, but to whom one is connected. These smaller groups were assembled based not on geography but on questions asked during registration.
Potter said planners wanted these groups to "be like family. They function like small families for the next week together." Each home group, she adds, "Processes life together. They ask questions such as 'What's school been like?' 'What sports do you play?'"
While it's mostly fun and games for participants, Potter said the larger goal is to help these important segments of the church to "find their voice."
"Our ministry wants to give both youth and young adults opportunities, get them exposed to the wider church, and get them connected to each other," she said. "As youth and young adult minister, I hear what their passions are and what the national office needs to do to make sure there are programs and opportunities and projects where young people can find their place."
As a young adult delegate, Rachel Eichman is pleased there is a program for her age group. The 22-year-old from St. John's UCC, Fullerton, Pa., had been active in youth activities and is enjoying continuing making connections and conversations with her peers. She advises the younger group to "stay connected with the people you've been learning with, share your experiences and what you've learned, and stand up for what you think is important."
Emily Carle, 22, young adult participant who is also from First Congregational in South Hadley, agrees. She hopes both the youth and young adults become inspired to take the lead in their congregations: "Take one meaningful action and engage your congregation in doing something."
Tim Kershner, a longtime General Synod Newsroom volunteer, lives in Campton, N.H., in the New Hampshire Conference.
---
Related News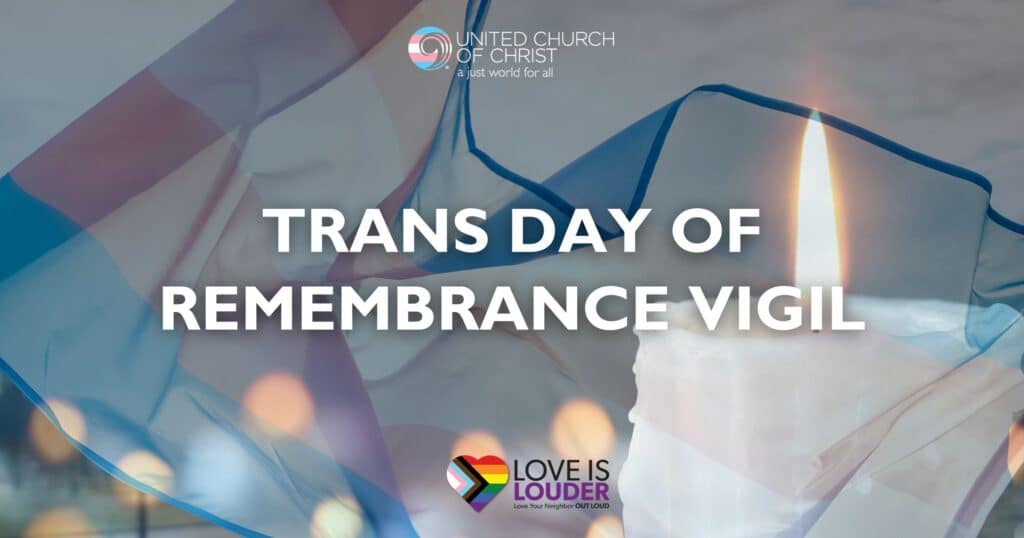 To mark Transgender Day of Remembrance (TDOR), the United Church of Christ hosted a vigil...
Read More