Ohio church hopes to rebuild from steeple collapse, through a mission of recovery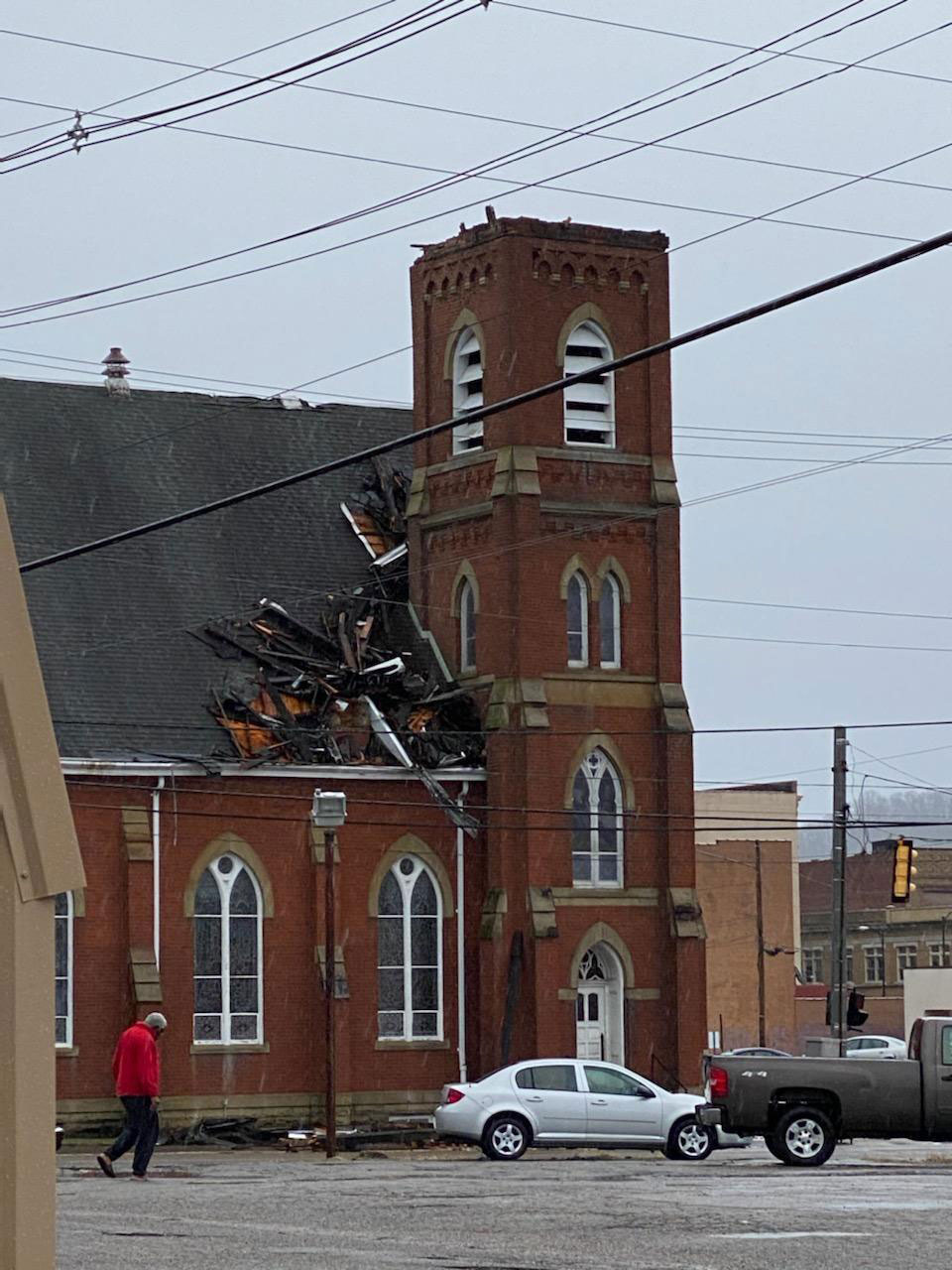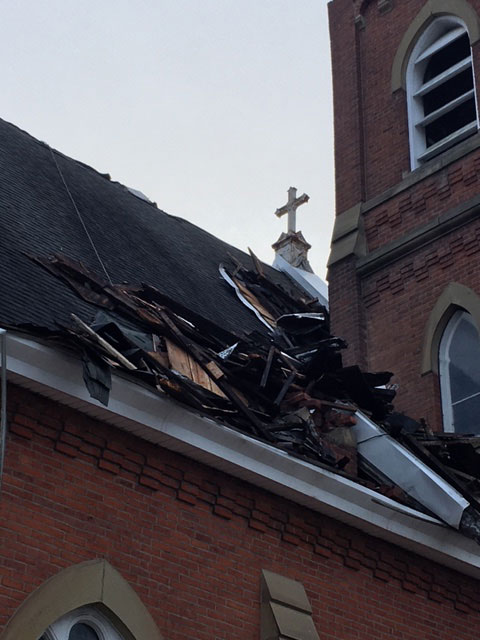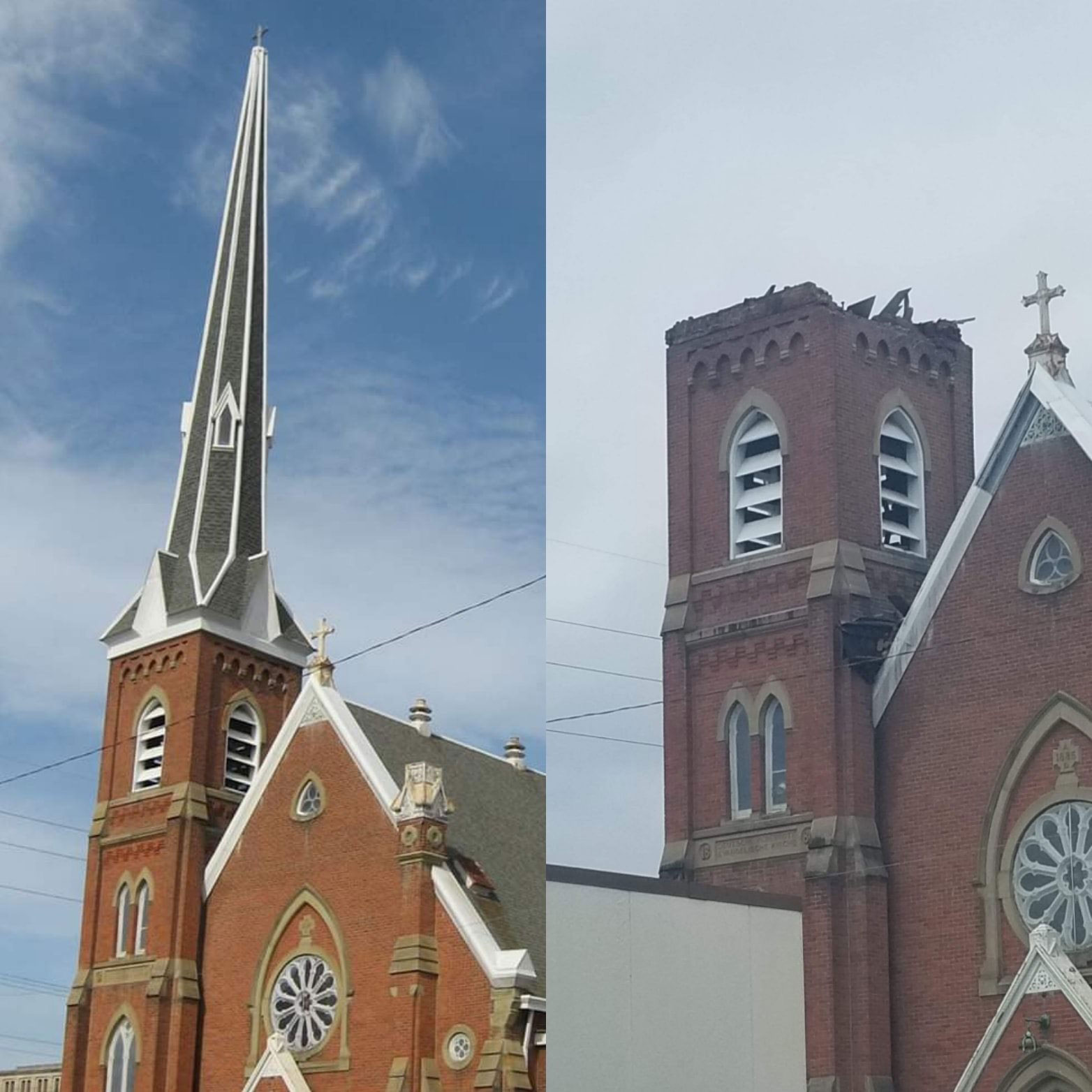 A small but determined Ohio congregation, still immersed in assessing considerable damage from an intense weekend windstorm that took down the church steeple, hopes the building collapse could eventually benefit the church's ministry. It's a story of recovery in every sense of the word.
On Saturday, Jan. 11, the steeple was blown off the roof of the Evangelical United Church of Christ in Portsmouth, a rural community on the banks of the Ohio River. The debris fell into the church courtyard and blocked the streets. Ryan Adkins grew up in the church. He and his wife Audra were some of the first members on the scene.
"We went to the church as soon as we heard what happened. There were news vans, police cars, and fire trucks in front when we arrived," Adkins said. "At first sight, I was heartbroken. I thought about my children being baptized and all the beautiful weddings and church services that I have attended. But God has a plan and works in mysterious ways."
'Nothing is beyond repair'
Evangelical UCC, which dates to the 1880's, is struggling with a reality that is common across the denomination. The historic church, which would seat 600 or more in its heyday, is coming off a long period of decline. Right now, there are 20 to 25 members who are attached to the place, having grown up and worshipped in the congregation all their lives. A group that finally called a dedicated pastor after almost 10 years without one. A congregation that is living into a plan of rebuilding and of recovery. Of serving the most vulnerable in the community.
Pastor Joshua Lawson, who was out of town when the storm hit, quickly took charge of the cleanup, posting video reports on Facebook soon after he arrived on the scene. The church cancelled Sunday service, brought in a structural engineer on Tuesday to check the roof and the integrity of the iconic bell tower. Insurance adjustors were scheduled for Thursday. And while Lawson hopes that insurance covers the lion's share of the cost, which could be in the range of $100,000 to $200,000, the disaster puts a crimp in the congregation's plan to become more financially sustainable.  
"The physical damage we have sustained reflects the recent state of the congregation being in disrepair," Lawson said. "The entire thrust of scripture is that although something has gone horribly wrong with the world, with God all things are possible, and nothing is beyond repair. The redemption that is in Christ knows no limits. We are hoping to embody that spirit in our response to this situation."
'A church of recovery'
Leading Evangelical UCC is Lawson's first pastoral role as a lay leader. Called to lead the church in November 2018, he accepted a one-year contract in May, part-time. He and his congregants have a vision to put the large but dated facility to use.
"We are a church of recovery. We want to align our mission be service to the most vulnerable of our community," Lawson said. He noted that Evangelical UCC is in the center of the area's opioid epidemic, where many families live in poverty. "We are trying to rebuild from decline and ruin. Let's see what opportunities we can find to help do the same where we live."
Lawson said his dedicated but dwindling membership has done a lot of good things in partnership with groups locally. He's just recruited a faith recovery leader, the first member of his new leadership team. The church has started a mission, a free market, to give items away to those in need and hopes to put together a team to offer pastoral care at a prison in nearby Lucasville. They've also seen an increase in visitors but nothing near what church needs.
"We have a wonderful pastor who has been working hard in communicating with community members and media outlets," Adkins said. "All of the church council members have been doing their part as well by cleaning debris, communicating with insurance, and helping the pastor through this challenging situation."
Spreading the word
The storm damage, though devastating, may also be raising awareness of their work in the community.
"I do know that this has gotten the word out about many of the various outreach and recovery programs that our church is trying to provide," said Adkins. "Many have learned about our mission because of the steeple collapse, which is God's divine work in itself. I hope that this grows our church in faith and numbers. I hope that this positively affects those affected by poverty and drugs in my community. I hope this spreads the teachings of our Lord and Savior Jesus Christ. That said, God is control. Time will tell on what God has in store for our church in the coming months."
Adkins also believes this increased public profile could lead to others becoming involved in the church's outreach and recovery mission.
Lawson said he has talked to the UCC regional body about pursuing ordination, but it all depends if he and the congregation can sustain the church long enough to get him on that track, which can be a two-to-three-year process.
For now, though, the people of Evangelical UCC will remain focused on rebirth and recovery. Lawson plans to hold worship at the church on Sunday, either in the sanctuary or church lounge, depending on the findings of the structural engineer. They will also have to decide what to do about rebuilding the steeple and how far the insurance money will go to cover the repairs to the building, listed on National Register of Historic Places. Dealing, as they can, with the challenges of structure, both physical and spiritual.
---
Related News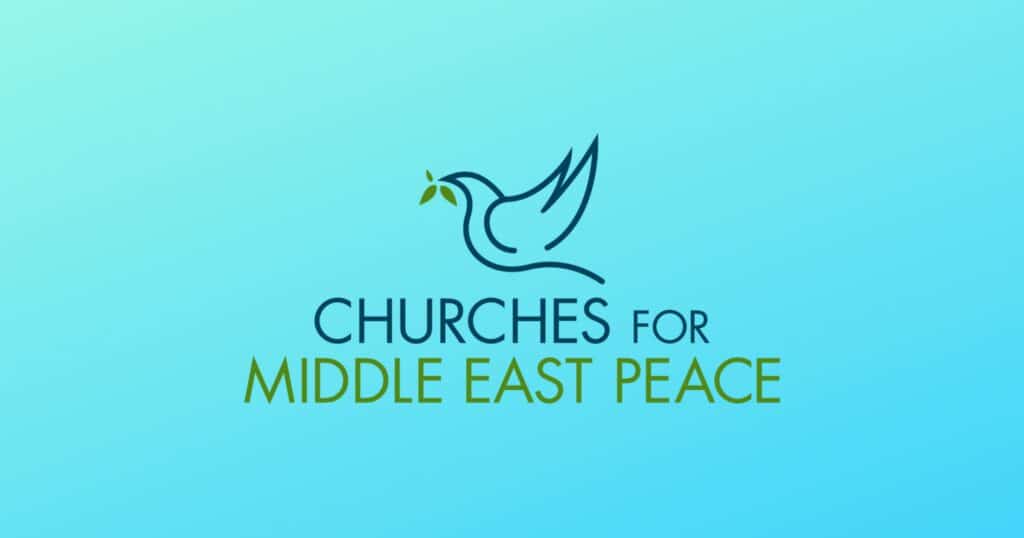 The following statement was issued Dec. 2 by Churches for Middle East Peace (CMEP), of which...
Read More