Northern California churches offer solace, support to wildfire victims
Amidst the worst wildfires in California history, the people of several United Church of Christ faith communities are reaching out with love to neighbors and to strangers, offering solace and support.
As of Wednesday, Nov. 14, the Camp fire, one of three major blazes raging across the state, has taken 48 lives in Northern California, torched 135,000 acres, and destroyed more than 8,800 structures, including 7,600 homes. The UCC Northern California Nevada Conference reports that currently "at this heartbreaking time, Churches in the areas are safe and intact."
But many are still feeling the impact. A UCC congregation in Redding, close to the town of Paradise, Calif., consumed last week by the Camp fire, is still reeling from the Carr fire, a late July blaze that devastated their hometown. Though Pilgrim Congregational Church United Church of Christ was left standing, four of their families lost everything in that fire just months ago.
As they recover from the tragedy, one of those families is now using their traumatic experience to extend comfort and care to others.
Jessica French, mother of two and a Pilgrim church council member, stepped up last weekend to mobilize the Redding congregation into action. It started with a partnership between her employer, the church and the local high school.
"We decided to hold a fundraiser for the 900 out of 1,000 high school students who lost everything in the Camp fire," she said. "With a Spaghetti Feed this Saturday, we hope to raise $3000 that will be donated directly to Paradise High School to be used as they deem appropriate for their students directly."
From there, French, her 6-year old son, and Pilgrim's Interim Pastor Gail Doering led the effort to do more for a large number of people evacuated from Paradise, many who are sheltering in the Redding area.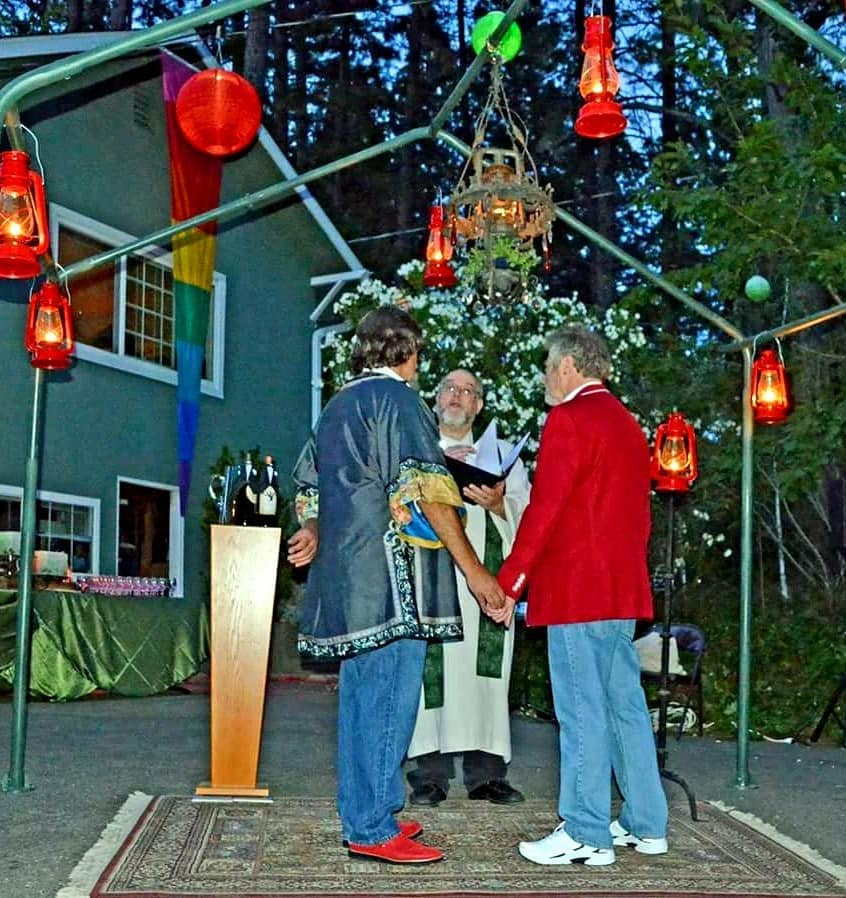 UCC pastor Jim Peck marries Michael and Dayle at their Paradise, Calif., home in 2014
"We are opening our church doors as a sanctuary for any evacuees who need rest, peace, coffee, soup, Wi-Fi or just connection," French said. Pilgrim members have also organized early donations of toiletries, blankets, pillows and food for evacuees in other communities, and are looking ahead to help people in the Redding area around the holidays. "We are planning a Holiday Tradition gift card drive for Carr fire victims, and we are partnering with our local schools to identify those families who lost their homes and provide them with gift cards to be used for holiday decorations that may have been lost in the fire, and for gifts for their family."
French said her church is working in ways that can be most helpful, because she knows what being helpless feels like. "We received an immense outpouring of love from the community. What helped us most in the beginning was meals brought to us cooked, some frozen, people asking if they could bring us specific things vs. 'let me know if I can help.' Cash and gift cards were an enormous support because we didn't have to worry about money." 
First Congregational Church of Sonoma (FCCS), touched by wildfires in 2017, is also coordinating supply drive of cash and gifts cards. Supplying tangible financial assistance in the midst of uncertainty, in part because they understand what that uncertainly feels like.
"I don't anticipate this bringing in a huge amount of money as there are a couple of other big donation drives in Sonoma. It is still important for us to do," said Elizabeth Griego, FCCS Moderator. "I think it is important to make the opportunity to support the fire relief efforts available and accessible to our congregation. Our involvement with the Sonoma Valley Carr and Tubbs fires last year is still very much with us and on our minds." Griego said FCCS also will be donating $1,000, the remainder of the money that came to the church as relief last year, to another church, if possible, in the Camp fire area. "It was a good feeling to be able to help people through FCCS last year, and we would love to extend that opportunity to be responsive and generous to another church."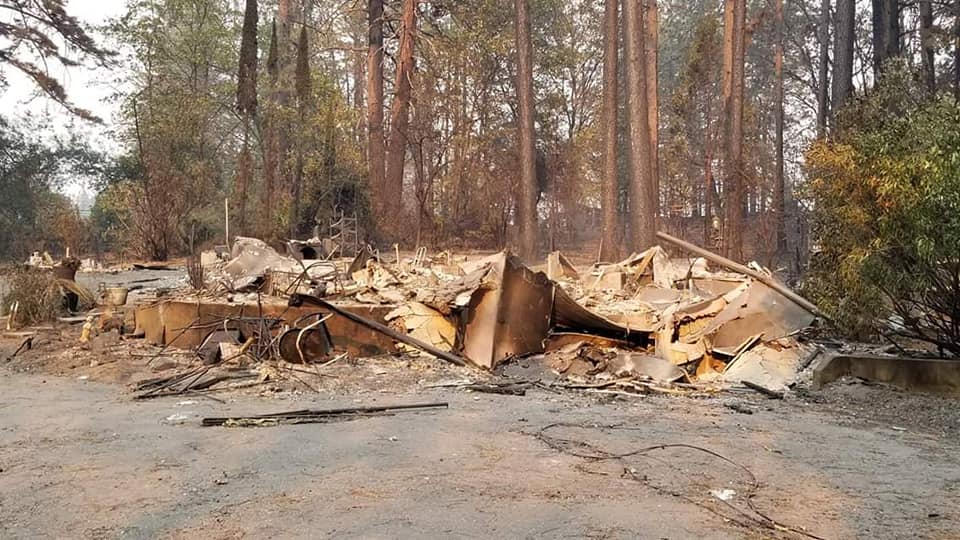 The home of Michael and Dayle, destroyed by the Camp fire
A UCC church in Chico, which no longer meets for worship, continues to minister to neighbors in need, opening its rented office space last week as a place of sanctuary for fire evacuees.
"What else is there to do but serve our neighbors," said the Rev. Jim Peck, pastor of New Vision Congregational Church UCC. "In John's gospel, on the night before he was put to death, Jesus picked up a towel and washed the feet of his disciples to teach them to be servants to one another. He taught us that our faithfulness to our neighbors is measured by how dirty our towel is.  Or, in my case right now, how many dirty towels can fit in a super-sized washing machine at the Sunshine Laundromat."
Peck's congregation celebrated its last service in July, but he stayed in the area to wrap up church business. He is now working with ecumenical partners during this disaster. "Part of my ministry is doing laundry for the mass shelter at the local Church of the Nazarene – towels, sheets, and a couple of bags for individuals," he said. "Last night, I spoke with my DOC (Christian Church, Disciples of Christ) colleague, who is also chair of our local interfaith council, about organizing an interfaith disaster response. This event is less than a week old. But we must begin now in creating a coordinated, shared effort for faith communities."
Other UCC churches in the foothills of the Sierra Nevadas are also providing support in a number of different ways. Loomis Basin Congregational UCC asked members bring pet food and supplies to church to take up to some animal shelters, and the churches in Oroville and have been serving in their communities in multiple capacities.
"This is the third time in the last 12 months that churches in the Northern California Nevada Conference (NCNC) have been in the center of major fires," said Amanda Sheldon, UCC Disaster Ministries program associate, noting that such a "continuous response retraumatizes those only a few months away from being survivors themselves."
"These fires every year continue to devastate our communities," said the Rev. Diane Weible, North California Nevada Conference Minister. "We feel the pain of those victims and want so desperately to do something to help. We offer prayers and stand ready to help in any way we can." The Conference is also sending financial assistance to the churches' relief efforts in Redding and Chico.
Disaster Ministries has been in contact with the Rev. Davena Jones, NCNC Disaster Coordinator, and stands ready to assist in the long term process, monitoring the situation for unmet needs and planning for long term recovery support.
"Long-term recovery is the costliest and most under supported phase disaster and giving for recovery efforts is the most effective, efficient and impactful support individuals can provide," said Zach Wolgemuth, UCC Disaster Ministries executive. "UCC members are encouraged to Stay (don't self-deploy), Pray, Give (financial contributions are best) or assemble Emergency Clean Up Kits."
"I can help and so I am," French said. "It is very healing to my heart to be able to help people suffering the same as I did and give back to our greater community." 
"All this evidence, once again, that in the UCC, no one is ever alone," Peck said.  "Confirmation of our Statement of Faith, 'You promise to all who trust you, your presence in trial and rejoicing.'"
---
Related News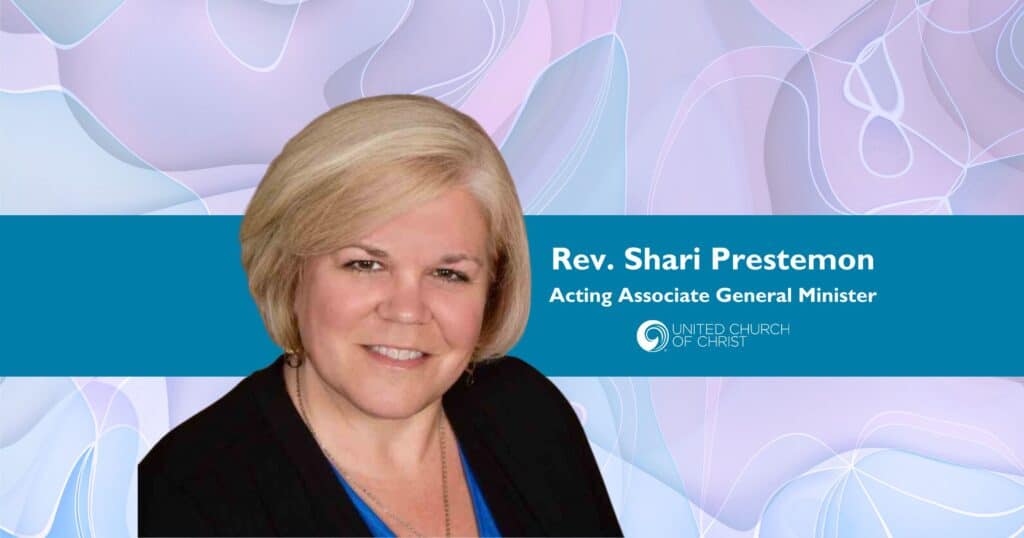 A new United Church of Christ national leader has been called. The UCC Board voted in a...
Read More