North Carolina churches collecting 10,000 pairs of shoes to bring water to thirsting communities
Turning shoes into water. Protecting the shoeless, and aiding the thirsty. It's a project that quickly caught the interest of North Carolina minister the Rev. Angela Roach Roberson. And now it's turned into a mission with a very lofty goal.
"We initiated this international mission project in High Point, N.C., and are leading a regional effort to collect 10,000 pairs of shoes," said Roberson, pastor of Congregational United Church of Christ. "Our church is one of several drop-off sites in High Point, and we are fortunate to have other congregations who have partnered with us to cooperate with God in this work of the kingdom."
The project, which was announced in late September, was first thought of as a mission for Bible School. But when Congregational UCC partnered with First United Methodist in High Point, the idea took off. First Methodist collected 500 pairs in a month, and is still receiving shoes. Now, the original partners support a larger community-wide ecumenical effort that has more than 20 churches across the Piedmont of North Carolina involved.
"Right now we have 1,700 pairs of shoes," said Roberson.  "On Nov. 6, First Congregational of Asheville (the Rev. Joe Hoffman) will deliver 500+ pairs of shoes and Zion UCC in Thomasville (the Rev. Jim Simonds) will also make a delivery. Beulah UCC in Liberty (the Rev. William Vanderburg) has donated 100 pairs of shoes, and will be making another donation next Sunday. First Congregational in Concord (the Rev. Ed Holloway) is also doing a shoe drive in partnership with us."
And Roberson has no intention of stopping there. She is renting a van and going to Greenville, N.C., to pick up about 300 pairs from a non-denominational church at Thanksgiving, and she's hoping people from far and wide who read this story will send her shoes during the month of November.
The shoe drive benefits Shoeman Water Projects, which collects donated new and used shoes and sends them to street vendors in places like Kenya, Haiti and South America. The group sells the shoes to people who need them for pennies on the dollar. The money raised is used to fund well-drilling rigs, water purification systems and training programs to bring fresh, clean water to those who go without.
"This is the way I think about what we are doing," said Roberson. "On the surface of it, we are are putting shoes on those who are barefoot. But when you think about that more critically, there are more pieces to this–it cuts down on disease, it helps to keep people healthy, and there's a hygiene component. When the shoes are sold by street vendors, this creates a micro business, with the proceeds feeding and clothing families. If women don't have to get water so often to cook, clean and wash, girls can go to school–so there's educational component, too."
George "the Shoeman" Hutchins started the organization more than 15 years ago. Headquartered in Missouri, the charity hopes to collect about a million pounds of used shoes—roughly 300,000 pairs—every year.
Other UCC congregations have previously collected thousands of shoes for this organization before–but not with a goal of 10,000 pairs. Where did that number come from?
"The Shoeman will pick up the shoes if you collect 5,000 pairs," said Roberson, "and our project coordinators said, 'Let's double that amount.' And I didn't stop them." The pastor wants to have a pick-up party on the lawn of Congregational United Church of Christ for the UCC, Methodist and Baptist congregations involved when they meet their goal.
"When I think about this project, I think about Revelations 21-22," said Roberson. "The new creation of the earth, and that human beings were created to cooperate with God, working in the earth for a new creation. The rivers of water, the waters of life that are flowing freely–I think about an earth where people have access to water no matter what side of the street they live on. Under this lens, we are cooperating with God for the renewal of the earth and the betterment of humanity. That's John's vision."
Congregational UCC is located at 401 Gordon Street, High Point, NC 27260. The phone number is 336-884-8440. "We want people to send their shoes to us! I want those shoes."
---
Related News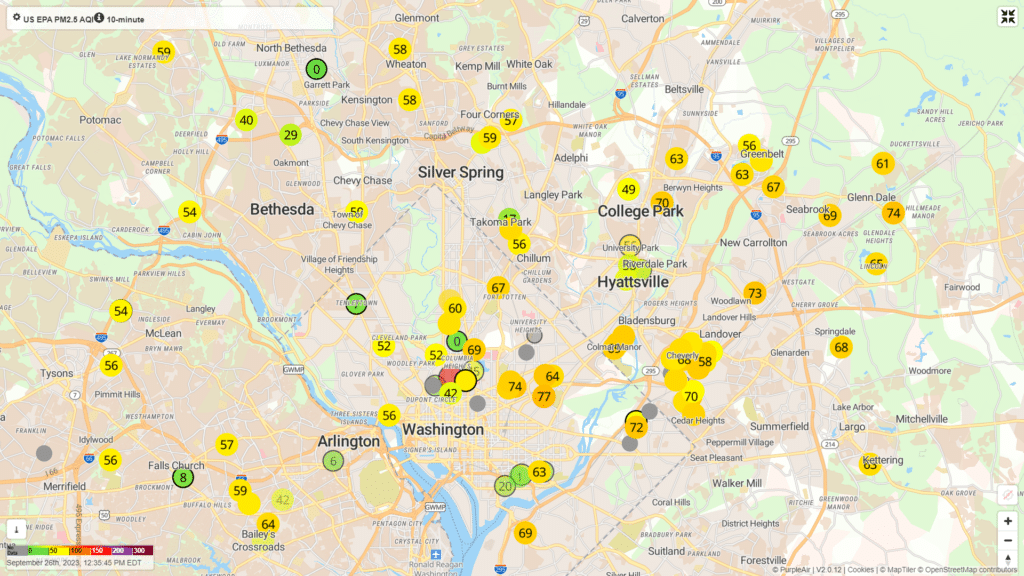 This summer, the United States experienced some of the worst days for wildfire pollution in...
Read More