Newtown clergy begins vigil on the National Mall for victims of gun violence
Surrounded by more than 3,300 grave makers on the National Mall in Washington D.C., the Rev. Matt Crebbin of Newtown Congregational United Church of Christ and fellow Newtown clergy are standing for the thousands who have fallen victim to gun violence in the United States. The clergy members, joined by leaders of faith organizations from the PICO National Network and Sojourners in their 24-hour Thursday vigil, are calling on Congress to vote on gun-violence prevention legislation.
"We have been ministering to families and a community affected by the plague of gun violence [and] a tragedy that has united not only our community, but communities across the nation, to say that the status quo is no longer acceptable," Crebbin said.
The April 11 vigil, sponsored by the PICO National Network's Lifelines to Healing campaign and Sojourners, precedes the impending Senate debate on the assault weapons ban, universal background checks, prosecution of unlawful gun trafficking and school safety legislation.
"We come here united in a moral conviction to say that now is the time for change," Crebbin said. "Today we weep as one people. We weep for all our dear ones lost to us, we weep for our sons and daughters, wives and sister, fathers and brothers, our friends and neighbors near and far, each of them beloved. It does not matter where this violence has struck."
The 3,300 grave markers in the mock cemetery represent the number of victims shot and killed since the tragic shootings at Sandy Hook Elementary in Newtown, Conn., in mid-December, that claimed 26 students, teachers and administrators. Crebbin, who officiated the interfaith memorial service days after the massacre, was joined by Rabbi Shaul Praver of Newtown's Congregation Adath Israel. The pair wrote a letter to Congress in mid-March on behalf of Newtown Clergy calling for tougher gun laws.
"There is a great need to deal with this whole issue with a holistic approach," said the Rev. Sala W. Nolan-Gonzalez, the UCC's minister for criminal justice and human rights. "My personal prayer is that we can stop violence in cities and municipalities throughout the country, whether it involves a city or rural setting, or children or elders."
The UCC also urged members to take action on Faith Call-In Day April 9, and there were a total of 10,000 calls from 75 different denominations to Congress. Sandy Sorensen, the director of the denomination's Washington D.C. office, maintains that the voices from people of faith are critical in the debate, often amplifying those impacted by gun violence and voices that are unheard in public.
"In February, the Faiths United Against Gun Violence Call-in Day generated an impressive response of over 10,000 calls to members of Congress," Sorensen said. "The impact [of the April 9 Call-In Day] can already be seen at this critical juncture in the Senate debate this week around legislation calling for universal background checks. The voices of sensible gun-violence prevention advocates were successful in countering the threat of a filibuster and have made it possible to bring this legislation to a vote on the Senate floor."
Senate leaders on Thursday reached a bipartisan agreement to strengthen background checks on gun purchases, avoiding a threatened filibuster by 14 senators who oppose the legislation. Sorensen said the agreement is a significant step forward.
"People of faith are joining with a broad and diverse coalition of gun violence survivors, victim families, law enforcement officers, public health experts, and domestic violence advocates in urging Congress to stop delaying and pass sensible gun violence prevention legislation," said Sorensen. "We have already lost far too many women, men and children to gun violence. The time for action is now, and victims of gun violence deserve a vote."
"More than 3,300 people have died as a result of gun violence since the tragedy in Newtown, and it's past time for our leaders to act," said the Rev. Michael McBride, director of PICO National Network's Lifelines to Healing campaign. "We have stepped down from our pulpits and left our houses of worship to remind Congress we're not going anywhere until they pass meaningful legislation that bans assault weapons and high-capacity magazines, institutes enforceable universal background checks, ends gun trafficking, prosecutes straw purchasers, and invests in proven strategies to reduce the gun violence that plagues our cities every day."
---
Related News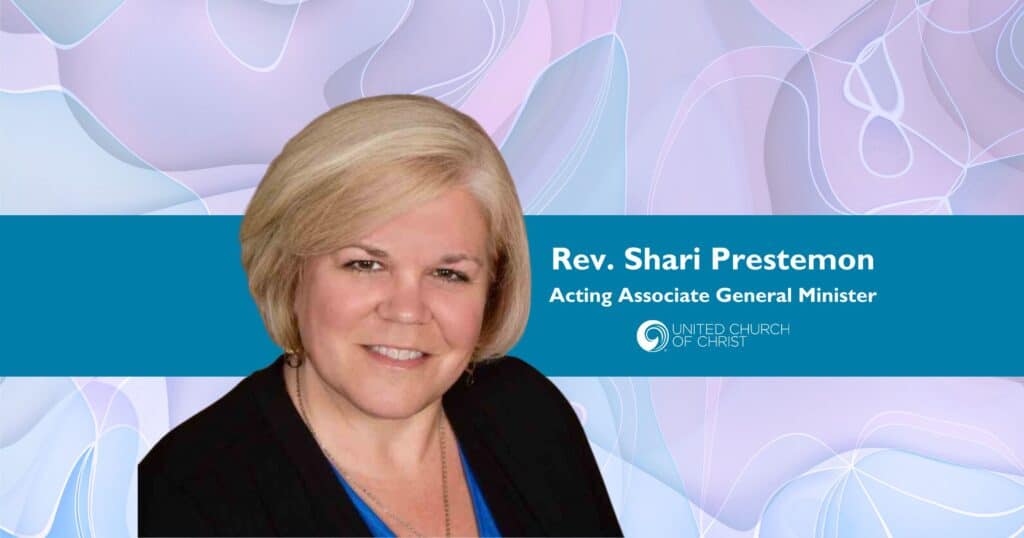 A new United Church of Christ national leader has been called. The UCC Board voted in a...
Read More