UCC conference bringing immigrant welcoming resolution to General Synod
What does it mean to be an immigrant welcoming congregation in the United Church of Christ?  A commitment to border justice, a presence at the wall between the U.S and Mexico, interaction with immigrants in the community they serve, and education around the issues of immigration and refugees. Mayflower Church UCC, in Minneapolis, Minn., hoping more churches in the denomination follow their lead, is wholeheartedly supporting an Immigrant Welcoming Congregation resolution that could come before General Synod 31 in 2017.
"We have worked on educating our churches in Minnesota about the Biblical mandate to welcome immigrants, the root causes of forced migration, the UCC history of resolutions on immigration, for profit detention centers, actions that churches can take for the passage of immigration legislation, and the contributions of immigrants," said Diane Haines, a leader on the Mayflower Church UCC Global Advocacy team. "As we look to the General Synod meeting in Baltimore, we hope to see the UCC vote to become Immigrant Welcoming and call on our churches to do so as well."
Mayflower, which overwhelmingly voted to become an Immigrant Welcoming Congregation in May, is very involved with the Minnesota Conference UCC Immigration Team, which lead the move to pass an Immigrant Welcoming resolution at the Conference's 54th annual meeting this summer. Now Haines, chair of the Minnesota Conference team, is planning to submit an Immigrant Welcoming Congregations resolution for consideration by the 2017 General Synod.  Four other conferences – Massachusetts, Wisconsin, Northern California-Nevada, and the Central Pacific Conferences affirmed similar resolutions this summer and may join Minnesota in submitting a document for consideration by the governing body of the wider church.
"Our denomination has been making statements about immigration concerns since 1981," said Haines. She hopes a resolution that specifically calls on churches to welcome the immigrant underscores the 2013 resolution passed by General Synod supporting compassionate comprehensive immigration reform and the protection of human rights of immigrants. While that declaration does contain a statement about our churches working to become immigrant welcoming, the UCC National Immigration Collaborative decided that there needed to be a separate resolution that stresses extravagant welcome.
"What I hope this will stir up within all of our members is a deeper awareness of God's call to us to welcome the stranger and a deeper commitment to learn about the role of the U.S. in causing our neighbors to the South and virtually around the world the need to flee their homeland and seek a place of safety and economic viability," said Haines.
Mayflower members have spent years educating themselves about the sometimes perilous journey immigrants make and what happens to them when they arrive in the U.S. Earlier this month, ten people from the Minneapolis congregation, including Haines and the Rev. Emily GoldthwaiteFries, the church's associate minister, spent several days on the border between Arizona and Sonora, Mexico, praying outside a detention center that houses 1,800 migrants, and marching to the wall in a visible call for a more humane immigration  policy. And while that kind of witness is important, both women emphasized that the work needs to be rooted in each local community.
"In the borderland, UCC churches and others are living out their faith with a character you find in the desert – strong, slow-growing, efficient, and never giving up," said GoldthwaiteFries. "But every day, churches around the country are still serving immediate needs of immigrants and organizing for lasting justice in our immigration policy. We can all make a big difference right where we are planted."
"We engaged our congregants with the Somali families who reside in the Workforce housing that abuts our parking lot," said Haines. "We became involved with a local Mexican American women's cooperative and an asylum seeker from Rwanda. We listened to stories of these immigrants. These opportunities enabled us to wholeheartedly say 'yes' to being an immigrant welcoming community and to covenant to continue follow God's call to walk faithfully with our immigrant brothers and sisters as together we seek justice for all of God's children."
"In the growing movement of people in our churches who understand the issues, we all need to be connected into organized actions – for example, to drive for-profit prisons and detention centers out of our communities," said GoldthwaiteFries. "We have a faith imperative to meet immediate needs for food, shelter, water – but even these seemingly simple acts of charity are also linked to a nationwide strategy that moves us toward justice. The church is absolutely essential in this struggle. This is what we were born to do."
"We want to wholeheartedly embrace this. We have relationships that show us this is important," said Haines. "We are, after all, God's hands and feet, and called to be prophetic witnesses to God's love."
---
Related News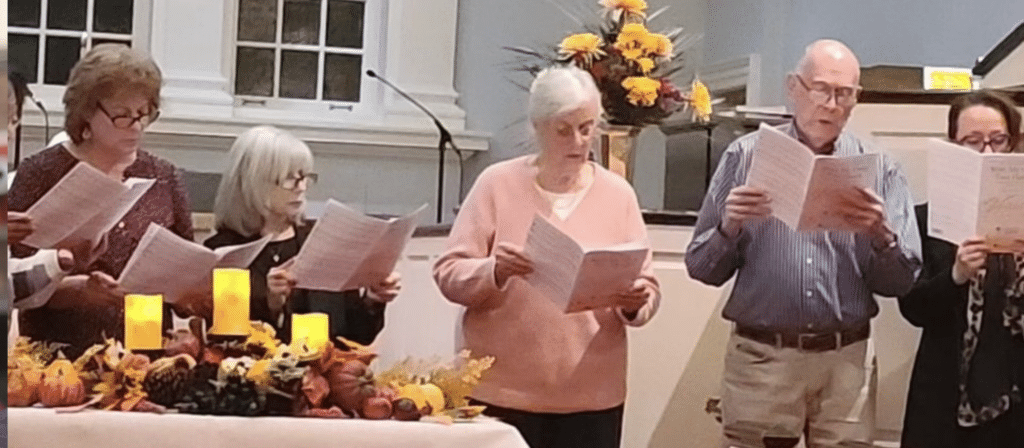 Many United Church of Christ congregations across the country participated in interfaith...
Read More