Long Island church rings bell to help end hunger
With each pull of the rope and ring of the bell at Congregational Church of Patchogue, one less person on Long Island went hungry. 
Congregational Church of Patchogue, a United Church of Christ congregation in Patchogue, N.Y., invited the community on July 9 to walk up the winding stairwell in the church bell tower and ring the bell in exchange for a donation that supports the church's food pantry. The Rev. Dwight Lee Wolter, pastor of Congregational Church of Patchogue, was thrilled that more than 200 people came forward to pull the rope and contribute about $500. 
"When we were downstairs on a sidewalk and we heard the bell, we'd cheer and we'd clap, and there's a very jubilant atmosphere," Wolter said, adding that the event went so well they did it again the next night on July 10. 
"We do a lot of 'going out' in the community. This was, in a way, a welcome to the community," Wolter said. "The idea is based on the relationship the church has as a member and part of the community. Many people are curious about what goes on inside a church, but not necessarily on Sunday mornings."
The event took place during Patchogue's Alive After 5, a block party of sorts, a social gathering with food trucks lining the street and people moving from place to place. Wolter, who has been the pastor of the congregation for nine years, thought that the church could use the event to invite people to remember less fortunate individuals who suffer from hunger and thirst. Rather than just ask for donations, the church invited them to ring the bell and contribute to the food bank. Congregational Church's food pantry has been in continuous operation for 28 years, feeding about 70 people on average each sitting. 
The church also offered some light refreshments and opened the doors for people to explore the building. 
"We just let them look into the sanctuary, and see the pipe organ. We let them ask the questions," Wolter said. "Some get curious how old the pipe organ is, and others ask what kind of church we are, but they drive the conversation and we answer their questions." 
The best news from the weekend in Wolter's estimation is that "people are eager to give once you tap them with vitality and not give them your philosophy."
---
Related News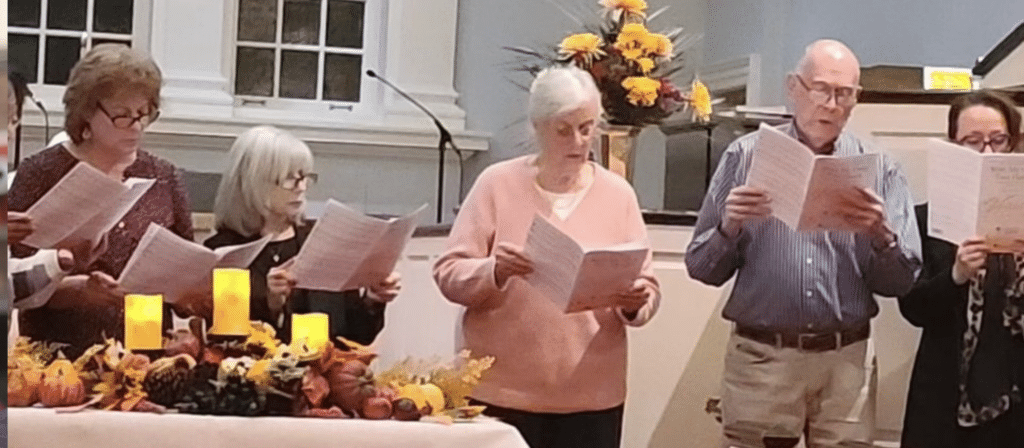 Many United Church of Christ congregations across the country participated in interfaith...
Read More