Rev. Geoffrey Black followed his call, and the 'rest is mystery'
When the day starts, you never know how it will end. That opens people up to a range of possibilities.
The Rev. Geoffrey A. Black, the outgoing general minister and president of the United Church of Christ, offered that reflection and others on Wednesday, July 15, during his final sermon as the leader of the denomination. The sermon, "Reflections on a Life in Ministry—So Far," was a time of storytelling and music at Amistad Chapel UCC, the church on the street level of the UCC national offices in downtown Cleveland.
"I never thought it would come to this, and this day, and I am amazed where ministry has taken me," said Black, UCC general minister and president since 2010. "Not that this is some tragic end, but that this is never where I thought I'd end up. I never intended to do this, to follow this ministry. I had other plans, but I accepted this notion to a call, and the rest is really mystery—divine mystery."
While Black shared lessons and stories from his ministry, the worship service was also an opportunity for colleagues and friends who've worked with Black over the years to bid him farewell as he transitions into the next phase of his call. Black was appointed as a visiting professor at Eden Theological Seminary, one of six UCC seminaries, in Webster Groves, Mo.
"I have to admit, I really hate goodbyes," said the Rev. J. Bennett Guess, a fellow national officer. "Our closing hymn, 'I Have a Feeling,' will be appropriate to close our service today."
Just a few weeks ago on June 29, during General Synod 2015 in Cleveland, Black was honored in a video tribute, a specially-written musical composition, and a standing ovation—love from the church he has led for six years. He announced his retirement in August 2014.
"Goodbyes are hard," added the Rev. James Moos, another national officer. "These past weeks, I've done a lot of mourning as we've done a lot of lasts for the current collegium—our last dinner together, our last meeting, and this last sermon in the chapel. It's a sad time, but a time of hope and thanksgiving."
"I choose to say farewell, rather than goodbye," the Rev. Linda Jaramillo said to Black. "I'm certain this is not your last time in this place. In your new work, you will probably be back."
Black shared stories from his 40 years of ministry, starting with the tale of a homeless man he met pastoring a New York City church during the 1970s. "In my strength and youth, in my 20s, I said to him, you can't hang around here. We have children and we can't have you threatening them," Black said. "And the man said, 'Aren't I a child of God?' It stopped me in my tracks, and that really stuck with me."
In another story, Black shared how a man, whom he'd met through a youth group and mentored two decades earlier, randomly telephoned him. "He calls me 20 years later. He's the head of IT for Howard University, and he says, 'I've been wanting to track you down to tell you how you changed my life and what you did for me,'" Black said. "What I draw from these stories is that they aren't my stories, but they're our stories, and they can be multiplied thousands of times over. In this building, you contribute to making a difference in people's lives."
Black was called to lead the denomination by the former Executive Council of the UCC, and was confirmed as the UCC's seventh GMP by delegates during General Synod 2009 in Grand Rapids, Mich. He was re-elected to a second term in 2013 during the denomination's biennial gathering in Long Beach, Calif.
"This work that we do, and some of it doesn't come with immediate gratification, ultimately ends up with these kinds of things happening in the lives of real people and real communities," Black told those gathered. "People get a meal, have a home, get clothing, and are introduced and re-introduced to a relationship with God. All of that is your ministry. I want to leave here with folks knowing that we are about something.
"Believe it, so that you can keep doing what you do," Black concluded. "We are about the work of God's realm on earth."
---
Related News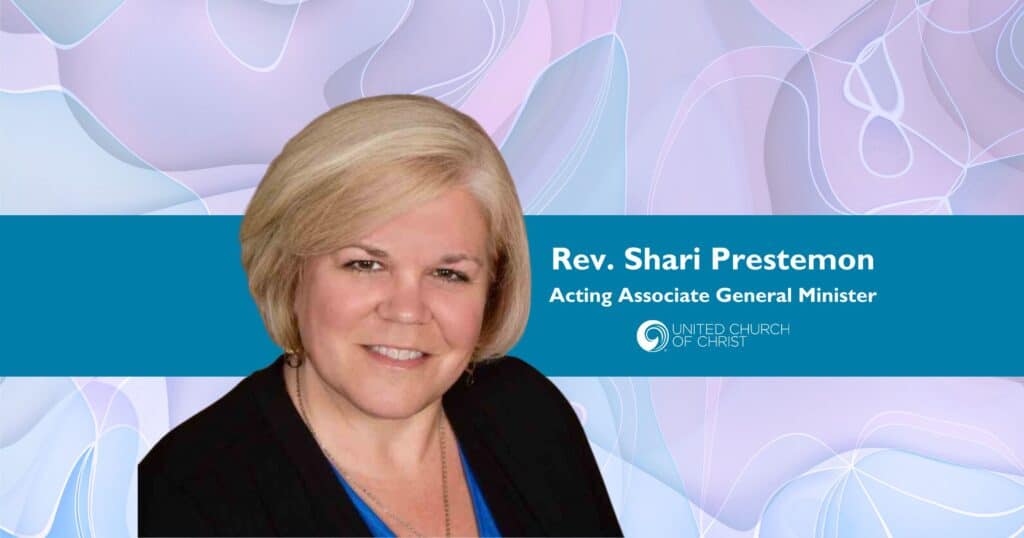 A new United Church of Christ national leader has been called. The UCC Board voted in a...
Read More