UCC trailblazers assure youth they 'have the power' as justice advocates
Three prophetic UCC voices and trailblazers co-facilitated an informative workshop for youth and young adults Friday morning at General Synod 30 in Cleveland, outlining how the denomination's history and polity can transform them into justice advocates in unexpected places.
The Rev. Jeremiah Wright, the Rev. Bernice Powell Jackson and the Rev. Yvonne Delk spoke on how young people have impacted, transformed and chartered courses in the UCC story and continue to help make that history.
For many young participants, it was their first Synod and first interaction with the UCC outside their local or Conference setting. For others, it reaffirmed UCC ties.
Offering an overview of UCC history to include its work on behalf of the anti-slavery, abolitionist and Underground Railroad movements, Wright lifted up individuals and institutions alike.
"Harriet Tubman made 19 different trips to get slaves out of the South, and thousands of missionary schools were created," said Wright, pastor emeritus at Trinity UCC in Chicago. He also cited the "miseducation" of African Americans. "If you've been told for 247 years to use the back door or the service entrance, and then are told in the 248th year to use the front door, what are you going to do?" The question may have been rhetorical, but several youth responded: "Use the back door." 
Jackson, pastor of First United Church UCC in Tampa, Fla., immediately engaged the gathering by directing everyone to turn to the person seated next to them and emphatically state, "'You have the power!' Whether in your church or in your world, you have the power to change things."
Jackson also introduced a brief video about the Wilmington 10, convicted in 1971 of arson and conspiracy and served nearly a decade in jail before the conviction was overturned nine years later. "In our history in the United Church of Christ, there were many young people involved in the struggle of the Wilmington 10 – who themselves were young activists – that resulted in the 10 being released.
"Many times in the history of the world, it's been the young people who have claimed the power to change the world," Jackson said.
The first African-American woman ordained in the UCC, in 1974, Delk credited a myriad of mentors for encouraging her – though she wasn't sure it was the thing to do at the time – to pursue ministry.
"A day and a dawning was unfolding that I could not see," said Delk. "I couldn't see it, but it was there; a day would be coming when women would be coming to seminaries."
Youth and Young Adults at General Synod (Y&YA@GS), an official outreach of General Synod, is for participants ages 13-20.
---
Related News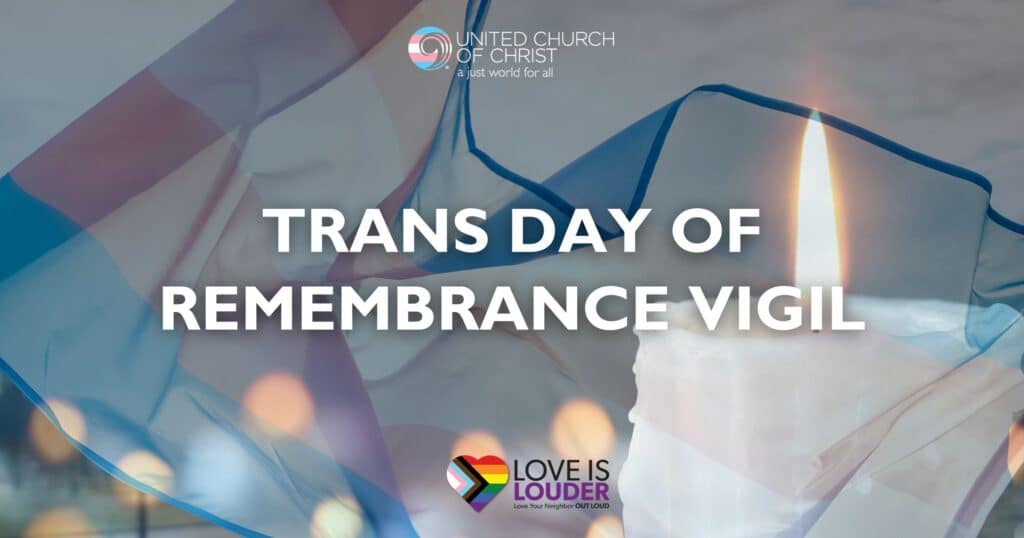 To mark Transgender Day of Remembrance (TDOR), the United Church of Christ hosted a vigil...
Read More