Resolution aims to renew UCC's call as Just Peace church
The Just Peace movement in the United Church of Christ marks its 30th anniversary this summer. As a way of celebrating the milestone during General Synod 2015 in Cleveland, Just Peace advocates will ask the governing body to reinvigorate the movement in the denomination and interfaith circles by adopting a proposed resolution that invites congregations to proclaim themselves as Just Peace churches. The resolution also calls on Just Peace settings of the church to band together and raise awareness of justice issues so that they may be better peacemakers in the world.
The resolution is submitted by 18 different UCC congregations throughout the Northeast, Midwest and Southeast. If passed by General Synod delegates, it will re-issue a call for "churches to organize themselves so as to be effective instruments of God's Just Peace with a specific call to develop practices, programs, partnerships, and networks of Just Peace at the local, regional, and national levels."
"I think it is important that the resolution is being brought by Just Peace churches and am hopeful that, if affirmed, it may inspire new churches to learn more about this historic witness and consider what becoming a 'Just Peace' church might mean in their local context," said the Rev. Michael Neuroth, UCC policy advocate for international issues. "Renewed attention on Just Peace values and practices is important at a time when we are stretched to respond to continued economic and racial disparity, environmental challenges, and extended conflict domestically and abroad."
By renewing the call with a bold, public voice and adopting the resolution, advocates also hope to create a new network of folks interested in Just Peace who can assist churches going through the Just Peace process. Susan Brooks Thistlethwaite, who edited the book "A Just Peace Church," is pleased that the upcoming resolution builds on the UCC's commitment and suggests practices for Just Peacemaking. The 10 practices, which have evolved and been tested, range in their call from supporting nonviolent direct action, to advocating for human rights and religious liberties, to encouraging participation in grassroots peacemaking groups.
"Just Peace gives a person in the UCC a concrete answer in working for peace, and enables us to take a stand on practices of non-violence—marches, boycotts, unarmed resistance," she said. "Peace is possible, and it really is a statement against theological and biblical attitudes that [claim] peace isn't possible and that we live in a world where there will always be violence."
The Rev. Chip Jahn, pastor of St. Peter UCC (Lamar, Ind.) and Trinity UCC (Fulda, Ind.), both sponsors of the resolution, made use of those tools 30 years ago when he and church members recognized the emergence of domestic violence in Southern Indiana. As the congregations looked for solutions to that problem, they talked about a cultural perception of violence as a way to solve conflict. The Just Peace movement offered another path.
"We began to see common threads of dysfunction in violent situations at both the interpersonal and international level," Jahn said. "The United Church of Christ's call to invest in just peacemaking intrigued us. They seemed, to us, practical tools to mission and ministry at a variety of levels."
St. Peter UCC and Trinity UCC have been peacemakers at the local, state and international level. The congregations raised awareness of domestic violence and raised money to support anti-abuse programs, and partnered with a Muslim community in Niger to dig four water wells.
The Just Peace movement has grown in the 30 years since the UCC proclaimed itself as the first Just Peace church in 1985, with ecumenical organizations like the World Council of Churches affirming itself as a Just Peace body in 2013. Also during that same time, the need for the Just Peace movement has only increased with seemingly constant conflict in places such as the Middle East and parts of Africa, coupled with the rise of gun violence and mass shootings in the U.S.
"The resolution is practical, and specific, and rooted in the commitments we made 30 years ago. It also helps people distinguish that this is not pacifism in the classic sense," Thistlethwaite explains. "Just Peace is an attempt to create something else—conditions that work to end war, and work to prevent war. And if you want to prevent war, you can work for justice."
According to Neuroth, 130 UCC churches out of more than 5,000 have declared themselves as Just Peace churches, and many have done so by writing a statement of covenant or making a public declaration.
He believes there is room for growth, and room for improvement.
"I think there is much broader interest, but we haven't had a clear process [on how churches can declare themselves as Just Peace congregations]," Neuroth said. "We're developing, in time for Synod, a new handbook for Just Peace churches that will be available at the Justice and Witness Ministries booth and on the Just Peace website, and a video that will be shown in the plenary hall to recognize the history."
---
Related News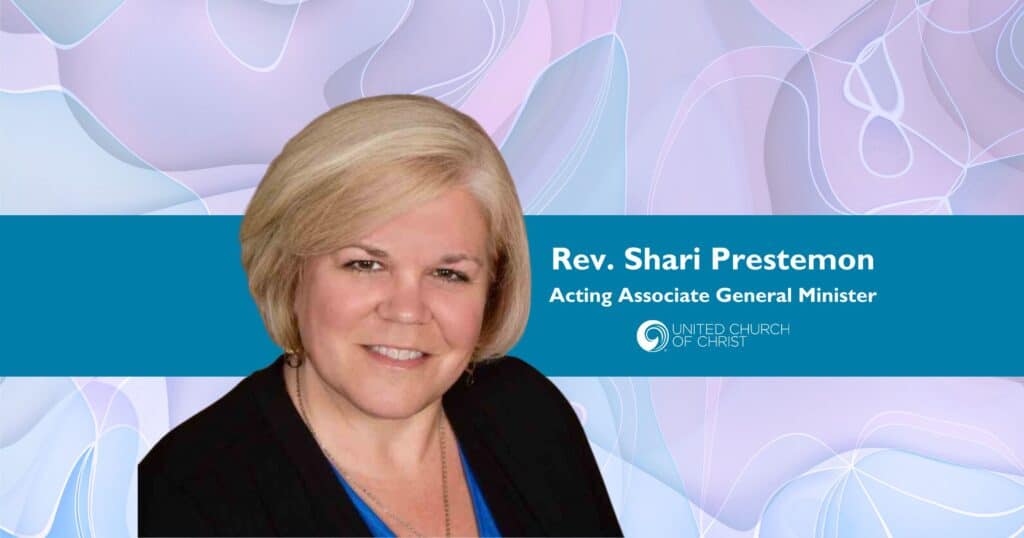 A new United Church of Christ national leader has been called. The UCC Board voted in a...
Read More