Connie Schultz praises UCC Synod attendees for making 'necessary trouble'
Pulitzer Prize-winning columnist Connie Schultz brought a message of "necessary trouble" to the United Church of Christ General Synod Saturday morning — and a love fest broke out.
A syndicated columnist who wrote for the Cleveland Plain Dealer for 18 years, Schultz is the wife of Ohio Sen. Sherrod Brown, who applauded from the front row of the Cleveland Convention Center. She took the podium with, "Is it raining outside? All I saw were rainbows!"
Shultz described standing on the steps of Cleveland City Hall at noon the day before celebrating the Supreme Court's decision on marriage equality. "I got to use a bullhorn. One of my children said, 'Yes, mother, that's what you need.' But I never thought I'd see this in my lifetime."
She recalled a column, one of many generating "necessary trouble," she wrote after Ohio passed Issue One in the 2004 general election. What she saw and heard at worship that Sunday at Pilgrim UCC brought the depth of the catastrophe of that vote into form for her.
"Issue One was the harshest of all the initiatives across the country. It banned same-sex marriage and civil unions and stripped health benefits," she said. "That Sunday, Pastor Kate (Huey) asked people to rise if they were affected (by the vote)."
One by one, people stood — a pastor, the choir director, her friend Jackie. "I realized then that Issue One had happened to all of us."
Schultz tied the June 26 Supreme Court decision to the resolution on marriage equality that was passed by GS25 on July 4, 2005. "It's the difference between bystanders and upstanders. The UCC has been upstanding for years."
She recalled once asking civil rights activist John Lewis how to change the hearts of people. "He told me, 'I don't need their hearts. I need them to do the right thing. . . . What we were communicating through nonviolent protest, what we were demonstrating by being willing to put our bodies on the line, it meant that it was already written that segregation could not stand.'"
When UCC forebears ordained the first female pastor, she said, it was already written that there would be more. For each "first," it was already written that there would be more.
"Compassion is doing whatever is necessary to heighten awareness. If that's how we define compassion, we're always doing the work of justice," she said. "Most of us want justice but feel helpless to act."
That's where "necessary trouble" comes in. Schultz told the story of her "tip jar" column. She and her husband were at a big catered event, and many of the workers looked exhausted. She was pleased to see a big tip jar that had been generously filled, and she mentioned to one of the workers that at least they had the contents of the tip jar to look forward to. "Oh, we don't get the tips. Management keeps them."
What! No way! She called the company managers and offered them the chance to change their policy before she wrote about it. They replied that no one cared who kept the money in the tip jar. She knew better and wrote a column.
"The next morning they had changed their policy on the radio, and the workers got to keep the tips. . . That's the power of showing people they can make a difference."
Schultz said the UCC has always been good at generating "necessary trouble."
"Sherrod and I loved you before you became popular. . . You are a living, breathing version of faith."
---
Related News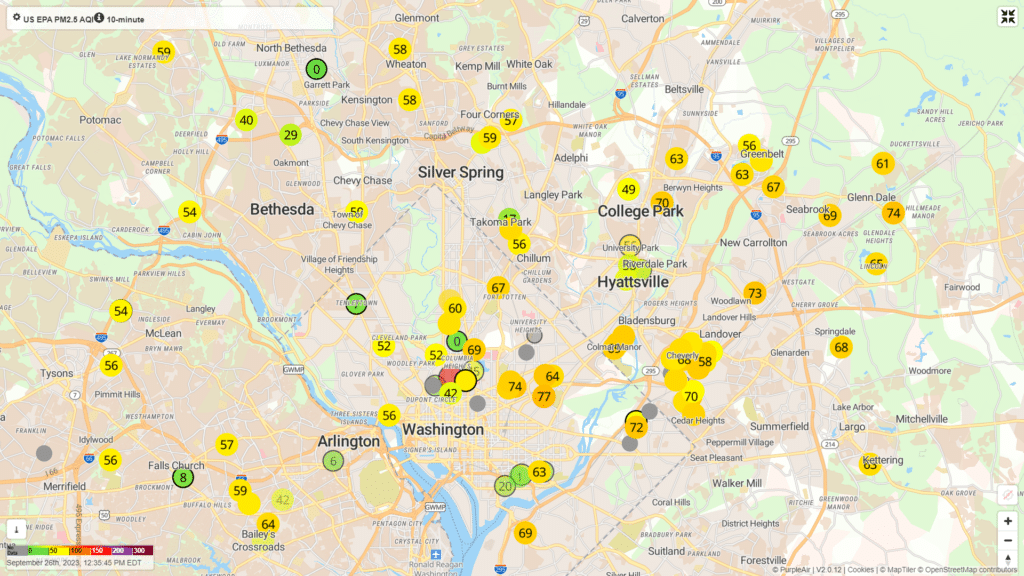 This summer, the United States experienced some of the worst days for wildfire pollution in...
Read More