New York church, U.S. family rallying to keep Haitian immigrant from deportation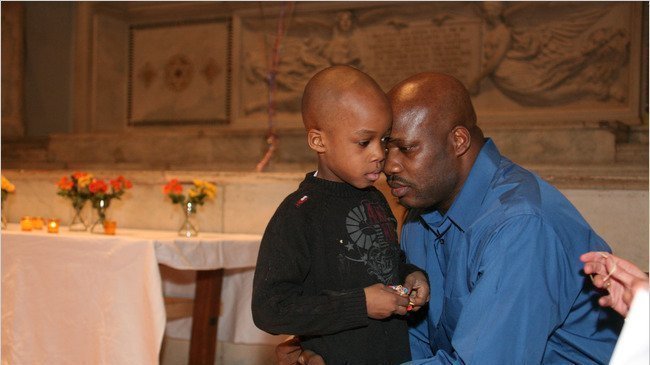 Members of the Judson Memorial Church in New York City are rallying around one of their own in an effort to keep him from being deported to his home country of Haiti.
Jean Montrevil, a human and immigrant rights activist, was picked up by ICE agents outside his home in Far Rockway, N.Y. on Wednesday, Jan. 3, and detained in Newark, N. J. Even though he has a motion pending before the Board of Immigration Appeals, Montrevil was then transferred to Krome Detention Center in Miami, Fla., on Jan. 5 to await the court's decision.
"Jean is a man of great faith whose contributions to Judson Memorial Church and to the wider New Sanctuary Movement cannot be overestimated," said the Rev. Donna Schaper, Judson's senior minister who flew to Miami to offer Montrevil pastoral care. "Some people are just born givers, and Jean is one of them. Why would ICE even think about deporting a man of such caliber, especially one who has checked in regularly for 17 years without a single mishap, and who has a case pending before the Board of Immigration Appeals? There is just no answer — except that they made a clerical mistake. Our hearts are breaking for him — and we ask you to pray that ICE will see the error and correct it and return Jean to his four children."
Montrevil's 14-year-old son Jahsiah, very concerned that his father may end up in jail in Haiti if he is deported, has started a petition drive appealing to his representatives in Congress to intercede on his father's behalf with Immigration and Customs Enforcement.
"We are astonished that Jean would be picked up two weeks before his regular check-in. Jean has been faithfully checking in for nearly a decade," Schaper said. "Why would ICE be aggressive towards him now?"
Montrevil came to the United States in 1986 at the age of 17. He was convicted for possession of crack cocaine as a teen about 30 years ago and sentenced to 11 years in prison. After his release, he married a U.S. citizen and the couple has raised four children. Even though he's had no further troubles with the law, Montrevil's conviction requires him to check in with immigration officials regularly as part of a supervision program.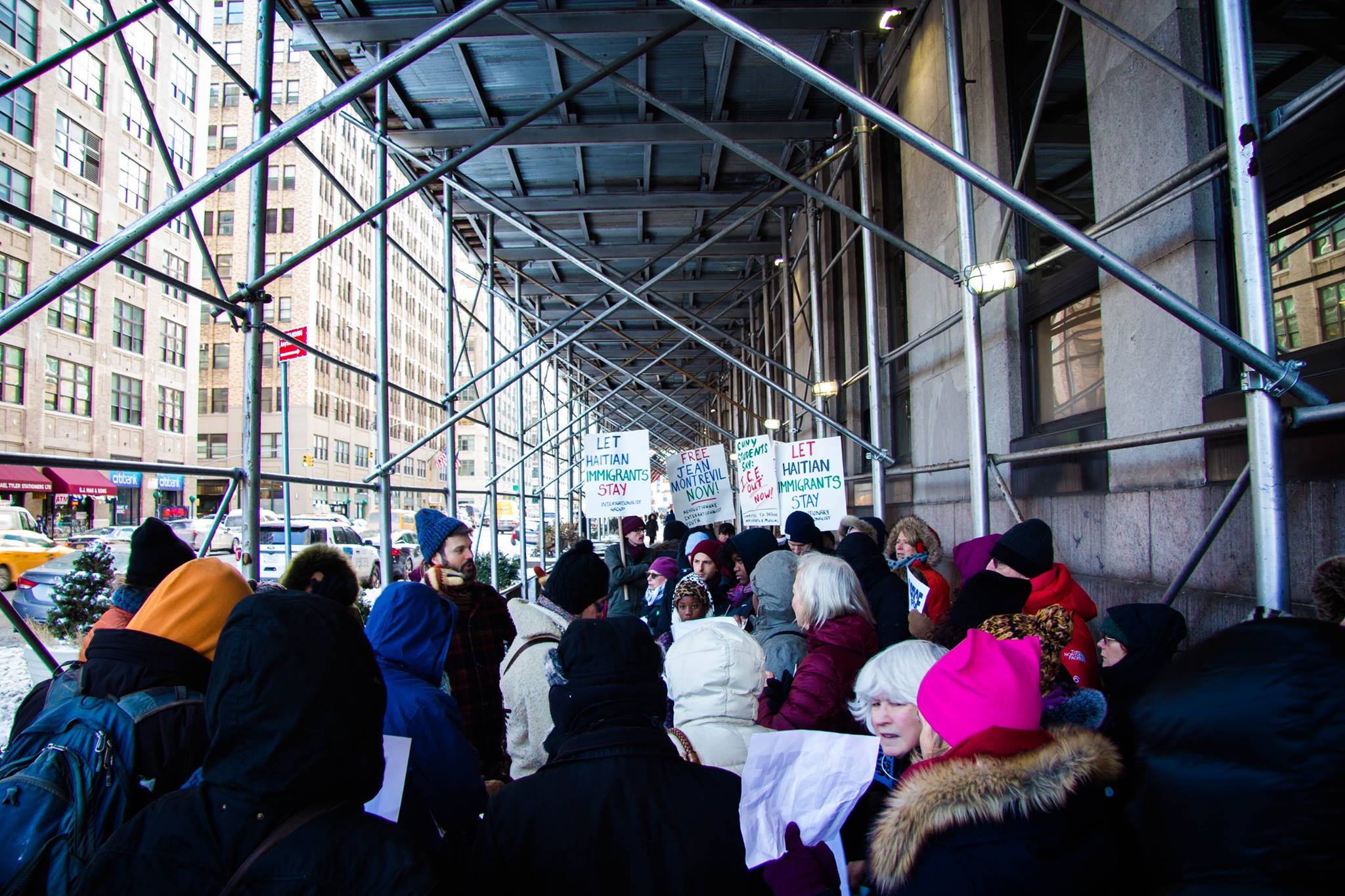 His youngest daughter Jamya joined members of Judson, the Park Avenue Christian Church and the New Sanctuary Coalition, based at Judson, at a rally on Jan. 5 outside the Immigrant Detention Center in Lower Manhattan. She, and her mother, Jani Cauthen, spoke at the sidewalk rally. They and more than 60 protesters, facing bitter cold, demanded Montrevil's release. The group was joined by a trio of local elected officials: U.S. Rep. Jerrold Nadler (D-Manhattan), State Senator Brad Hoylman (D-Lower Manhattan) and State Assembly member Deborah Glick (D-West Village). The rally ended with a Jericho walk in silence around the facility.
"This case is crazy," said the Rev. Micah Bucey, Judson's associate minister. "There's no reason for this person to be locked up. He always goes to his check-ins and he was planning to go to his next check-in in a couple of weeks."
Bucey collected the email addresses of rally participants so they could be provided with the phone numbers and email addresses of the two ICE officers responsible for Montrevil's case. Direct appeals, Bucey explained, can make a difference. To date almost 6,000 signatures have been collected on Jahsiah's online petition to free Jean.
"We have stood by Jean for over 10 years and we are not about to be intimidated now," said Ted Dawson, a member of the Task Force. "We will do whatever is needed to bring justice to Jean and to his family. We are all his family."
"We are fast becoming an America I don't recognize," said UCC General Minister and President John Dorhauer. "The lives of these beautiful people and their children are being needlessly traumatized by the capricious and cruel whims of a government that is now known the world over as a brute and a bully. The United Church of Christ will do everything in its power to instill a committed love of neighbor, respect for every precious child of God, and a just world for all. We will advocate with vigor and resolve for maintaining home and safety for immigrants and refugees who come with good intent and a vision for a better life; and who flee deplorable conditions that no longer sustain a good life for their families."
---
Related News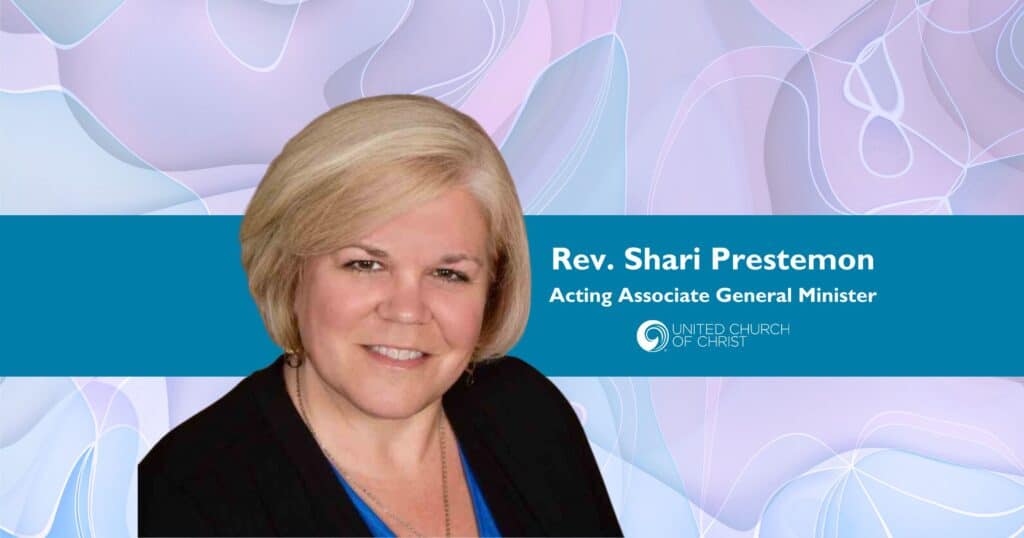 A new United Church of Christ national leader has been called. The UCC Board voted in a...
Read More