New church start in Michigan offers sanctuary to all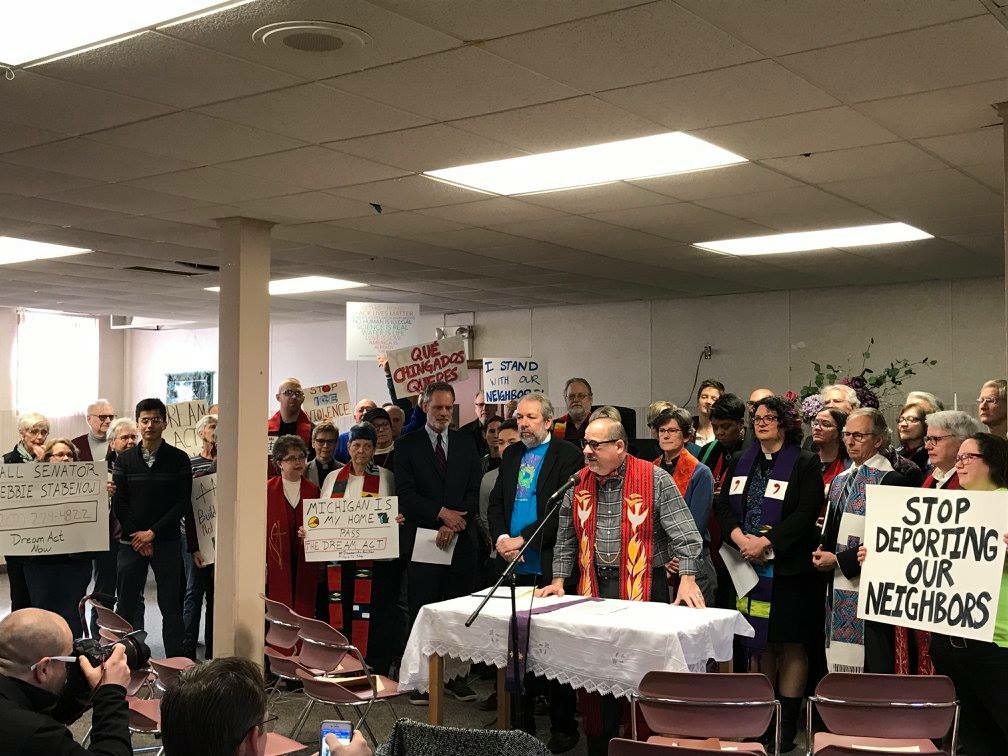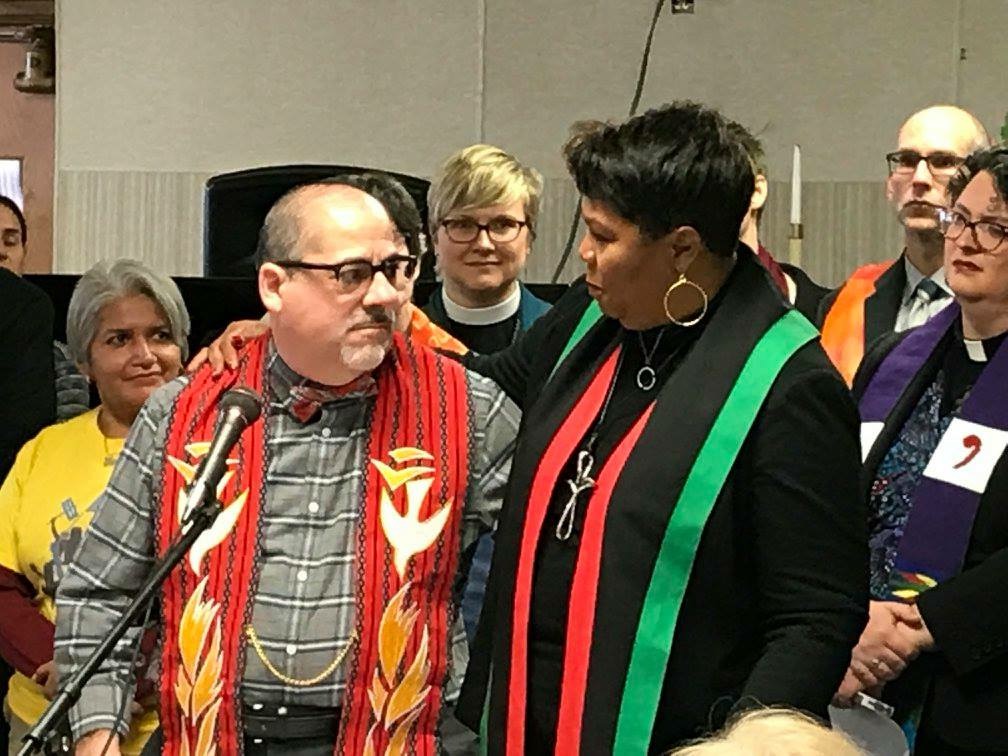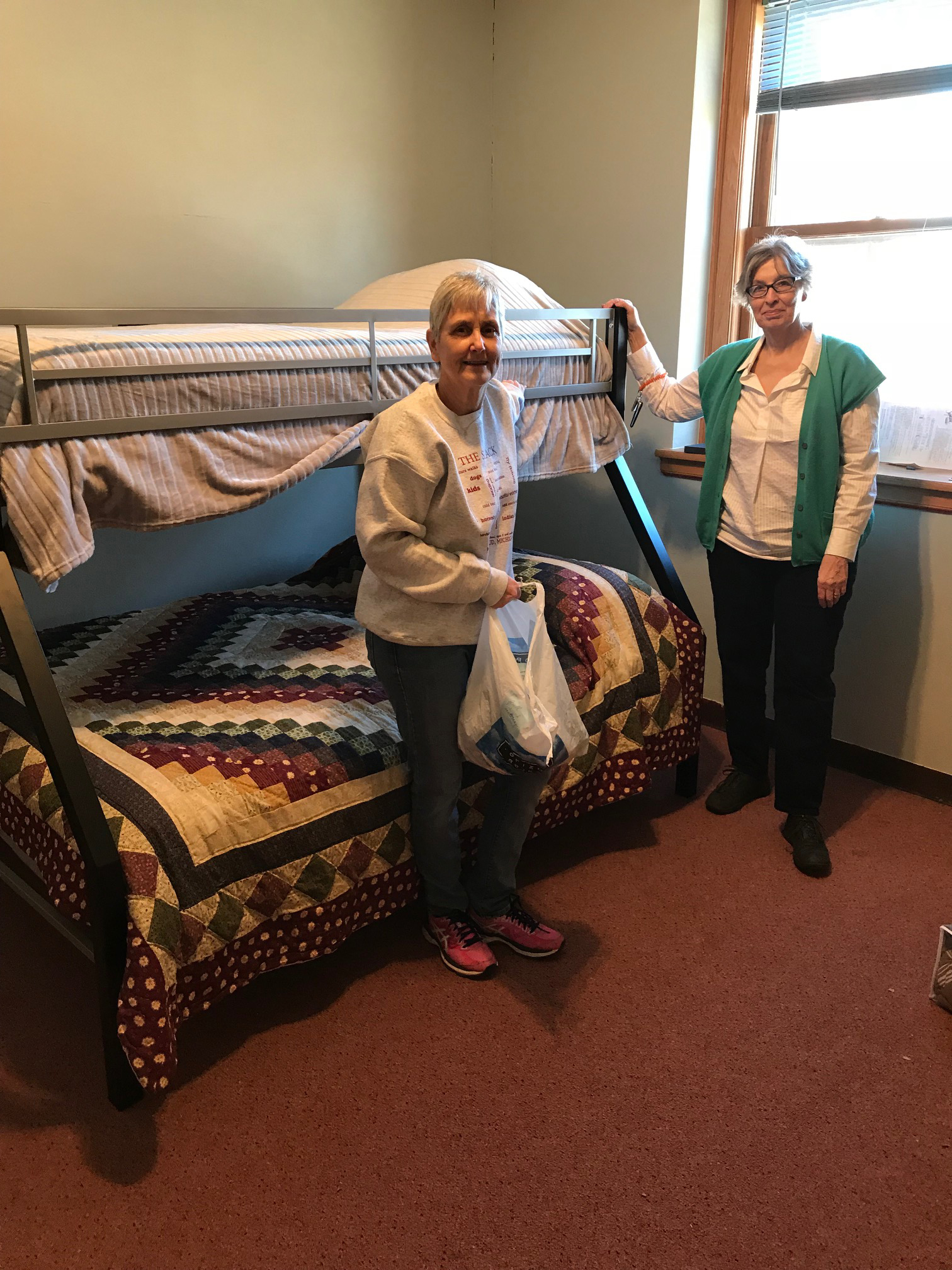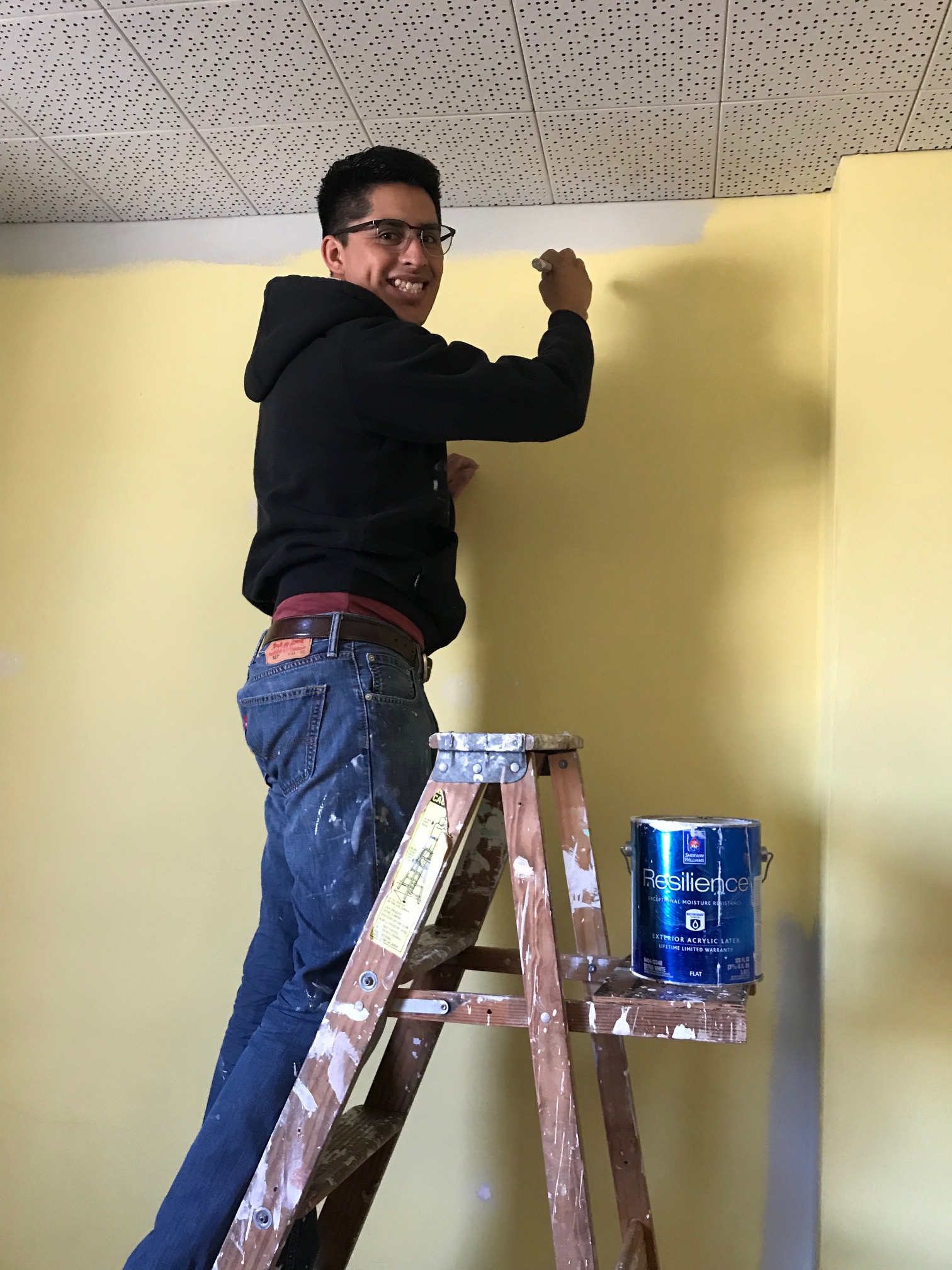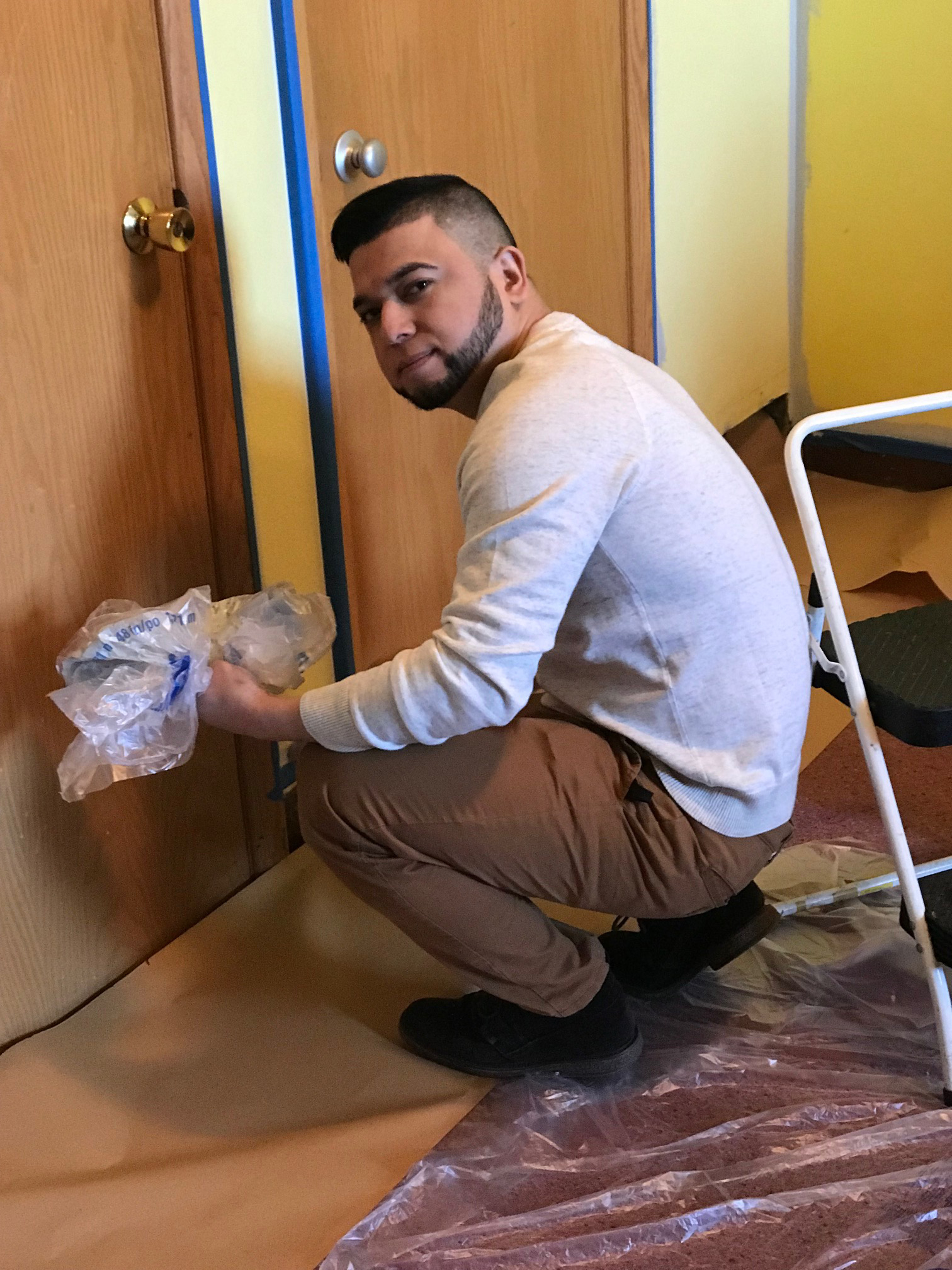 A small United Church of Christ congregation in West Michigan, planted as an Immigrant Welcoming Church in the Grand Rapids area late last year, has publicly proclaimed its space as place of sanctuary.
"We are clear, no matter who you are or where you have been on life's journey, you will be welcome here," said the Rev. Justo González, II, pastor of Ministerios Ríos de Agua Viva/Joy Like a River United Church of Christ. "Within this church anyone who needs it will find a warm welcome in a safe and sacred space. We do not care about your immigration status. We care about you. Let it be known that this community of faith celebrates diversity, experiences immigrants as a blessing, and will always uplift the dignity and worth of God's creation."
González met with the media on Tuesday morning, March 20, joined by the Rev. Traci Blackmon, UCC Executive Minister of Justice & Local Church Ministries, Michigan Conference Minister the Rev. Campbell Lovett, several other local clergy and interfaith partners. The group assembled to convey the importance of this ministry — the first and only Sanctuary Church in the Grand Rapids Metropolitan area — to the community and to the 14 people of this new church start. Together since November 12, the people of Ministerios Ríos de Agua Viva/Joy Like a River UCC have spent much of the last several days cooking, cleaning, painting, readying beds, preparing to offer their expected guests an extravagant welcome. They refurbished a kitchen, added a shower and set up sleeping space for 20 people in two weeks.
"That says a lot about the people of the church," said González, an associate minister of the Michigan Conference UCC. "Taking sanctuary on and getting it done in just four months. They are owning this ministry."
Ray Liberator is one of the newest members of the Wyoming, Mich., congregation. A student at Grand Valley State University and an activist for humane immigration laws, he sees hope, and a moral call to action, in sanctuary.
"My family migrated from Mexico when my brother was six months old. My younger sister and I were born here. I was five years old when my dad left and took everything. For my mom — being a single woman with three children to take care of was difficult. But my brother (a DACA recipient), he's been underprivileged most of his life. He's an honor student. I've always looked up to him. But his biggest obstacle — school is not affordable for him. DREAMers can't receive financial aid, and he can't take out a loan. If he's deported he has nothing to go back to.
"I have never seen a united community such as this," Liberator continued. "Not only does this group of people really want to see change, they are doing… most of the time it takes a while for sanctuary to be passed, but this church took no less than four months to establish a sanctuary. That's what is unique about this church. A symbol that anything is possible."
"Immigrants are our part of our American family," said the Rev. Doug Van Doren, pastor of Plymouth United Church of Christ in Grand Rapids. "Dreamers are our children. This is their home, the land they know. We need to be certain that this is a land where DREAMS COME TRUE, where justice for immigrants reigns and not where nightmares are inflicted."
"It is unacceptable to me, as a pastor, as a man of faith and a Latinx citizen of our country that we detain parents and separate them from their families and children," González said. "It is unacceptable to intentionally go after individuals who we, as a society, criminalize. It's time to get real. The overwhelming majority of under-documented immigrants entered our country through lawful means, with work permits or tourist visas. They stayed here because of the brutal conditions in their countries of origin. They are not, we are not, MS-13 like the president labels us. These fake scare tactics must end now."
Ministerios Ríos de Agua Viva/Joy Like a River UCC will soon to be welcoming into sanctuary a woman from Venezuela who has applied for asylum and needs a place to stay while her case is being determined. González said she originally started her application while in Puerto Rico, but after Hurricane Maria hit she came to the states and Grand Rapids to continue the process. Another family, detained by ICE and then released, has also inquired about becoming guests of the church. The husband and wife, parents of a couple of children, are no longer able to work.
This congregation is the second UCC church in Michigan to become a public sanctuary. Last Monday, March 12, First Congregational Church, United Church of Christ, in downtown Kalamazoo welcomed a Pakistani woman into sanctuary, the day she was scheduled for deportation by Immigration and Customs Enforcement.
"The Church cannot stand in silence as the Administration unleashes ICE in our neighborhoods, disrupts our communities, profiles Black, Brown and Asian citizens and immigrants," Gonzalez continued. "We will not stand for the profiling of our Muslim and other communities of faith. A violation on any of us is a violation of all of us."
---
Related News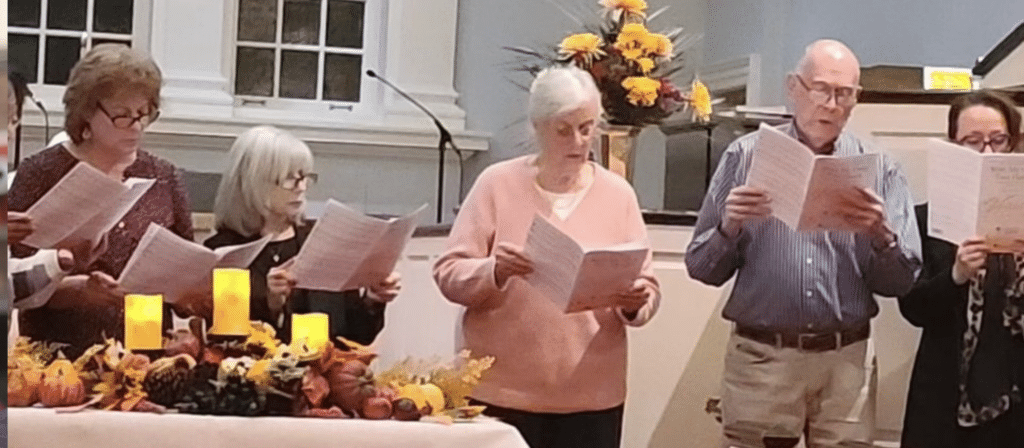 Many United Church of Christ congregations across the country participated in interfaith...
Read More