New coalition for rural churches will present virtual national gathering Feb. 9-11
Churches in rural areas sometimes may be, geographically, set apart. But that doesn't mean they have to be isolated in their ministries.
To help forge important connections, the United Church of Christ is offering a three-day virtual gathering aimed at linking UCC congregations in smaller communities throughout the United States.
The Virtual National Gathering of UCC Rural/Small Town Churches and Ministries, "Nourishing the Seeds of Faith," will be held Feb. 9-11. This first-ever event will occur each day from 4 to 7 p.m. ET. It is presented by the new Coalition for UCC Rural Churches and Ministries, and hosted by the UCC Justice and Local Church Ministries' Faith INFO team. Registration for the full event is $25 per person.
The program for all three days — including worship, keynotes and workshops — will be accessible via an online video platform. However, organizers are encouraging participating congregations to gather their communities at church for simultaneous potlucks on Saturday, Feb. 11, the final day of the conference. Organizers believe those gatherings can offer a unique opportunity for both on-site and online fellowship.
"A highlight is that rural/small town churches are encouraged to host the last day — Saturday, Feb. 11 — of the gathering with a potluck-style meal to hear and speak with Rev. John Dorhauer, UCC general minister and president, in a town-hall format," said the Rev. Roberto Ochoa, who helped spearhead both the event and the organizing coalition. "Congregations will be able to register (for the final day) for free, and a children-and-youth program will also be offered."
Looking for connection
Ochoa — whose ministry within the Faith INFO team focuses on ethnic inclusion and congregational support for small and rural churches — explained that the coalition and the national gathering came to be because the pastor of a rural church voiced a need for more support.
"In the fall of 2019, (Dorhauer) received a letter from a UCC pastor in a rural setting disappointed in the lack of congregational and pastoral presence during General Synod," Ochoa said. "The pastor felt that rural congregations and ministers felt isolated and disconnected from the national setting."
Ochoa then began exploring ways to better include and connect these congregations and their pastors. During the last Synod in 2021, Ochoa made a workshop presentation with the Rev. Bonnie Bates, the Penn Northeast Conference Minister (currently on sabbatical), and the Rev. Marc Stewart, Conference Minister of the Montana-Northern Wyoming Conference.
"That presentation resulted in the creation of the UCC Coalition for Rural Churches and Ministries that began meeting monthly via Zoom in September of 2021," Ochoa said. "The major goal for the coalition was to offer space where national and conference UCC leaders would listen and work with local rural churches and pastors on issues important to the rural/small-town settings."
Since then, the coalition has grown. And now it is offering its very first public national gathering.
"It is a privilege to be part of the rural church coalition, as rural churches constitute a large and important sector of our denomination," said the Rev. David Ackerman, Penn West Conference Minister.
Serving small communities
Ochoa echoed that sentiment. "It is important to note that a recent study showed that 60 percent of UCC congregations are in communities that are less than 25,000," he said.
That means roughly 3,000 UCC churches can be found in towns with populations smaller than, say, Williamsport, Pa., Frankfort, Ky., or Monterey, Calif. Stewart, serving in the wide open lands of Montana and Wyoming, witnesses their ministry first-hand.
"Our United Church of Christ rural churches are one of the few places in America where people across the cultural spectrum are finding peace with each other," he said. "In worship and fellowship, being civil and caring for the sake of the Gospel in their communities is valued by church members who otherwise hold different political views."
The Rev. Coral Parmenter leads one such congregation in the Sandhills of Nebraska. A second-career minster, she serves as the quarter-time pastor of Purdum UCC in Purdum, Neb. — an unincorporated community in one of the least-populous counties in the United States. Her husband, Les, also is a UCC pastor, serving a three-church parish in a neighboring county.
"This is ranch country, operating primarily in the cow-calf segment of the beef industry, and is full of generous, creative and pretty self-sufficient people," said Parmenter, who also serves as the Disaster Coordinator for the Nebraska Conference. "… Like so many small-membership congregations whose economic base circles around agriculture, we are more theologically conservative, as well as politically conservative, than our sisters and brothers in larger, suburban and urban areas. And this can cause us to feel isolated and out-of-tune."
Sharing solutions
She believes that the new coalition — and the gathering — can provide opportunities for churches like hers to feel less isolated.
"Discovering that there are other congregations with similar feelings within the UCC can be like a drink of cold spring water on a hot day," Parmenter said. "I became part of this coalition for its community of recognition that we are just a bit different, to share those unusual ways of doing the work of God and to lift our voices to the rest of the denomination that we are here, we are vital and we are faithful, just like you."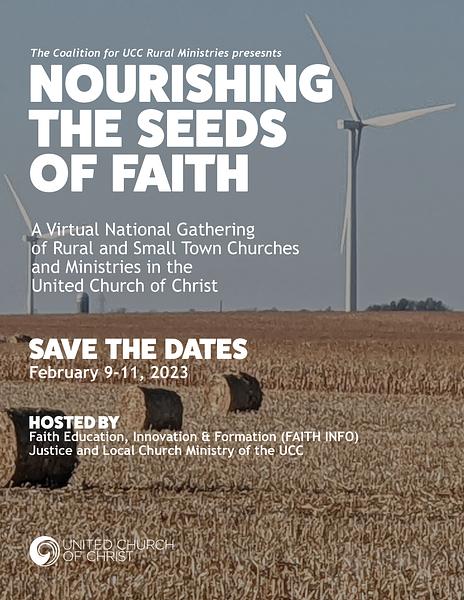 Some of the obstacles facing these churches and their continuing ministries are not unfamiliar. And the congregations are finding creative solutions to overcome them. The hope is that the national gathering will offer a way for these experiences to be shared and help others.
"Nearly half of our 26 UCC congregations in the Montana-Northern Wyoming Conference are rural churches averaging less than 15 in worship," Stewart said. "In many ways, these are some of the most impactful churches in any of our communities, though. It is all they can do to keep the doors open on a Sunday because of the fixed costs of their buildings. A dearth of clergy leadership, even supply preachers, means finding new ways of being church, though we have averaged one closure every two years.
"The rural church initiative is a gathering of people from these churches who believe there are answers to be discerned together about how to sustain their vital rural ministries."
"We define church vitality in a different way," Parmenter said. "We find God much closer to creation than many."
Speakers and preachers
Ochoa and other coalition leaders wanted to create a new opportunity for these congregations to meet and share how they do ministry within their own communities.
"The national gathering is a result of these (coalition) meetings to bring together UCC rural/small town congregations to celebrate the ministry of the rural church and to learn of best practices and resources for spreading the Gospel of Jesus Christ in partnership with UCC Associations, Conferences and national ministries," Ochoa said.
In addition to Dorhauer, Jonathan LeMaster-Smith — a United Methodist-affiliated professor with expertise in studying rural ministry — also will offer a keynote presentation during the event. Daily preachers for opening worship will include UCC Associate General Minister, the Rev. Traci Blackmon, and the Rev. George Miller, pastor of Emmanuel UCC in Sebring, Fla.
"'Nourishing the Seeds of Faith' will hopefully inspire members of rural churches in ways that will deepen their faith and enhance their ministries," Ackerman said. "We hope that the event will also help rural church members to hear that their experiences and voices matter deeply to the wider United Church of Christ."
Register for the gathering here.
---
Content on ucc.org is copyrighted by the National Setting of the United Church of Christ and may be only shared according to the guidelines outlined here.
---
Related News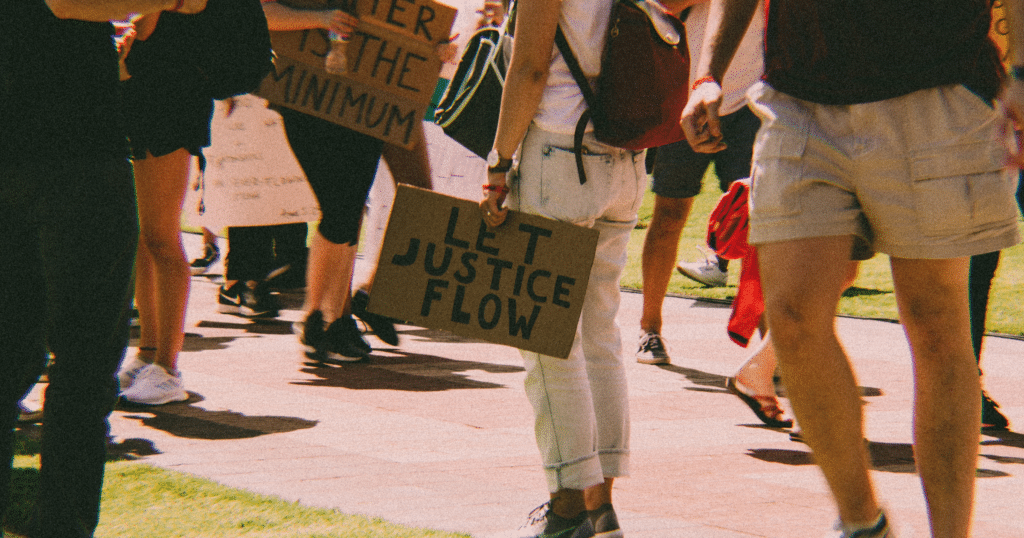 United Church of Christ leaders, in a letter to Georgia law enforcement, are condemning the...
Read More