NYE 2016 promises faith-nurturing, fun experiences for all
To underscore the importance of National Youth Event 2016, the United Church of Christ has assigned General Synod planners and staff to the effort in order to insure that NYE 2016 is a memorable, faith-filled experience for attendees. The event takes place July 26-30, 2016.
Now housed in the UCC Office of the General Minister and President, NYE event planning will use the same organizational model as General Synod — an appropriate move, according to UCC national officers, because NYE draws as many or more registrants as Synod, with tremendous importance in the life of the church.
The day-to-day administration of NYE now rests with the Chief Administrative Officer of the United Church of Christ, Lee Foley, and the team he and Associate Synod Administrator and Team Leader Valerie Smith assembled to plan, organize and manage the highly successful and acclaimed Thirtieth General Synod in Cleveland this past June. Said Foley, "We look forward to managing all aspects of NYE, including oversight for program and content. The Disney venue offers us a wonderful opportunity for the kids to have the NYE life-changing experience — including worship, mission and fellowship — and also have a day of fun that only a Disney park can provide."
"I am confident that the team that just pulled off one of the most successful and well-managed Synods in my years of experience will now create an experience for our youth that they will never forget," said the Rev. John C. Dorhauer, UCC general minister and president. "What they do behind the scenes to make it possible for others to show up and not have to worry about anything but having a great time is invaluable — and makes my head spin. I'm glad they are there to do what they do."
The theme of NYE 2016 is "Believe." "In 2016, we are asking youth to believe, but it is not a query," said the Rev. Waltrina N. Middleton, associate for National Youth Event programming. "It is a responsibility, a call to action. We are asking our young people to see themselves as leaders, sharing in the work of God, boldly and with faith."
The newest member of the administrator's team, Middleton is charged with NYE's program content, worship, and ministry outreach. She is supported by a staff team who will handle logistics — everything from registration, venue preparation, and housing to meeting UCC safe church standards and vetting adult volunteers.
NYE 2016 — to be held at Disney's Coronado Springs Resort in Lake Buena Vista, Fla. — marks the first time the event is open to both UCC and Christian Church (Disciples of Christ) youth. Due to the family-friendly environment, non-youth participants are invited as well.
"The event is still for youth, but families and non-youth participants are invited to attend worship and the day-long social justice immersion projects in the greater Orlando area, and to enjoy the fellowship day in the parks," said Middleton.
The cost of NYE 2016 is $549 per person, double occupancy. The fee is a subsidized cost for all attendees and includes:
Five days and four nights accommodations at the resort, which includes free wi-fi.
Local transportation to and from the airport and parks.
Eight meals: Dinner Tuesday, all meals Wednesday and Thursday, and breakfast Saturday, plus snacks on those days. Meals on Friday, July 29, are not included, as that is the fellowship day in the parks for all attendees.
A multiple-day hopper pass for access to all four Disney parks.
Inspiring worship and keynote speakers.
Workshops and service projects in the Greater Orlando area.
Immersive social justice experiences.
The fee is the same for all attendees, including non-youth participants. While workshops and service projects are youth only, all are invited to participate in worship, meals, and the fellowship day in the park, as well as to sign up for the day-long, social justice immersion projects.
The NYE youth service projects will be coordinated through United Way of Orlando, and will include such activities as outreach with homeless persons and environmental clean-up projects. The day-long, social justice immersion projects are being coordinated by Edith Rasell, the UCC's minister for economic justice.
"Youth are very concerned with social justice and eager to learn and serve," said Rasell. "The NYE program will give them the choice to spend a few hours with a local justice organization. The youth will learn about an injustice and then participate, in a small but immediate way, in helping to ease people's pain and alleviate the problem. We hope this small experience of justice ministry may inspire the youth to engage in justice work after they return home, either immediately or sometime in the future."
As part of the programming on July 27 and 28, the youth will participate in workshops at the resort and attend a special Disney Youth Education Series (Disney YES) program at Epcot Center. The Disney YES program will be paired with UCC/Disciples values, and the UCC/Disciples commitment to global ministries and to honoring the indigenous cultures of all peoples.
The UCC/Disciples-adapted Disney YES program "will expand our definition of what wider church ministry is, and will speak to our continued UCC/Disciples Global Ministries partnership," said Middleton. "We are committed to making sure these young people have a faith experience that celebrates them being young — a safe space where they can nurture their relationships with God and have fun with their peers."
Locks of Love will be another service project option. Attendees are encouraged to start growing out their hair now for donation to Locks of Love.
The four-day experience will be faith-nurturing, inspiring and fun for all of the expected 4,000 participants.
"Having attended the last NYE in Purdue, I find myself already excited about the possibilities next year at Disney," said Dorhauer. "I am still a kid at heart, and can't wait to see what happens when our justice-seeking youth gather for play and possibility with characters like Mickey, Minnie, Goofy and a whole host of other characters who taught us as children to dream new possibilities and seek new horizons."
"It's OK for Christians to have fun," added Middleton. "When young people look at the church, they need to see it as a place where they can grow their faith and have fun."
Online registration opens in January in order to allow churches, conferences, and youth groups time to raise the funds necessary to attend.
---
Related News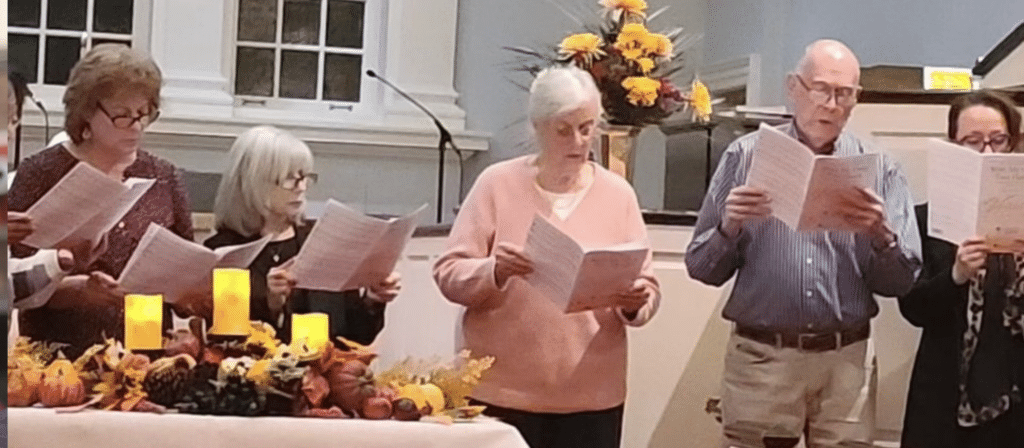 Many United Church of Christ congregations across the country participated in interfaith...
Read More