Mourning and prayers follow find of remains at Canada Indigenous school
United Church of Christ leaders are reaching out to colleagues at The United Church of Canada in prayer and support after the remains of hundreds of Indigenous children were found buried on the grounds of Canada's largest residential school.
Chief Rosanne Casimir of the Tk'emlups te Secwépemc First Nation said in a news release that the remains were discovered last weekend — at a school for Indigenous children taken from their families, run by the Roman Catholic Church — with the help of ground-penetrating radar.
"On behalf of the United Church of Christ, we express collective sorrow and dismay at the discovery of the remains of 215 indigenous children in unmarked, undocumented burial sites at the residential school at Kamloops in British Columbia," said the Rev. Karen Georgia Thompson, associate general minister, Wider Church Ministries. "This is a time of mourning as the world is once again confronted with the horrific disregard for the lives of indigenous people at the hands of European settler communities. This is a time of renewed trauma for these families and communities."
Indigenous Ministries and Justice leaders of the United Church of Canada have asked the people to come together in mourning, support and remembering. In a message published May 31, after the find at the former Kamloops Residential School was announced, the church "entered into a time of mourning for these relatives, their families, and their communities."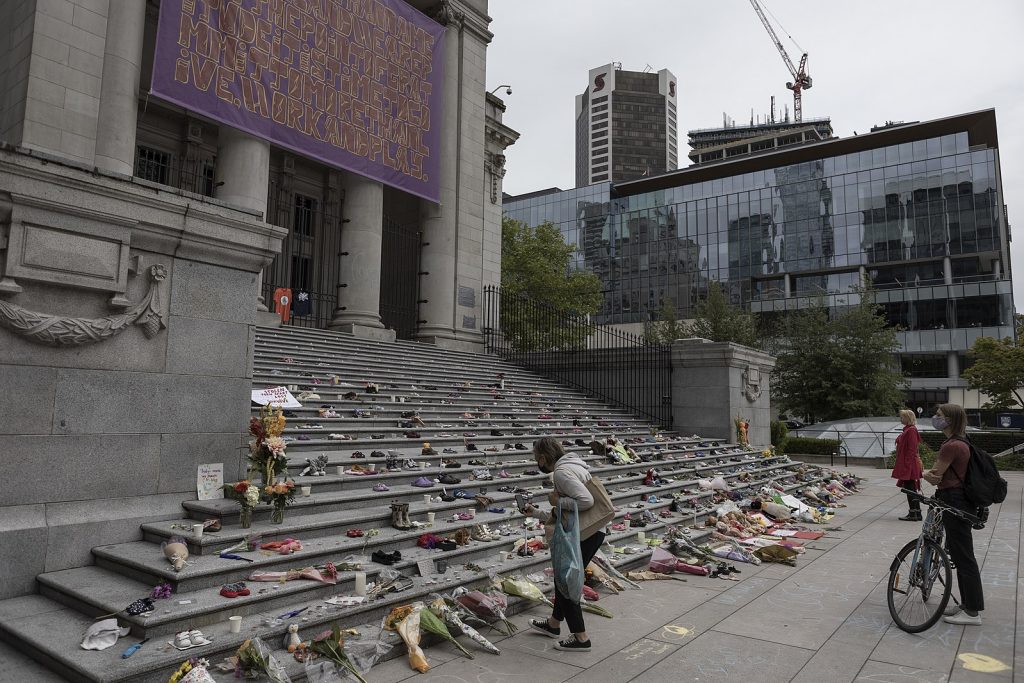 "Gatherings were held around sacred fires across the country," the statement reads. "Prayers were sung and spoken. Church bells were rung. Orange ribbons were tied on branches and fences. Shoes were laid out on the steps of churches and government buildings. Candles were lit and flags were lowered as a sign of respect.
"Indigenous Ministries asks all of the church to continue in this time of mourning and of support for each other as we grieve this loss, and others that we do not yet know about."
The United Church of Canada shared the prayers of Moderator Richard Bott and Indigenous Ministries Executive Minister Murray Pruden as it urged people to come together to remember those lost.
Creator,
We give thanks for this day and each day you grant us life to walk on this great land, our Mother.
Give us the heart and strength to come together in prayer in time of mourning, reflection, and peace.
The news we have heard these last few days of our relations, our families, the children who have been physically taken away from us and who have now been found.
And with this news, we grieve for their memory, for their struggle, for their spirit.
We pray for good understanding, guidance, and love for all our families and communities who will need direction and resolution at this time.
And we come together in prayer and ask for your light to guide us to be a part of that needed peace, support, and resolve for everyone who is reacting to this great tragedy in our Indigenous Nations of this great land.
Creator be with us, allow us to be brave. Allow us to be strong. Allow us to be gentle to one another. Allow us to be humble. But most of all, allow us to be like the Creator's love.
Peace be with us, we lift up our prayers to you. In love, trust, and truth, peace be with us all.
In Jesus' name. Amen.
-- Prayer composed by Executive Minister Murray Pruden, Indigenous Ministries, United Church of Canada
The church also encouraged "support of those organizations in your community, such as Friendship Centres, that support Indigenous people who live with trauma every day."
"The Indigenous communities in North America continue to suffer as a result of colonization and this discovery points once again to the brutal treatment of Indigenous people and diminishment of their humanity," Thompson said. "This is not about 'history"' – this is a moment that calls us to confession and repentance about the ways in which we violate the command to love one another.
"The United Church of Christ joins in prayer with our partners in The United Church of Canada through this time of grief and tragedy," she continued. "We pray for these students. We pray with the families and communities whose 215 children were considered missing. We mourn the loss of these lives and the brutality they experienced. We pray comfort and peace with our Indigenous communities. We pray for a just world where all can live in freedom and peace with dignity."
Editor's note: On June 4, The United Church of Canada sent this message to the people of its church in response to the graves discovered at Kamloops Residential School.
---
Related News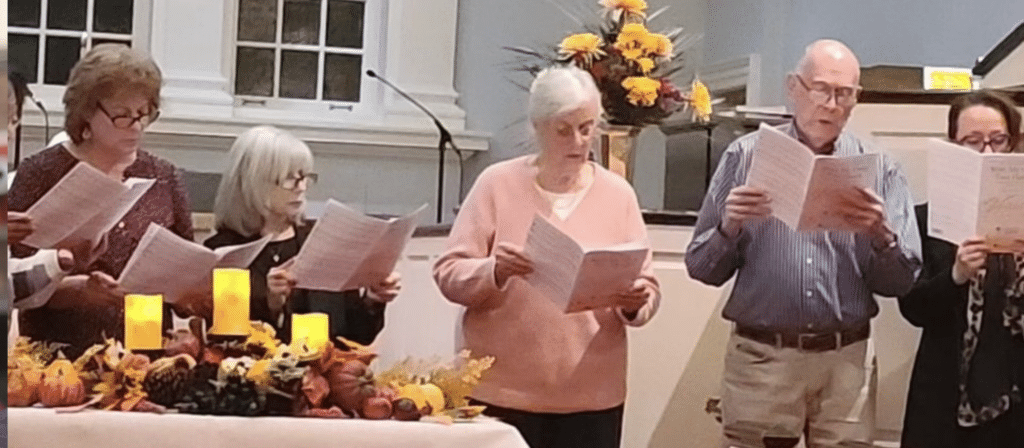 Many United Church of Christ congregations across the country participated in interfaith...
Read More