More than 500 clergy gather for prayer, solidarity and repentance at Standing Rock
Photos by Rick Danielson
A group of 524 clergy, spiritual leaders of 22 faith traditions called from all parts of the country, gathered in North Dakota for a day of solidarity and repentance on the Standing Rock Sioux Indian Reservation on Thursday, Nov. 3.
"This is really empowering," said Louie Blue Coat, of the Dakota Association UCC. "The outpouring of support, of love, of peace…It is a unity I haven't seen in a long time."
"Presence matters profoundly. Solidarity is often about where we put our feet and who we choose to stand with," said the Rev. Shari Prestemon, conference minister of the Minnesota Conference UCC, one of more than three dozen UCC supporters from several states. "Today over 500 faith leaders stood with the Native peoples at Standing Rock to let them know we are truly with them in this struggle. There is tremendous power in that kind of collective, unmistakable witness."
They stood together in prayer along the Cannonball River to protect the water, the lifeblood of all living things. They also came together to combat racism and white privilege, broken promises and forgotten treaties. Part of their pledge to fight the Dakota Access pipeline, several clergy repudiated the Doctrine of Discovery while gathered around the sacred fire at the Oceti Sakowin camp before representatives of the First Nations.
"To do so was a sacred privilege, and a sacred responsibility," said the Rev. Gordon Rankin, conference minister of the South Dakota Conference UCC, one of eight Christian leaders who voiced a public confession, collective repentance, and a commitment to justice. "With every word my soul grieved the pain of history and rejoiced in a hope for a new tomorrow. After we read, tribal elders burned a replica of the document which had justified the genocide of their people by colonialists."
Byron Buffalo, a UCC licensed lay minister who pastors two churches on the Cheyenne River Reservation, was in the group of elders who burned a copy of the Doctrine of Discovery in an abalone shell provided spontaneously by the Rev. Lise Sparrow, pastor of Guilford Community Church United Church of Christ in Guilford, Vt.
524 years ago, the Doctrine of Discovery guided the colonization of America, justified the killing and oppression of indigenous people by giving European explorers the right to claim non-Christian land and resources. In recent years, several Christian denominations and the World Council of Churches have repudiated it, and pledged to dismantle its effect on current-day policies, programs and beliefs.
"But you know what I realized in that moment, the Repudiation of the Doctrine of Discovery is just a statement. And that's not good enough," Rankin continued. "The real work of repudiating the Doctrine of Discovery has only just begun. This work happens when we stand in prayerful solidarity with those at Standing Rock. This work happens in our pews and in our neighborhoods when we challenge ourselves to examine our white privilege."
The Dakota Access Pipeline (DAPL), a $3.8 billion dollar project to carry oil from North Dakota to Illinois was redirected in the planning process, designed originally to run closer to the city of Bismarck, but rerouted away from that population area. It now traverses farms and fields near the Standing Rock Sioux Reservation, through sacred Native lands and potentially under the great Missouri River, the water supply for more than 17 million Americans.
"There's no question that racism and white privilege are involved," said Prestemon. "Whereas other largely white communities were able to successfully persuade authorities to divert the pipeline away from them, this sacred place and peoples remain unheard. Once again we are willing to dismiss the First Nations as dispensable, to treat their voices and all that is sacred to them as somehow insignificant."
Courtesy of Dwayne Royster 
As the pipeline construction inches closer to the river, the water protectors' demonstrations and prayer circles grow in size and intensity. On Wednesday Nov. 2, a confrontation erupted after law enforcement dismantled a wooden footbridge that demonstrators constructed across a creek to access threatened sacred land. Police in riot gear stood on the shore at the base of a hill recognized as a burial ground and shot rubber bullets and pepper spray at dozens of Native water protectors praying in waist deep water just north of the Standing Rock Reservation.
On Thursday, Nov. 3 after the ceremony around the fire, the clergy gathered at the Oceti Sakowin Camp marched to the bridge where last week more than 140 Standing Rock citizens and their allies were attacked and arrested by militarized police protecting the construction site. Father John Floberg, the Episcopal priest who serves the reservation and organized the gathering of religious leaders at the invitation of the Standing Rock Tribe, told a group of deputies guarding the Dakota Access Pipeline, "You are protecting a pipeline that was put in place because of a Church doctrine and we are here to say that we were wrong."
"We need to be here constantly so this doesn't come through our territory," Blue Coat said. "It will pollute our waters, pollute our way of life, pollute everything.  This black snake is what they call it.  It's true.  It's a poisonous snake and it's going to kill us all. Support, share and tell everybody about what is happening here."
"The pipeline is a manifestation of the Doctrine of Discovery," said Rebecca Voelkel of Lyndale UCC's Center for Sustainable Justice in Minneapolis, Minn. "If something or someone is not Christian, so the Doctrine goes, Christians are invited, cloaked in the blessing of the church, to kill people and animals and possess the land and its resources. It is this sinful, sick theology that undergirds the violence of colonization from 1492 to today. And the pipeline is only the latest example of this sin."
 
President Barack Obama said recently the U.S. Government is examining ways to reroute the DAPL and address the concern of Native Americans, and would have something to say about that in the coming weeks.
---
Related News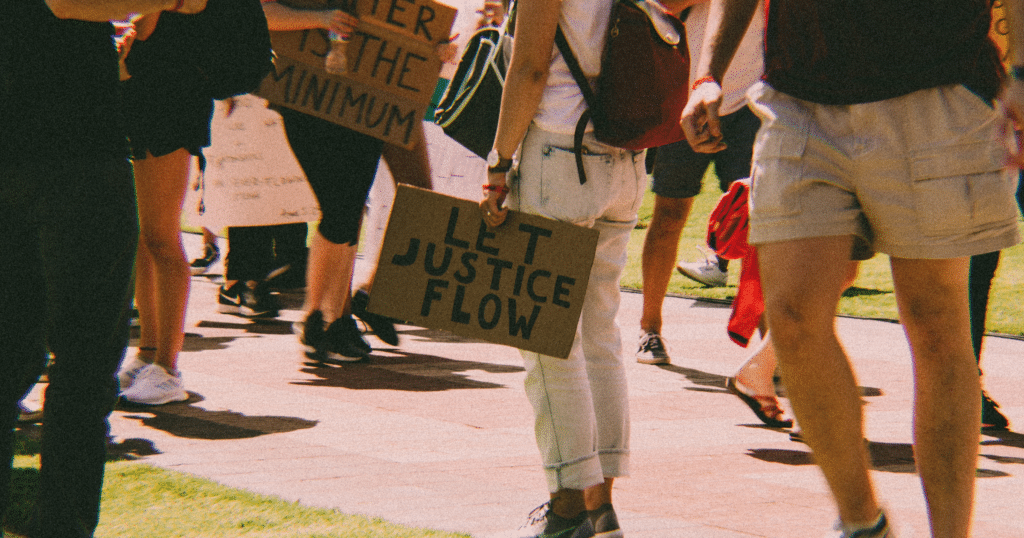 United Church of Christ leaders, in a letter to Georgia law enforcement, are condemning the...
Read More