Missouri church committed to weekly Black Lives Matter vigils 'until change occurs'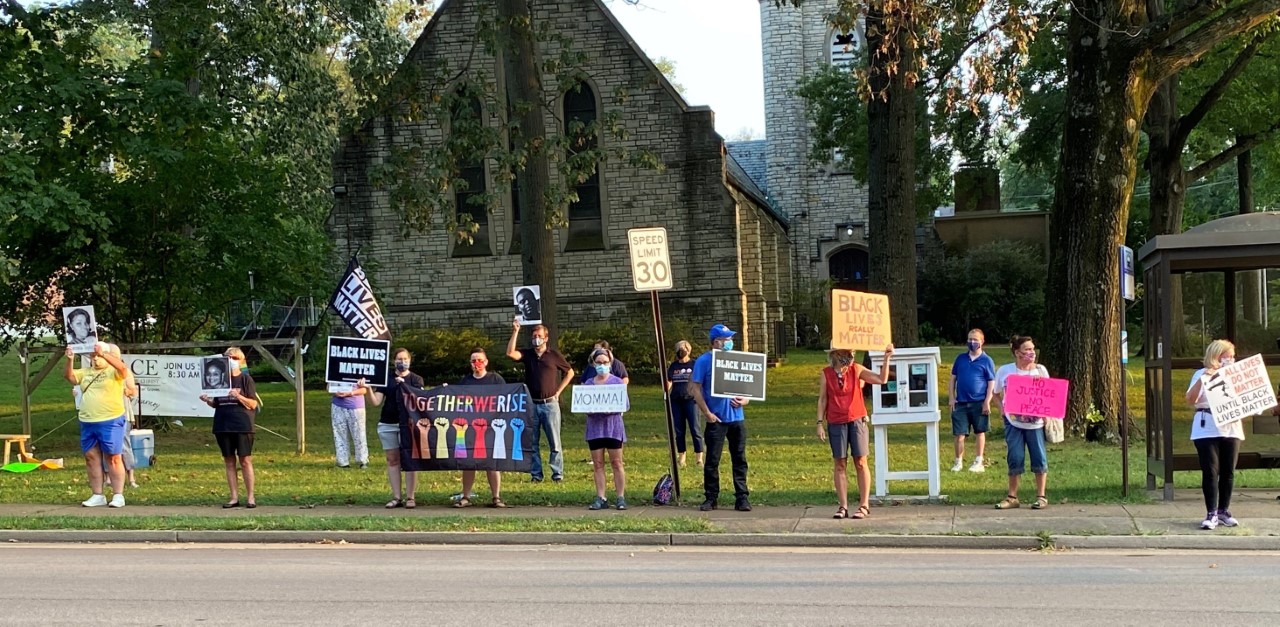 Every Friday evening for the last 19 weeks, members of Peace United Church of Christ have gathered out in front of the church in Webster Groves, Mo., in support of Black Lives Matter. They have been joined by other faith communities, friends and neighbors. They have also been harassed by others who don't believe as they do.
But they are resolute in making their support visible and have been since early June. After George Floyd died at the hands of Minneapolis police, Sarah Webster went to her pastor and suggested a vigil.
"I was walking with a friend, and she said 'we need to do something.' Wendy, our pastor, was all in immediately," Webster said. The church community pulled the first gathering together in just a few hours. "From the idea at 10 a.m. to the vigil that night with about 30 people, it was amazing to feel the swell of support, and the common need to call out the injustice that so often cripples our brothers and sisters with black and brown skin."
"We now meet from 6 to 6:30 p.m. to stand in solidarity and prayer with our Black and Brown siblings," said the Rev. Wendy Bruner. "We simply gather quietly on the lawn, kneel for 8:46 minutes while the names and ages of our Black and Brown siblings who have been killed by police are spoken. Then, to the sound of a drum beat, we stand up and move toward the sidewalk holding our Black Lives Matter signs and photos of the people slain."
Racists respond with graffiti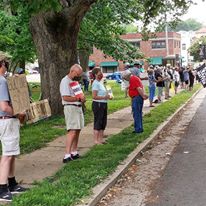 "I have been at every vigil," said the Rev. Al Schon, who attends Peace UCC. "At first it was a small group of Peace members, but it has grown to about 50 or so on a regular basis. As members told other people in the surrounding community, non-members joined us."
"I have kneeled on acorns or sticks, and the discomfort hardly compares" to what George Floyd endured, Webster said. "Our vigils look different from protests. Both have their place for sure. I am at a high risk for COVID and physically handicapped, so I am unable to march in moving protests. This format works well for many folks."
Peace UCC has been joined in this advocacy by other faith communities up and down Lockwood Avenue, the main street in the St. Louis suburb. Bruner said the Presbyterian Church of Webster Groves began a Friday gathering a couple of weeks after they did, followed by Episcopal and Lutheran churches. First Congregational of Webster Groves UCC held a few vigils in late July but discontinued them until a few weeks ago, she said, after both UCC churches were tagged with racist graffiti.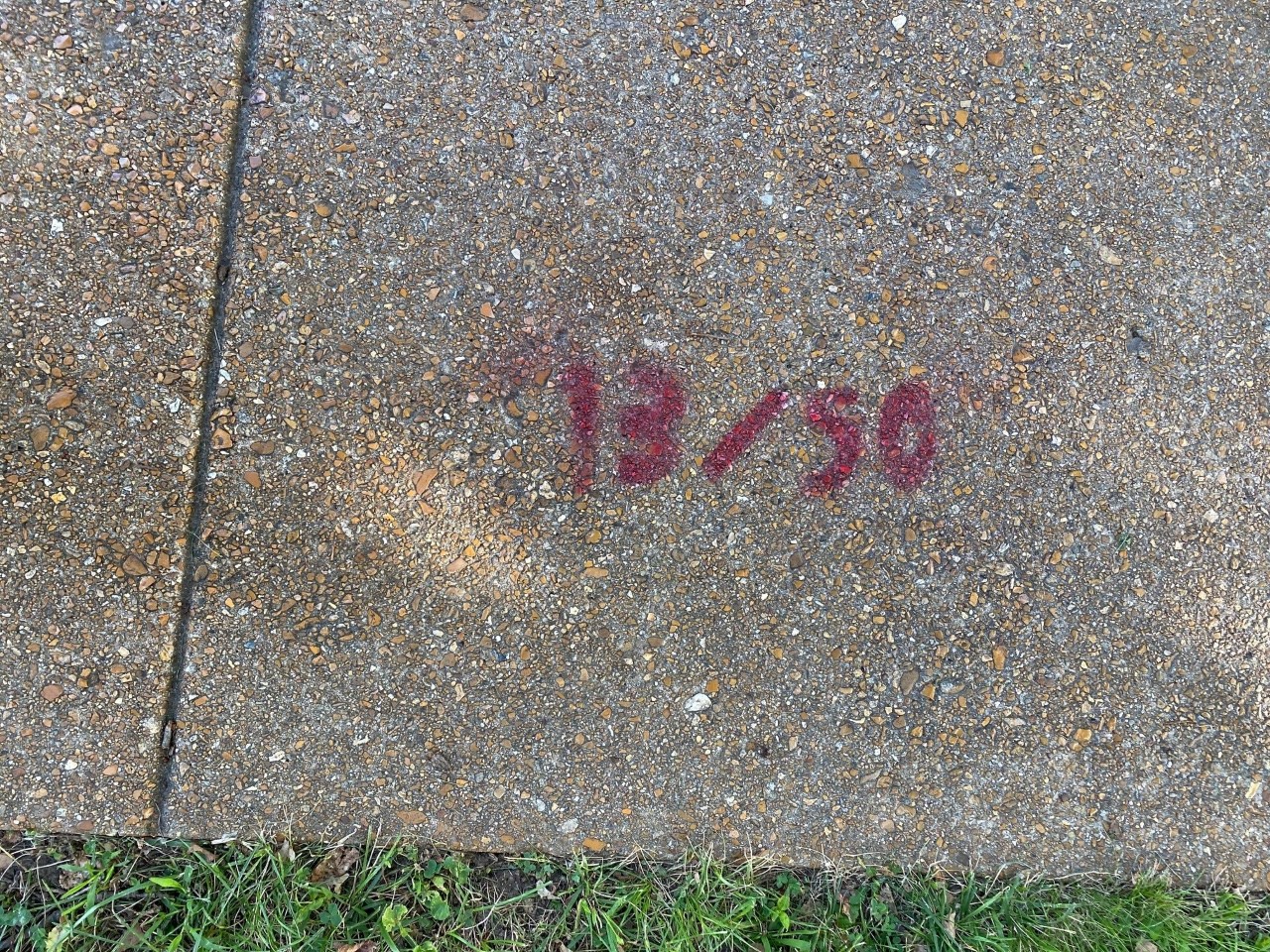 The stenciled graffiti referenced "13/50," a notation the Anti-Defamation League calls "racist propaganda," used by white supremacist groups to suggest that 13 percent of the Black population commits 50 percent of the country's violent crimes.
"First Congregational Church of Webster Groves had one tag painted by their front door. We had seven painted on the sidewalk in front of our signs and flags. It's where we stand on Fridays," Bruner said. "Our Black Lives Matter signs and flags, along with our Rainbow and Transgender flags have been stolen or defaced over the time I've been pastor.  Webster is over 90 percent white. It is a rich suburb and I think people have been caught up in the fear-inducing rhetoric that is being promoted throughout the country. It is difficult for many white people to hear Black Lives Matter without crying out, 'What about us? White lives matter!'"
Community shows its support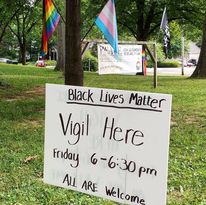 Both Webster and Schon said that they've seen the ugly side of their community since they've been participating in the vigil, with others shouting obscenities at them while driving by. Some have used bullhorns. After the hateful graffiti was discovered, Webster said she was nervous about continuing, worried about violent confrontations. But both stay focused on fighting racism with their presence, and noted they are slowly seeing a change of heart.
"I have heard the vile things people say. I choose to focus on the honking of horns of cars, Metro buses and postal workers as we stand," Webster said. "As our current president will not denounce white supremacy, there is always a nagging voice in my head to be ever vigilant. We have two 'watchers' with whistles that are tasked to warn the others if there is imminent danger." But she stressed, "The good outweighs the potential of evil."
"After the graffiti appeared and one of the TV stations ran a story, the number of people jumped to 90 and included people from all over the area including some of our Muslim friends," said Schon.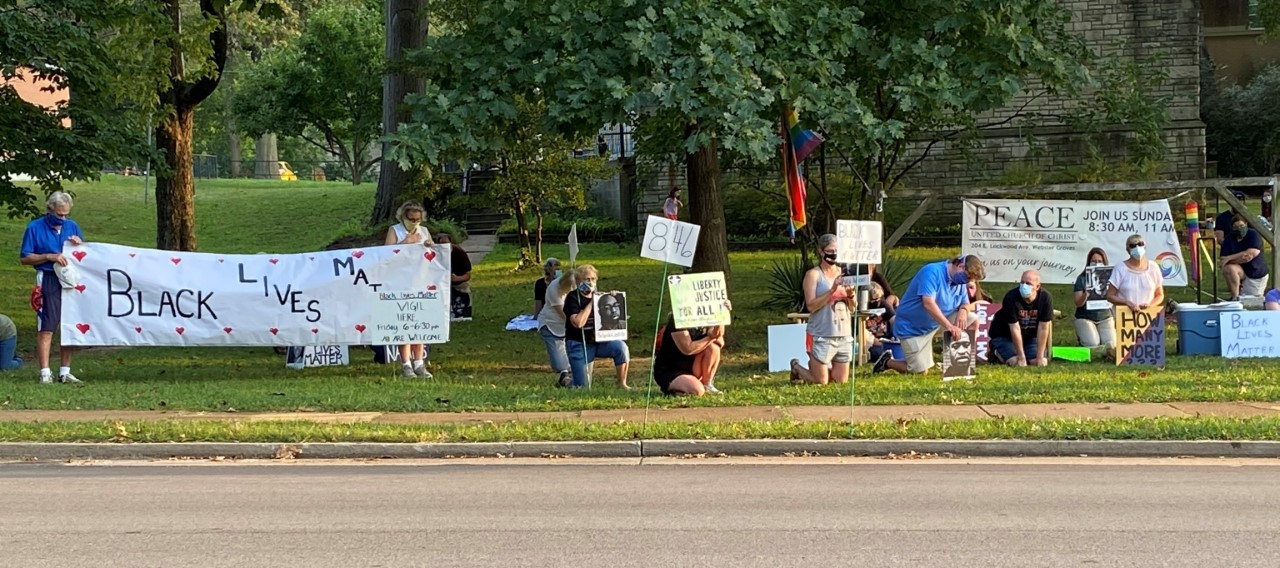 "I don't think folks would keep showing up each week in greater numbers, and splinter groups would continue to form at other churches unless there was worth in our actions," Webster said. "Last week a woman shouted, 'Middle class, values Black Lives Matter!' I believe it was a message of support."
Bruner said the Friday vigils are just one way her church is following Jesus. Peace UCC is also involved in ecumenical work around the election, working to register people to vote and to educate neighbors on the issues, like Medicaid expansion, which passed in August.
"We've said we will continue the vigil until Black Lives Matter," Bruner said. "I suppose we will continue for a long time."
"We are committed to continuing," Schon said, "until change occurs."
---
Related News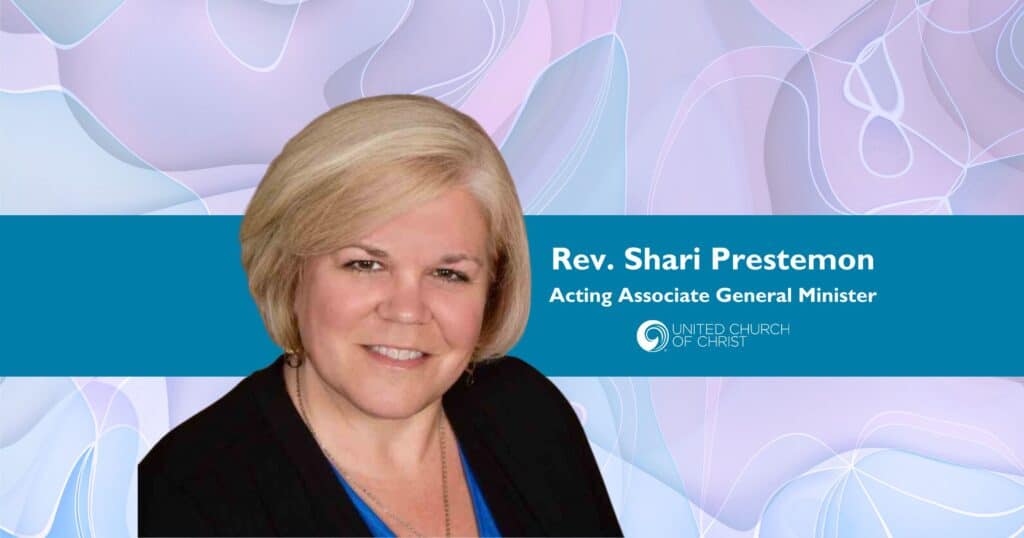 A new United Church of Christ national leader has been called. The UCC Board voted in a...
Read More