Minnesota church hosts prayer vigil for migrants forced to 'remain in Mexico'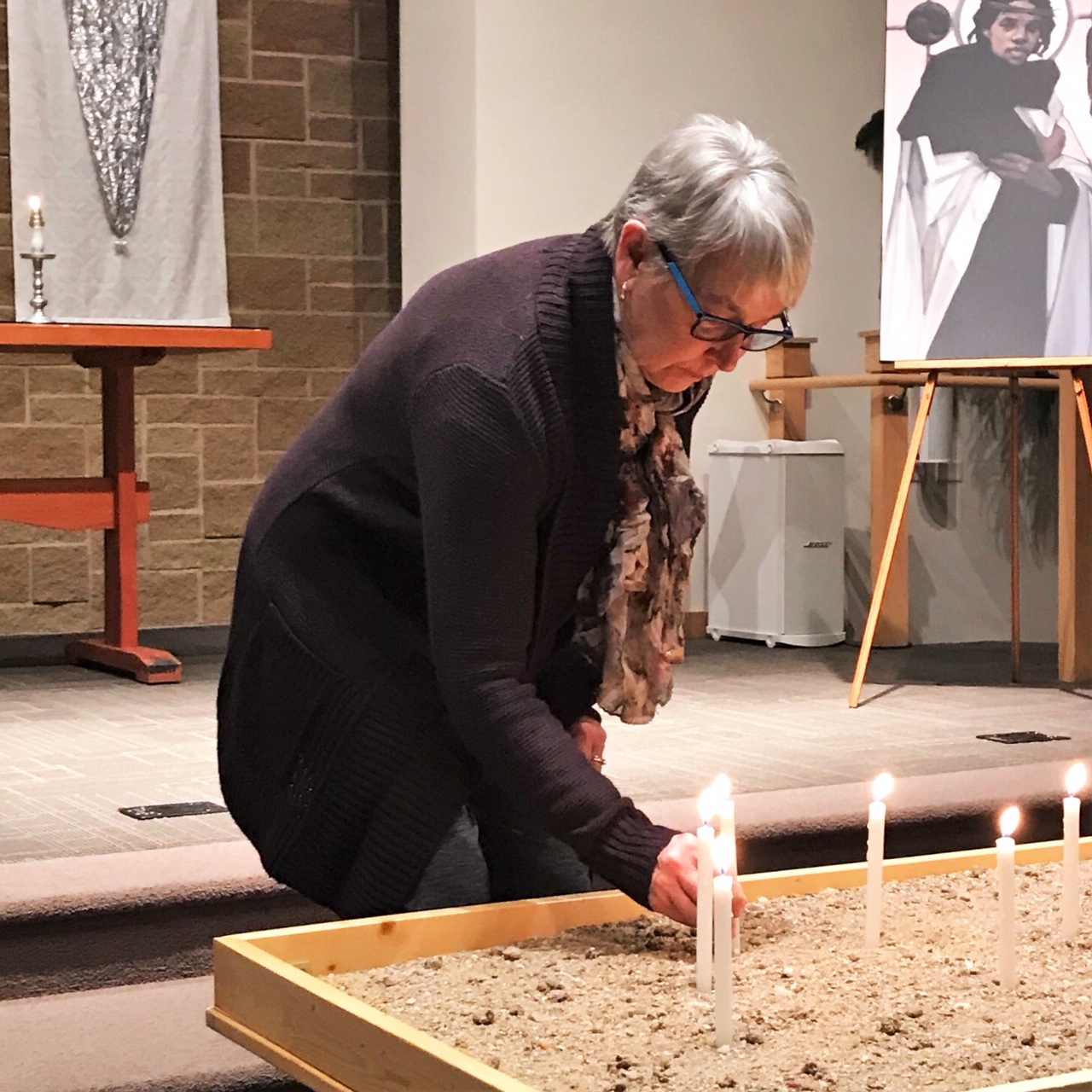 An immigrant-welcoming congregation of the United Church of Christ in Duluth, Minn., hosted an interfaith prayer vigil Wednesday night on behalf of migrants, refugees and asylum seekers, tied to the first anniversary of U.S. government protocols that force them to remain in Mexico until their cases can be heard.
People from around the city on the west shore of Lake Superior congregated at Peace United Church of Christ, invited by the local Interfaith Committee for Migrant Justice.
"This is an opportunity for us to gather and be nourished in the work of advocating on behalf of migrants," said the Rev. Charlotte Frantz, the event organizer. "Our group has sponsored community forums, collected signatures on petitions, encouraged public comments on pending executive orders/regulations that affect immigrants, visited legislators and recently gave testimony at a hearing on consent to resettle refugees. Tonight's vigil is a moment to pause, pray, sing, and share the Spirit's passion for the work we do."
The vigil was prompted by an Interfaith Immigration Coalition website post designating Jan. 29 as a National Day of Prayer for Asylum Seekers (#Faith4Asylum), to lift up people facing increasing obstacles and danger at the southern border because of Migrant Protection Protocols. On Jan. 25, 2019, the U.S. Department of Homeland Security began implementing  MPP, or the "Remain in Mexico" policy. It sends asylum seekers back to Mexico to wait until their claims are addressed in U.S. immigration courts. According to Human Rights Watch, by November 2019, 56,000 asylum seekers, including 16,000 children (about 500 of whom were under 12 months old), had been sent back to wait in Mexico.
Frantz said that's the latest injustice of an "inconsistent and, in my view, irresponsible, immigration system" fueled by racism.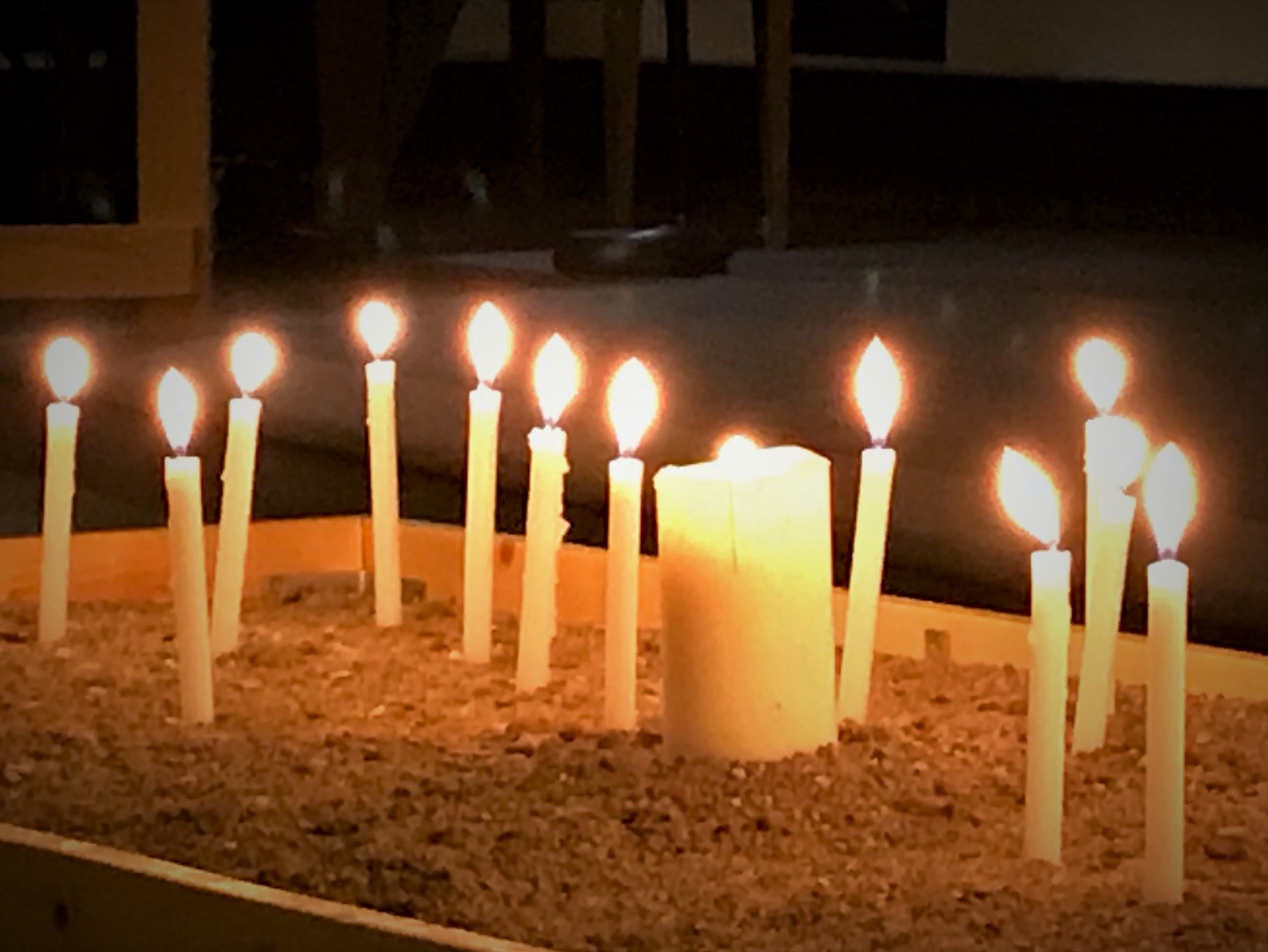 "Most of our faith traditions have some variation of the mandate to welcome the stranger, or treat the sojourner as a citizen, because 'we, too, were once strangers in the land,'" said Frantz, a retired UCC minister and member of Peace UCC. "Our faith community leaders include Anishinaabe elders, Jewish leaders, Islamic leaders, Christian leaders including mainline progressives, Roman Catholics, and several evangelical congregational leaders. Even though we may disagree on many issues or in the way we worship or call upon God, on this issue we find common ground based on our faith."
The Duluth group, which Frantz said represents more than three dozen faith communities, formed after Peace UCC voted to become a sanctuary congregation a few years ago and invited other churches to become "sanctuary supporting." The coalition most recently has been active advocating for refugee resettlement in St. Louis County. The county board on Jan. 7 put off a decision on a resolution that would provide consent for refugees to stay in the county, with board members voting to push back their decision on the issue until May. 
Advocacy also had a place at the prayer service, with a table where people could pick up information and sign petitions. "But I suggested that we participate in this vigil, less as a call to action, and more for spiritual nurture," said Frantz. "We have been involved in a lot of action in the past few months and I think we need an opportunity to pray, sing, cry, give thanks and find hope in that quiet place where the Spirit dwells."
The sanctuary was open 30 minutes before and after the service for personal prayer and meditation. Peace UCC, pastored by the Rev. Kathy Nelson, became the denomination's newest Immigrant Welcoming Congregation with a vote at its annual meeting on Sunday, Jan. 26. At last count, there are more than 300.
Earlier Wednesday morning, in the shadow of the U.S. Capitol, UCC ministers joined people of other faiths for a vigil calling for the end of the "Remain in Mexico" policy. Gathering outside the building that houses the denomination's Washington, D.C., Office, immigration advocates called on lawmakers to support the Asylum Seeker Protection Act (HR 2662) and urged vigil participants to call their representatives and demand justice for migrants denied the right of protection at the U.S. border.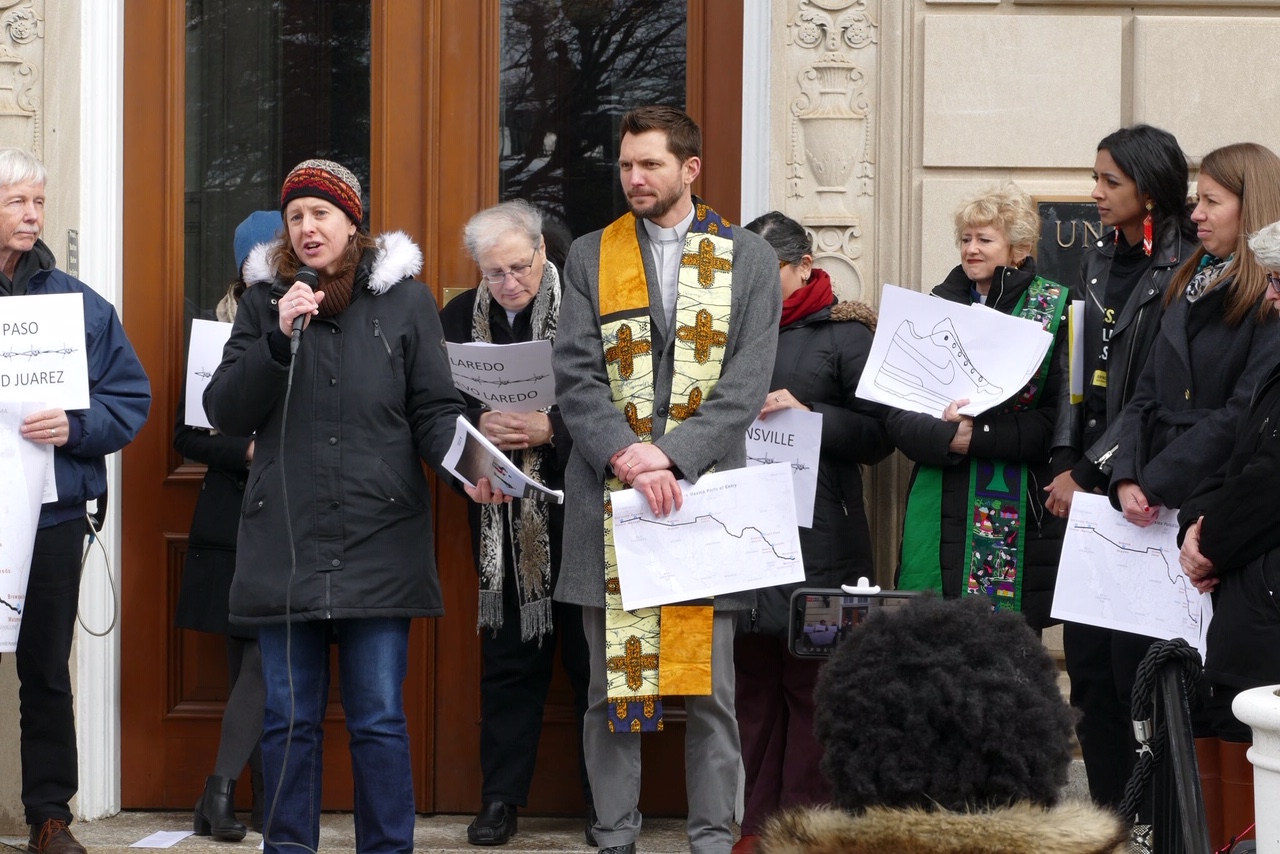 The Rev. Noel Anderson, coordinator of the UCC Collaborative on Immigration, has seen firsthand how people are being mistreated under Migrant Protection Protocols.
"I was recently in Matamoros, Mexico, and spoke to hundreds of migrants seeking asylum. They were stuck on the bridge, not able to present themselves at the border. Most of them in makeshift camps were even scared to go to the store down the street for supplies, for fear they could be kidnapped by cartels looking for ransom," he said. "Dozens of UCC congregations are participating this week in the Faith4Asylum campaign, mobilizing actions to stop these inhumane policies. Our people are lifting up a bold and prophetic voice in spaces that are not always welcoming to immigrants, which makes our faithful voice even more important."
To learn more about how your can advocate and organize for just immigration policies, sign up to join the UCC National Collaborative on Immigration.
To call your legislators, find their numbers here.
---
Related News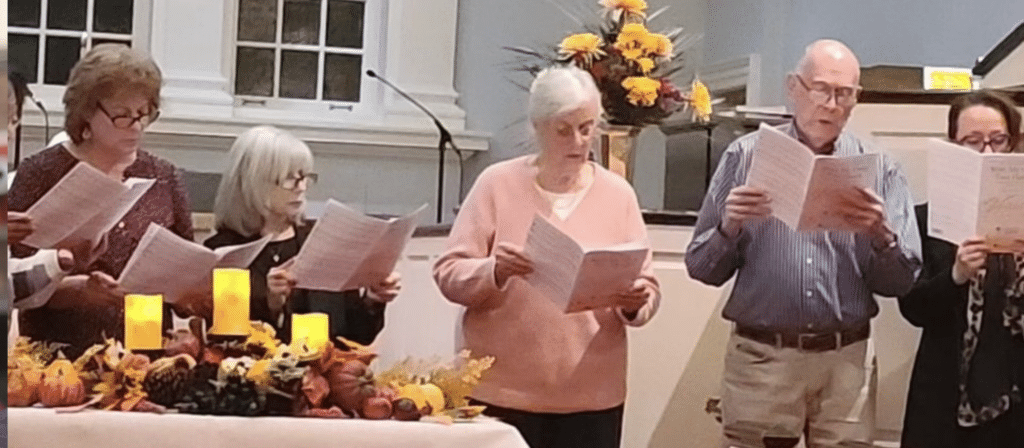 Many United Church of Christ congregations across the country participated in interfaith...
Read More