Why do I care so much about politics?
My TV is on MSNBC for most of the day, listening to the pundits and analysts dissect every news article and soundbite that comes from the various political leaders. For some, politics may seem like a soap opera. There is a constant barrage of Breaking News drama, the occasional good guys who are presented as our heroes, and the frequent villainous bad guys wanting to destroy everything they touch. Unfortunately, once we turn off the news, the politicians do not return to their dressing rooms until the next episode. They continue to play their parts, drafting and implementing policies and laws that affect all of our lives. Some of our citizens have checked out of the reality of politics. According to FairVote.org, only about 60% of eligible voters have voted in recent Presidential elections and around 40% in midterm elections and direction of our country.
I care about politics because it is my Christian duty not only to preach liberation for the spiritual captives but also to work toward each citizen living freely in a just society. We should all care about politics, because we cannot allow laws to be created that do not hold true "that all men are created equal and endowed by our Creator with certain unalienable rights, among these are life, liberty and the pursuit of happiness." Each time we cast a ballot, we demonstrate our desire to remain active participants in our democracy.
About LaKesha Womack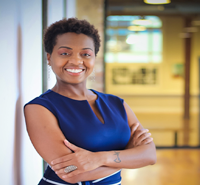 LaKesha Womack is the Owner and Lead Business and Marketing Consultant with Womack Consulting Group. Since 2005 the firm has provided Business Planning, Brand Management, Community Development, Leadership Training, Strategic Planning, and Political Consulting to clients across the globe. She has a bachelor's degree from Vanderbilt University, is a graduate of the Women's Campaign School at Yale University, and is pursuing a master's degree from Chicago Theological Seminary.  In 2017, LaKesha became a member of the Forbes' Coaches Council as a thought leader on business and leadership topics and now writes for Forbes.com. She also provides strategic planning and executive training for churches, corporations, colleges, and universities. She is a member of the National Coalition of 100 Black Women – Queen City Chapter, the National Coordinator of #ZionVotes, and the Episcopal Director of Church Growth and Development for the Alabama Florida District of the African Methodist Episcopal Zion Church. LaKesha is the published author of nine books, including her new release, UnLynched: An Economic Empowerment Doctrine for African Americans. LaKesha resides in Charlotte, North Carolina with her son.
---
Related News
Throughout the holiday season—from Thanksgiving, through Advent and Christmas, to the New...
Read More