Media power, technology must be used for public good, says Parker lecturer
The power of media and technology can do much good or cause great harm. And it's up to the majority of people who care about the common good to use that power to benefit everyone.
That was the message that Maya Wiley, CEO of the Leadership Conference on Civil and Human Rights, shared Sept. 22 during the United Church of Christ Media Justice Ministry's 40th annual Everett C. Parker Lecture. 
The event was held in person at First Congregational UCC in Washington, D.C., and simultaneously online. A recording of it is available at the UCC Media Justice Ministry's YouTube channel.
Using the tools
During her speech, Wiley spoke about the "quandary" of technology. Those concerned about media justice, she said several times, must think about how to use the tools of technology for good rather than evil.
"All the tools can be deployed as oppression and always have," Wiley said. "And we have always had to have the ingenuity, the creativity, the connections that are based with people and in places that work around it."
She recalled the work that her late stepfather — the Rev. Bruce Hanson, a UCC minister — did during the Civil Rights movement, especially during the Freedom Summer in 1964. Technology of the day posed a danger even then, Wiley warned.
"We forget sometimes how technology has always been used against those organizing against oppression," she said. "And during the Civil Rights Movement of the '50s and '60s, particularly in places like Mississippi, what organizers had to do was avoid the telephone."
Hanson preached about his Civil Rights experience in an older church building on the same site as First Congregational's new one, where Wiley was now giving her lecture. She also noted that her stepmother, the Rev. Jean Alexander, is a member there, making the experience "so personal."
Documenting vs. surveillance
Wiley's concerns about the use of technology have passed from her parents' generation onto the next. She spoke about her fears when her daughters participated in a Black Lives Matter demonstration.
"My youngest was 14 years old, and I was like, 'Wait, what?'" she said.
In trying to ensure their safety, Wiley asked her daughters if they would record video on their phones. They responded that they received instructions not to take video, because that could endanger other protestors. Authorities could discover their identities, thus risking criminalization or other ramifications.
She assured them that their concerns about surveillance were real, but also told them that if misconduct happened and it wasn't documented, "the police will get away with it."
This, Wiley stressed, is the quandary our society faces with technology.
"I share that because these are really difficult, hard questions about the justice we want, about the danger real people are in, and about how the tool can be for good or ill," she said.
Tongues that wag with hate
In his introduction of Wiley before the lecture, Earl Williams Jr., chair of the UCC Media Justice Board, quoted the Epistle of James: "So also the tongue is a small member, yet it boasts of great things. How great a forest is set ablaze by such a small fire."
Wiley warned her audience that "small, shriveled, angry, evil tongues" have used technology to boost messages of hate and fear. She mentioned how these "tongues" have incited white supremacist violence, antisemitism, the January 2021 insurrection at the U.S. Capitol and the 2022 mass shooting at a supermarket in a Black neighborhood in Buffalo, N.Y. 
"That evil tongue was wagging on social media," Wiley said. While the majority of people use technology for good purposes, "the few small, evil tongues that wag can wag with much more power thanks to technology. So what do we do with our quandary about the tools?"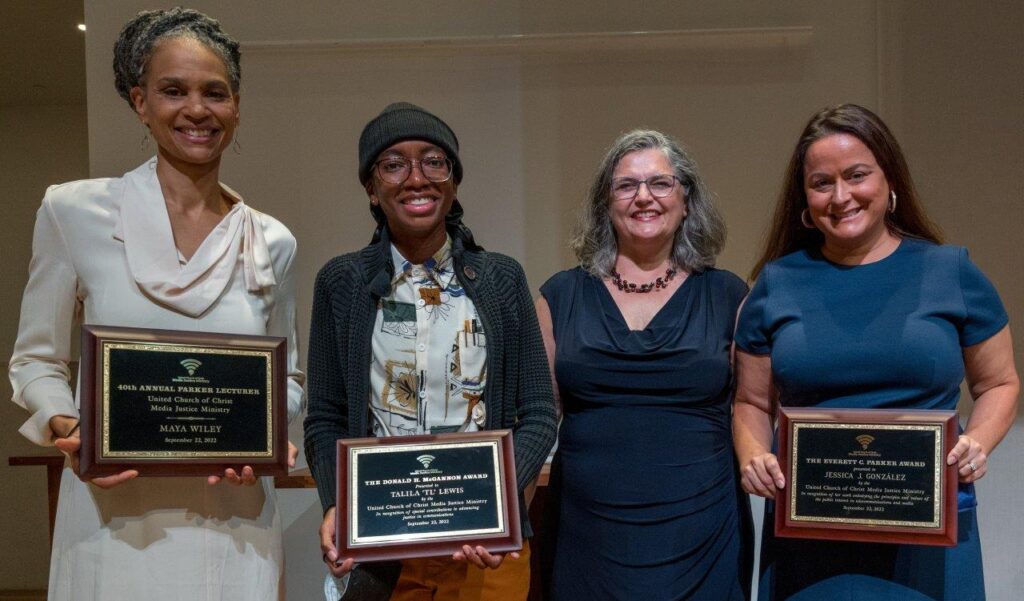 Access for marginalized communities
Expanding access is one way these tools can benefit the public, Wiley said. She used as an example that nearly a quarter of people in New York City have no household broadband. And other communities have similar struggles.
"It's a rural problem. It's an urban problem. It's a people of color problem. It's a poverty problem," Wiley said. "It's not a geographic problem."
She highlighted how the UCC and other partners have advocated for the importance of upgrading technology in communities. In particular, she referred to the lack of access that many poor, Black communities have had to new technologies because companies say they can't afford them.
"We call that digital redlining," Wiley said. "Is it saying, 'We don't want to serve people of color'? No. Is it perpetuating racial discrimination? Absolutely."
Service providers don't have to intend racism, she added. "You just have to participate in the underlying system that produces the racialized results."
Public resources for public good
Wiley praised the people and organizers who have worked to create more accessible systems. She stressed the need for community-based solutions that "aggregate" public resources to expand access.
"What if we collectivize and support community, as public space?" she asked.
Efforts such as the U.S. census can be tools to help direct resources where they are need, Wiley said.
"You want to talk about democracy? Talk about being counted," she said. "You want to talk about administration making it difficult for us to aggregate public resources for public good and also trying to use the power of government to make people fearful? Let's talk about the last administration. You want to talk about evil of tongues and the fires they can set forth? We've seen it. And we're still seeing it.
"But we can change and build a different kind of power when we recognize the power of our community innovators, the possibility of people, and the necessity of the public resources that have to funnel into it."
She also noted that the UCC is part of a group advocating for "groundbreaking" civil rights privacy legislation.
"So I say that to say, our partnerships can be powerful," Wiley said. "The possibility of our people is unquestionable. And the passion for what is possible must be the fire that we blow in, in order to counter the blaze of those tongues that wag with hate and that work to undermine we the majority."
'UCC is very special'
Before Wiley's lecture, other champions of media justice received honors. Jessica González, co-CEO of Free Press, received the Media Justice Ministry's Parker Award. Free Press's mission includes working for equitable access to technology and for diverse and independent ownership of media platforms.
"As a lawyer in media and tech, UCC is a very special organization to me," she said. "Because UCC fought for standing, which is a really nerdy thing to talk about at a thing like this. But essentially, they fought for the people's right to have a say in the decisions that shape our media." That "trailblazing work" was led by late Rev. Everett Parker, namesake of the lecture and awards, the the UCC's Office of Communication, which he founded.
That legacy is one of the things that drives people who care about media justice, she said.
Toward multiracial democracy
"Why do we do this work? It's because we understand that the media is powerful," she said. "It shapes beliefs, opinions. It actually impacts how people act and move about in the world. It can be harnessed for good and for evil."
White supremacists and authoritarians are using media to "amplify lies, sow chaos and undermine democratic institutions," González said. And sometimes it scares her, she admitted. But people who work to shape the media system for good give her hope.
"I believe we can build something that's never existed before," she said. "I believe that we will win. It may not be in my lifetime, but I believe that we will win. And I commit to living up to this deep honor that the United Church of Christ has bestowed upon me today by moving with love, by moving with purpose, to hold down the small role that I play in building a media system that serves truth, justice and multiracial democracy."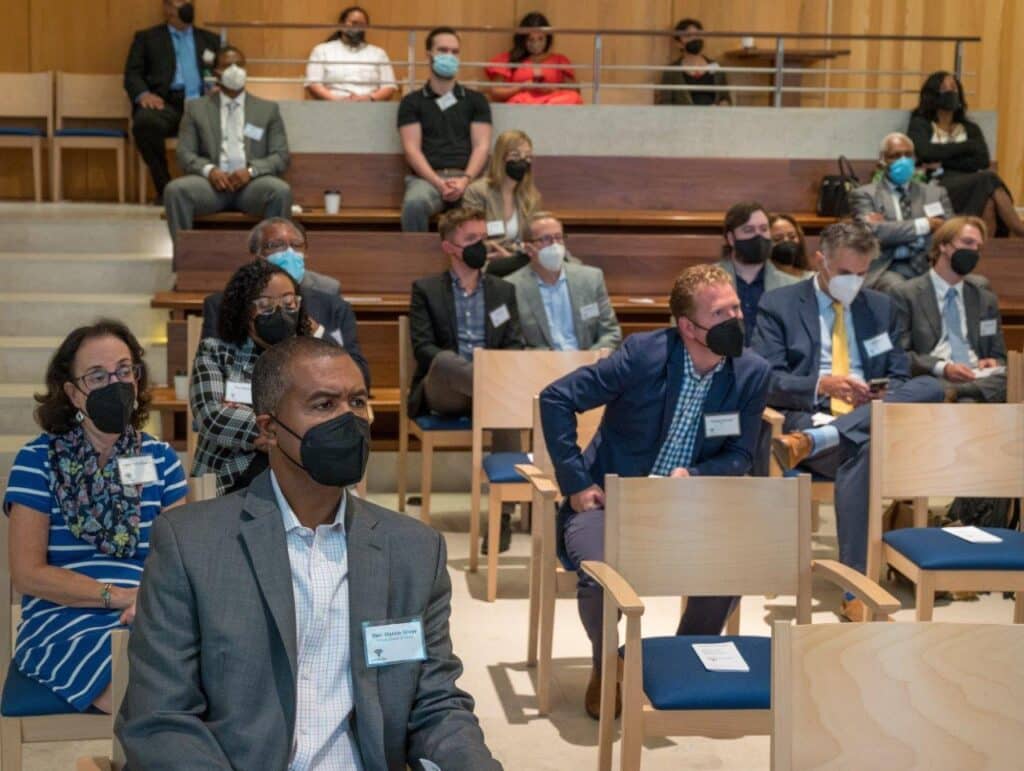 Cross-movement justice
Talia "TL" Lewis, co-founder of HEARD, received the Donald H. McGannon Award. The abolitionist organization focuses particularly on disability justice. The award honored HEARD and Lewis's efforts to improve communications access for disabled, incarcerated people.
Lewis gave a "plug" for local libraries, noting the importance of them as meeting places for HEARD.
"In fact, the D.C. public library system is the only office HEARD has ever had," Lewis said. "And so I say that because a part of abolitionist work is making sure people have spaces where we can build one another, care for one another and sharpen one another.
"It's about investing in positive projects, making sure that we have those kinds of spaces, and divesting from harmful structures — from imperialist, capitalist structures and systems, from incarceration, from policing systems — that continue to harm all of our communities, and investing in things like young folks doing good work, working towards causes of justice, towards infrastructure, that our communities need."
'Liberation work'
In accepting the award, Lewis highlighted the efforts of many who have fought for the rights of marginalized communities, especially people from those communities themselves.
"I'm really not receiving it on behalf of just myself," Lewis said. "I'm receiving it on behalf of so many people. The gains that have been had, that we have forced … have arisen only out of heartbreaking loss and immense sacrifice."
It's important to keep marginalized people at the center of justice movements, Lewis said, because that is "the future of cross-disability and cross-movement work: liberation work that really centers all marginalized people."
"This work continues, and we really need everyone," Lewis said. "All power to the people."
---
Hans Holznagel of the UCC News team contributed to this article.
---
Content on ucc.org is copyrighted by the National Setting of the United Church of Christ and may be only shared according to the guidelines outlined here.
---
Related News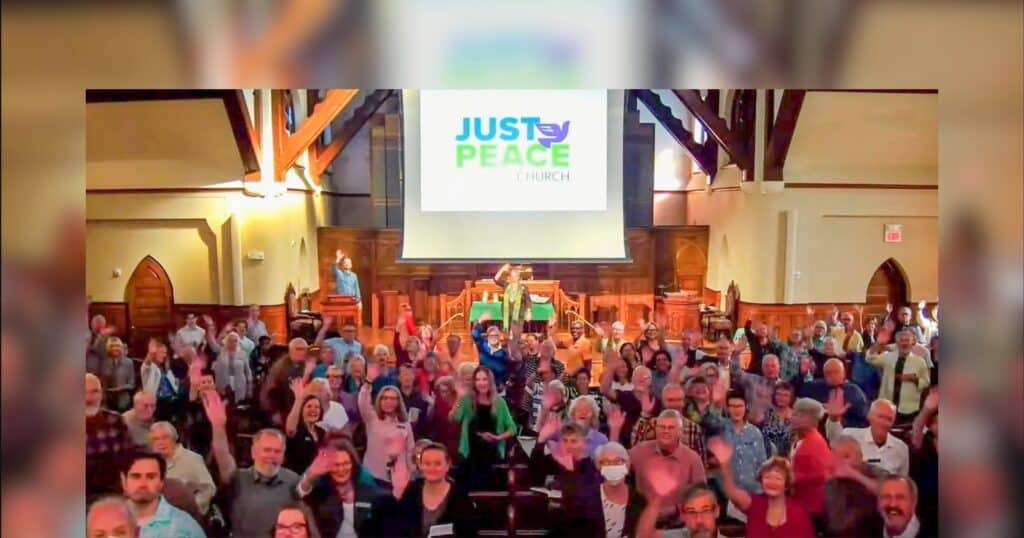 Churches across the United Church of Christ marked Just Peace Sunday as they gathered for...
Read More