Massachusetts church offers prayer chain for peace
Pictured are, from left to right, Hawraa Alsaad, Rev. William C. Harding, Kumu Gupta, Rev. Rebecca Froom, Imam Khalid Nasr, Jean-Jacques Yarmoff, Haider Alsarah, Rev. Peter M. Preble.
Following Jesus Christ's example to take care of one another, Bethany Congregational Church welcomed 70 faithful into its sanctuary on a cold, drizzly Sunday to pray. The gathering of Christians, Hindus, Unitarians and Muslims assembled at the United Church of Christ congregation in Quincy, Mass., on. Nov. 22 brought distinct voices together to pray for a world that has been plagued by terrorism in recent weeks.
"When terrorism or natural disaster happens, all of us are affected in one way or another," said Bethany Church member Jean Ann Phinney, who came up with the idea for Quincy Prays for Peace. "We can get caught up in all sorts of feelings and emotions, and this is okay, but once the dust settles what should our response be? As people of faith, our duty to others is clear. Jesus taught us to take care of one another, and our burdens and one of the most effective ways to make this happen is by prayer."
"I had been thinking about this for a while and the time just seemed right," Phinney added. When the Rev. William C. Harding, Bethany Congregational Church's senior pastor, was deployed to Iraq as a U.S. Army Chaplain, she organized an around-the-clock prayer chain to hold Harding and all the deployed soldiers in prayer.
Quincy Prays for Peace is an extension of that prayer chain. The service brought together people of different faiths with the common goal of praying for peace in the light of the terrorist attacks in Paris and other parts of the world.
Harding welcomed everyone in attendance to Bethany, and expressed his hope that, "Bethany continues to be a beacon of prayer and hope in Quincy and that our prayers continue long after this night has ended."
Prayers offered by Quincy religious leaders and from Jean-Jacques Yarmoff, an attaché from the French Consulate in Boston, brought the greetings and thanks of the French government. Representatives of the varied faith groups from Quincy stood and, in their different languages and traditions, prayed for peace in our hearts and peace in the world. Imam Khalid Nasr of the Islamic Center of New England asked that "we do not end here. We need to continue the dialogue as people of faith," before chanting an Islamic prayer for peace in Arabic.
In his closing remarks, Harding reminded those assembled, "Just as the light from these bring the light into the darkness, we now have to be that light and drive away darkness out in the world." To help achieve that vision, members of Bethany Congregational Church have reinstituted their prayer chain and have asked all houses of worship to consider joining or creating their own.
---
Related News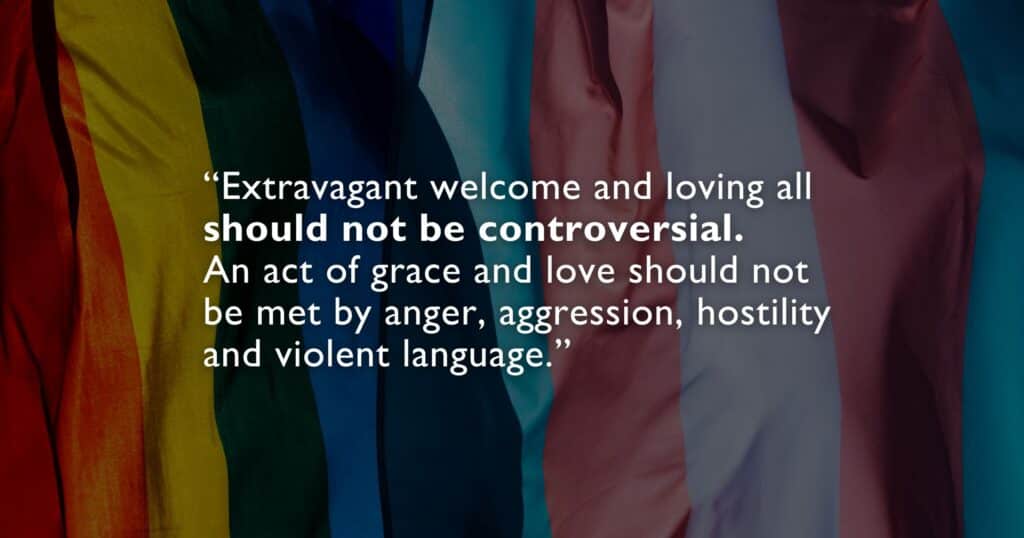 The United Church of Christ National Officers and the Conference Minister of the South Central...
Read More