Remembering MLK by celebrating his legacy
The spirit of the Rev. Martin Luther King Jr. was alive across the life of the United Church of Christ this weekend. Congregations celebrated the vision and the legacy of the famed Civil Rights leader through song, sermon and conversation. Some of those celebrations were reminders of King's work for equality and justice that still lives on today through the witness of the people of the UCC, seeking to complete his historic work, building a "beloved community."
First Congregational UCC, in Vancouver, Wash., celebrated the MLK holiday (Monday, Jan 18) in a unique way, welcoming Arun Gandhi, the grandson of Mahatma Gandhi and a peace activist himself, to join the Rev. Brooks Berndt, pastor of First Congregational, for a discussion and "dialogue sermon" about Mahatma Gandhi's approach to nonviolence and civil disobedience. It was that same approach that King preached as a way to advance the civil rights of African Americans during the 1960s.
"That [was] our focus—King in relation to Gandhi," Berndt said. "Sometimes, we forget about the importance of Gandhi in the civil rights movement. When King led the initial bus boycott in Montgomery (Ala.), he lifted up Gandhi as his inspiration."
Now a resident of Rochester, N.Y., Arun Gandhi said he was "glad that Dr. King found ways to deal with the civil rights situation in a peaceful way," but added that he wished King had lived longer, beyond his assassination in 1968, to put more of his peaceful practices to use against the prejudice and discrimination that still exists in America.
The dialog was part of the congregation's regular Sunday worship on Jan. 17, with a book signing by Gandhi afterward. His presence in the Portland area was possible through the Wholistic Peace Institute, of which Berndt is a member, which is based at Concordia University in Portland and brings Nobel Peace Prize winners and other peace activists to the area.
"We were so excited to have someone like this in Vancouver to celebrate King's birthday with us," Berndt said.
In Connecticut, the city of New Haven celebrated its 29th Annual Tribute to King on Sunday afternoon. The event, which took place Sunday at First Congregational Church of Westhaven, is one of the oldest MLK tributes in the area. Local students and professors offered reflections on King's life and work and choirs sang hymns. The Rev. Jerry Streets, pastor of Dixwell Avenue UCC provided the introduction for keynote speaker David Telfort, a Yale Divinity School student who is interning at Dixwell Avenue UCC.
"Each generation has to flesh out the meaning of democracy and freedom," Streets said. "Whatever we need to do to be renewed in belief of King's ideas, then that's what the celebration is about."
Dixwell Congregational UCC has deep roots in civil rights history and activism. It is the oldest African-American church in the state, founded in 1820 by freed slaves. It's former pastor, the late Rev. Edwin Edmonds, was part of the UCC's Commission for Racial Justice.
Streets believes that King's messages of equality through nonviolence have "increased in importance since his death. It hasn't lessened at all."
Did your congregations celebrate MLK Day in an interesting way? Share it in the comments below.
---
Related News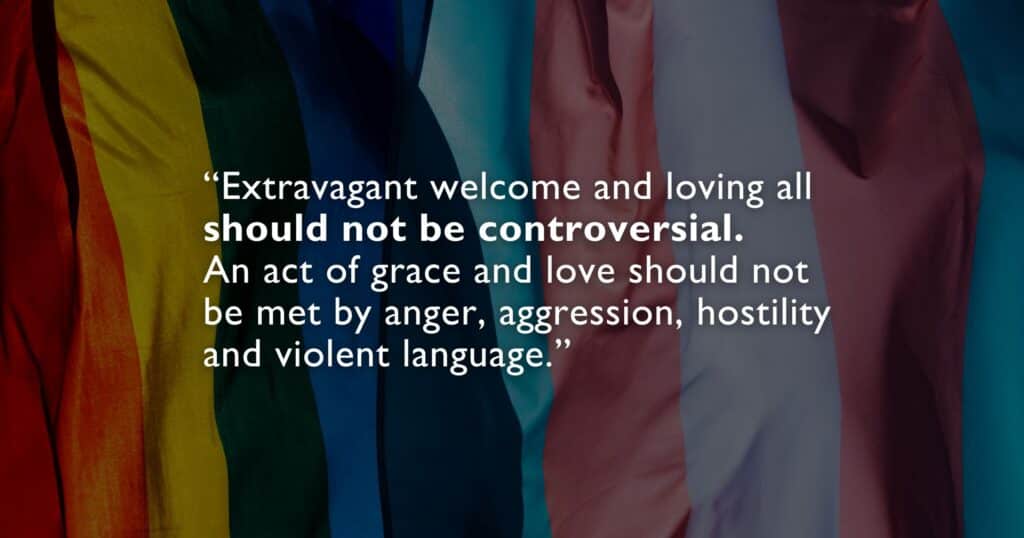 The United Church of Christ National Officers and the Conference Minister of the South Central...
Read More