Love of neighbor feeds Pennsylvania church ministry of hospitality during Ramadan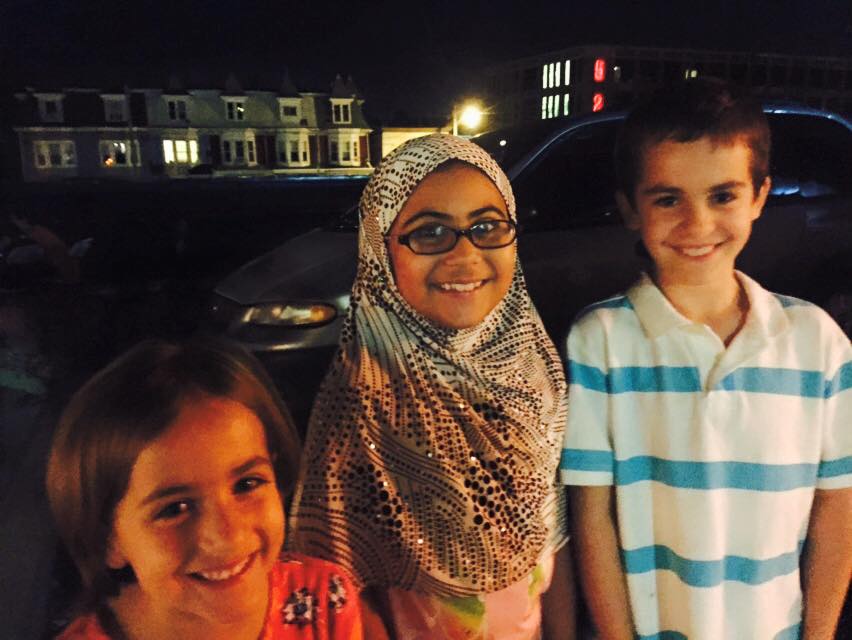 A large group from a United Church of Christ congregation in Shillington, Penn., is preparing a Ramadan celebration on Sunday for their Muslim friends and neighbors. On June 3, in an evening of fun, food and fellowship, the people of Immanuel UCC (IUCC) will be hosting and serving an Iftar meal for the members of the Islamic Center of Reading (ICOR).
Preparations are already underway.
"With the guidance of some of our friends at the Islamic Center, we designed a menu and are cooking the Iftar meal — mindful of their dietary restrictions, and cultural diversity," said the Rev. Megan Huesgen, one of the IUCC pastors. "Different families have signed up to prepare specific dishes — salads, side dishes, desserts. Some people have made financial contributions. Some will gather after our morning worship on Sunday to prepare the halal chicken and additional dishes."
Iftar is one of the religious observances of the holy month of Ramadan, a meal at sunset, and is often done as a community, with people gathering to break their fast together.
"The Iftar meal is just one aspect of our relationship with the Islamic Center, but it's an important one to Immanuel and ICOR," said Susan Shelly McGovern, one of the UCC organizers. "Serving our friends at ICOR gives us a chance to return some of the hospitality that is consistently shown to us."
On Sunday, Immanuel UCC plans quite a spread to serve more than 150 people —with chicken, assorted pasta dishes, assorted rice dishes, vegetables, salads, hummus, pita, and a wide variety of desserts. The church has been gathering with ICOR for Iftar during Ramadan for several years, Huesgen said, and members are "always overwhelmed by their Muslim neighbors' hospitality, generosity and graciousness."
"I'd like to describe the relationship between our communities as if one family worships in two different places due to not having enough space to accommodate us at the same time," said Elsayed 'Steve' Elmarzouky, president of the Islamic Center of Reading. "I can write a very long story about our relationship — but it started over 10 years ago with a confirmation class with Rev. Megan Huesgen over pizza and cookies."
Huesgen elaborates on that, just a bit. "We began by having our confirmation classes visit the Islamic Center as part of our learning about how Christianity is in relationship with other world religions."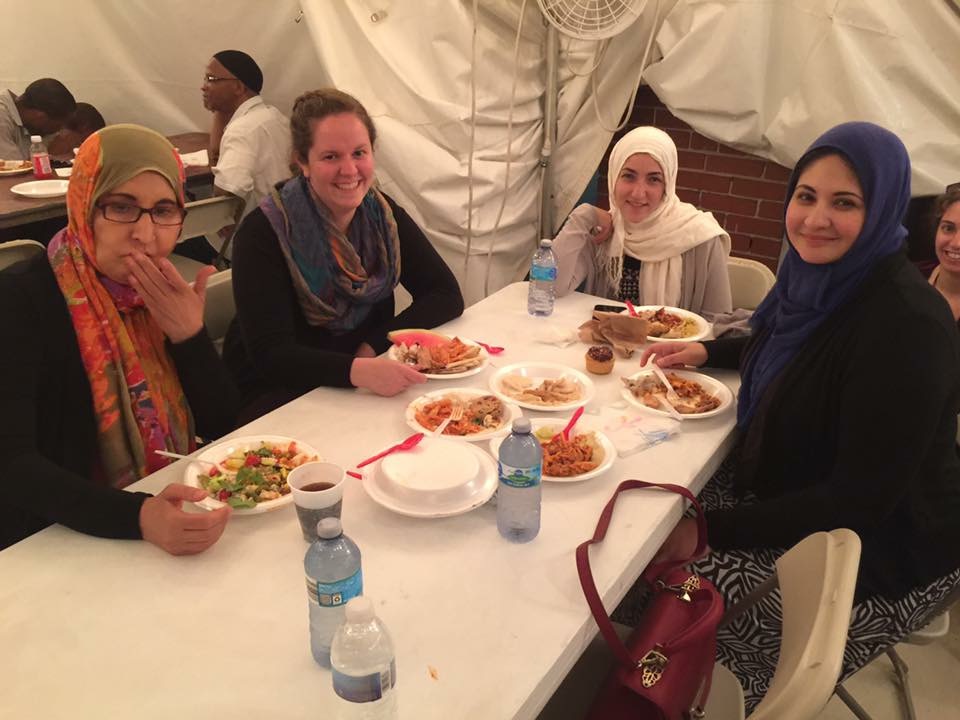 "I can still remember my first time sitting on the floor of the Islamic Center of Reading eating pizza while learning about Islam in my confirmation class," Jayme Babczak said of the experience. A longtime IUCC member and seminarian, Babczak is returning to the area from studies in Virginia to participate on Sunday. "The Islamic Center has shown such generous hospitality to us over the years, as they host us and invite us to be first in line when they have fasted all day long. They encourage our curiosities, listen earnestly to our questions and graciously teach us along the way. I consider myself lucky to have been and still be involved in this ministry!"
The IUCC community decided to host an Iftar a few years ago, after an Immanuel member reflected about the spiritual practice of fasting and the strain it places on the body. Mentioning the discipline and awareness experienced by Muslim women in preparing food for that meal, she said, in a rather off-handed manner, "I want to cook for them."
"We had already established a relationship with the Islamic Center of Reading (ICOR) before we decided to offer to prepare and serve an Iftar meal," said McGovern. "We had eaten together on numerous occasions, but I think that us preparing and serving food to our friends has deepened that relationship and helped us to even better understand how much we share in common."
"My community looks forward every year to that night when the cars pull over the parking lot with all kind of goodies and big smiles on everyone's face," Elmarzouky said. "It's like a big festival that night and we talk about it for the rest of the year. It's such a high time for us; to share our values with others who believe in the same way."
The two faith communities have built a strong partnership through a commitment to learning, discovery and friendship. The church and the mosque also come together in service every autumn in an event called 'Walk the Bridge.'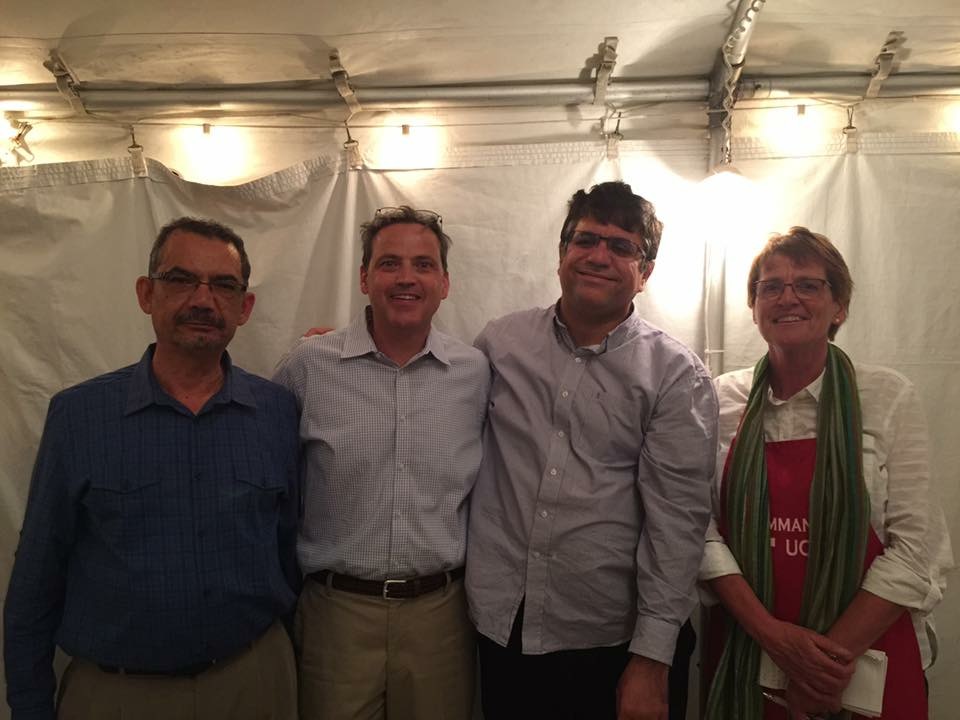 "We walk from our church to the Queen City Restaurant which is owned by the president of the Islamic Center," Huesgen. "In their parking lot we share food, winter clothing, medical resources, haircuts, children's activities (like face-painting and games). We have had members of the Islamic Center in our worship services on a fairly regular basis along with educational opportunities."
"Sometimes we talk about faith while we eat and sometimes we don't! Often our conversations and relationships extend beyond our religious identities," Babczak said. "We talk about our passions and lives as fellow musicians, students, caretakers, athletes, and members of community. I think this is where our relationships flourish as we share common humanness — laughing at each other's jokes and showing compassion for each other's experiences."
"It's a joy to see children of ICOR and Immanuel playing together," said McGovern. "It's a joy to sit with women who over the years have become friends, to have the opportunity to know entire families and to be included in their lives. It's a joy to talk about what will be our next activity together."
"This is very remarkable and it should be a model to other communities throughout the States," Elmarzouky said. "That is because of the (UCC) leadership which allowed their congregation to come out of their comfort zone, to see other people and get to know them instead of reading about them. My deepest appreciation to both Revs. Dale Davis (another IUCC pastor) and Megan Huesgen for making this possible."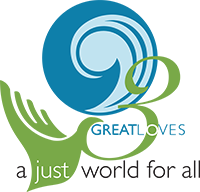 This story, highlighting the ministry of a local church, is part of the UCC's 3 Great Loves campaign, seeking to build a just world for all as one united church. Visit
3GreatLoves.org
to learn how we're showing Love of Children, Love of Neighbor, and Love of Creation.
---
Related News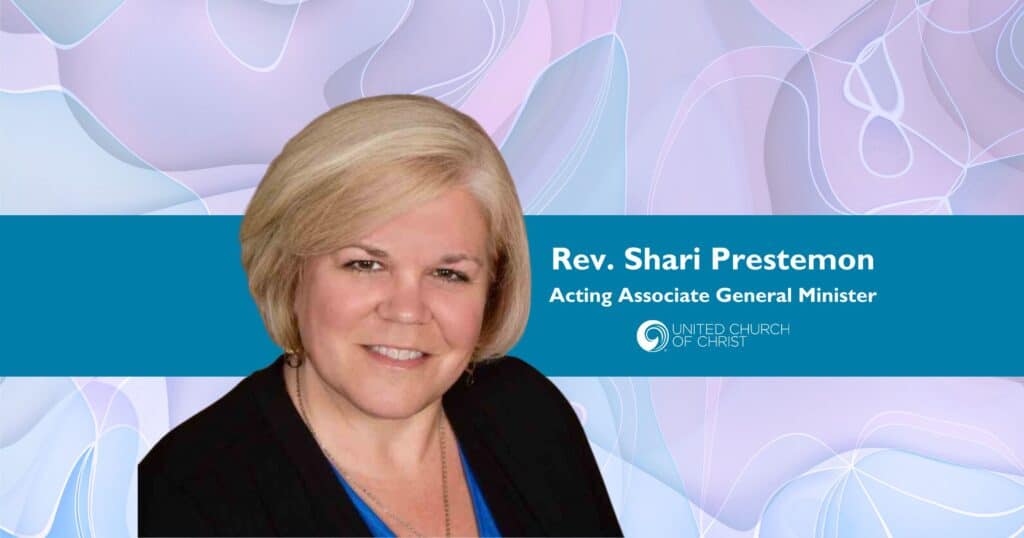 A new United Church of Christ national leader has been called. The UCC Board voted in a...
Read More