Long Island church using 1,000 crosses to mark gun violence
A picture is worth a thousand words, so goes the adage. What then of a picture of almost 1,000 crosses?
That image is taking focus in front of Sayville Congregational United Church of Christ in Long Island, N.Y. where members and friends placed 650 white crosses in front of the church during the recent weekend to remember communities touched by gun violence — and they are still short of their goal by more than 300 crosses. Towns such as Rochester, N.Y., Colorado Springs, Colo., Sarasota, Fla., and Los Banos, Calif., are among the hundreds of United States cities and towns that have been inscribed on the crosses to mark the location of a mass shooting in the last three years. 
The church"s message is simple: "Weapons of wars designed to kill a large number of people in a very short time have no business in our homes, our schools, our local communities," said the Rev. Gary Brinn, pastor of Sayville Congregational. 
"After the slaughter of the innocents that took place at Sandy Hook Elementary on Dec. 14, 2012, organizers across the country selected the weekend nearest the anniversary of the tragedy for a National Gun Violence Prevention Sabbath," Brinn said. "Next Sunday (Dec. 13) we will join mosques, synagogues, temples, churches and sanghas in observing this event." 
Sayville Congregational is one of about four dozen UCC congregations across the country commemorating the third anniversary of the tragic school shooting in Newtown, Conn., with participation in the National Gun Violence Prevention Sabbath Weekend, Dec. 10-14. It will bring Christians, Muslims, Jews, Unitarians, Sikhs, Hindus and Buddhists together to participate in local events such as prayer, song, vigils and education to remember the 90,000 victims of gun violence since December 2012. The interfaith effort, which has seen involvement in previous years from more than 1,000 houses of worship, is a collaborative effort with help from the Newtown Foundation and Faiths United to Prevent Gun Violence, two organizations whose aims are to provide comfort to communities impacted by violence and to call for policy change. 
Newtown Congregational Church is also commemorating the anniversary when it hosts an interfaith gathering on Dec. 14. The service of prayer and support will "remember and honor those lost and affected by the events three years ago," said the Rev. Matt Crebbin, the church pastor. "Our UCC congregation will also host a time for gathering and support on Monday morning and we will have a time that recognizes and remembers on ongoing journey though grief and trauma in our Sunday morning worship on Dec. 13th."
Crebbin has been involved in the Newtown Foundation "from its early days" and has served as the lead vigil program planner for each of the three national events in Washington, D.C., the latest of which takes place Wednesday, Dec. 9. The vigil, held in the second week of December since 2012, is meant to give voice to the victims and survivors of gun violence across the nation. 
Since the Sandy Hook shooting, which claimed 26 innocent lives, there have been more than 150 school shootings, according to Everytown for Gun Safety, and approximately 240,000 Americans have been killed or injured by guns. In those three years, there have been almost 1,000 mass shootings — in this instance defined as four or more people shot in the same incident. One of the most recent, on Dec. 2 in San Bernardino, Calif., has reignited the debate about both gun control and border security. A couple, which authorities say were radicalized Muslims, shot and killed 14 people in the deadliest mass shooting since Sandy Hook. 
But Brinn believes fear is not a reason to give in to hate. 
"Our nation is at risk from extremists, terrorists who will not accept compromise, will not accept an interpretation of their sacred text except their own," he said. "They bully and intimidate, they threaten. They are not Muslims. They worship the gun and they worship profit. Violence, fear and hate can never defeat violence, fear and hate. In the end, only love can win."
---
Related News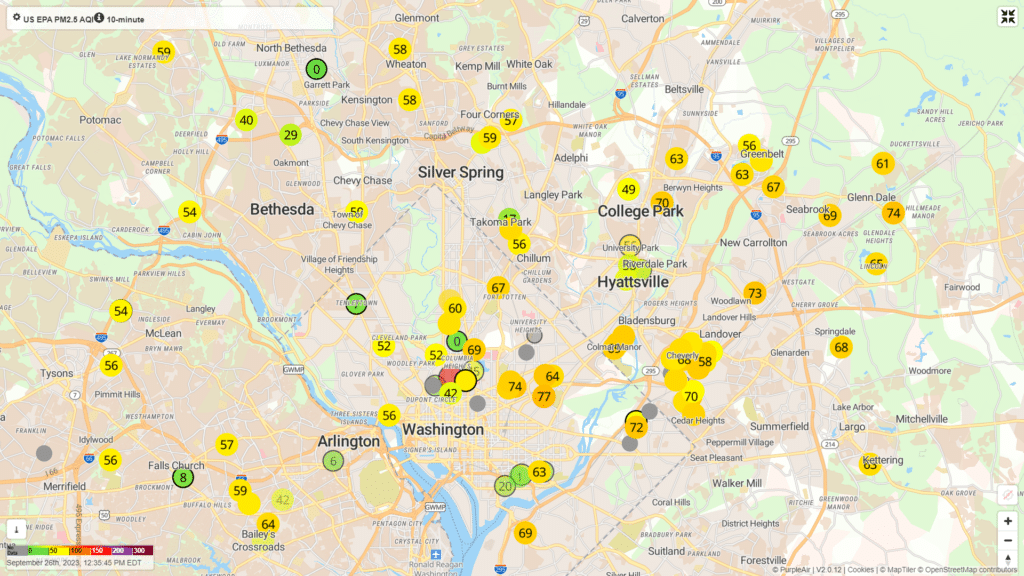 This summer, the United States experienced some of the worst days for wildfire pollution in...
Read More