Minnesota church highlights literacy, interfaith relations during Lent
This year, First Congregational United Church of Christ in Mankato, Minn., is recognizing the Lenten season with an interfaith, intergenerational, community-focused project that lifts up the UCC's Reading Changes Lives initiative in the local church. The Rev. Dana Mann is thrilled with how the project encompasses so many different aspects of what she thinks a church project should be and touches on a number of issues that are important to the members of her congregation.
"There are many difference facets there," the pastor of First Congregational said of the project. "It all just came together."
Beginning on Ash Wednesday, the church started collecting children's books with themes such as social justice, empowerment, and interfaith understanding. This Sunday, March 15, the church will be separated into age-appropriate reading rooms where adult and young adult members will read those books to children and discuss the importance of literacy through various activities. Families from the local homeless shelters and domestic violence center are invited to attend, and the collected books will be donated to the organizations after the event. The day will begin with a potluck meal. 
In a continuation of Reading Changes Lives, the UCC's all-church initiative that focuses on illiteracy as a social justice issue, First Congregational is also working to strengthen its relationship with the local Islamic learning center. Church members, many who are educators from Mankato-based Minnesota State University, plan to volunteer as tutors for the center's after-school program.
"It's really helping people, and helping us to recognize that we are a community church and we can't separate ourselves from the community," Mann said. "We are breaking down the walls in so many different ways, and we're able to work within the community, not just in charity, but in advocacy."
The idea of "not just doing for, but doing with" those in need drives most of First Congregational's missions, Mann said, and the church always puts a special emphasis on its annual Lenten project. For example, last year, an intergenerational group filled backpacks with school supplies which were donated to the communities in Guatemala where church members travel to build houses every other year. Mann expects most of her congregation's 200-plus members to participate in this year's project throughout the duration of Reading Changes Lives, which wraps up at the end of General Synod 2015, and beyond. 
"Every Lent we do something very specific," Mann said. "What's nice is when projects relate to the larger UCC body and the local community."
---
Related News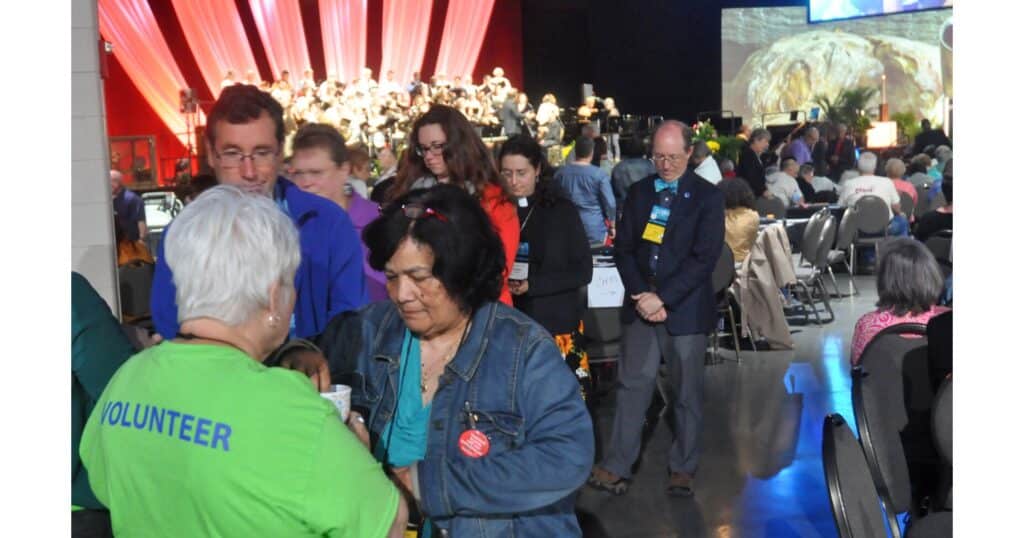 There's a brand-new way to engage with the General Synod of the United Church of Christ...
Read More