Legado de Descendencia
Génesis 17:6-7 "Era Abram de edad de noventa y nueve años, cuando le apareció Jehová y le dijo: Yo soy el Dios Todopoderoso; anda delante de mí y sé perfecto. Y estableceré mi pacto entre mí y ti, y tu descendencia después de ti en sus generaciones, por pacto perpetuo, para ser tu Dios, y el de tu descendencia después de ti."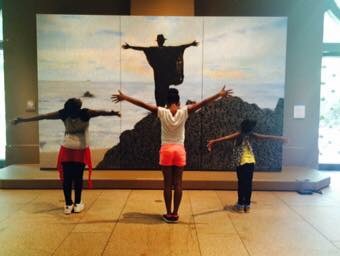 Estamos a principios de la Cuaresma, a un largo camino de la Pascua. Cuaresma: Es el periodo de 40 días antes de la Pascua, comenzando con el miércoles de ceniza.
La Cuaresma es un tiempo para la reflexión de, (y quizás de lucha en?) nuestra relación con Dios." ¿¡Qué dijo?!! Tómenme como un ejemplo. A tierna edad supe que el tener hijxs no iba a pasarme a mí, y déjenme decirles que me encantan lxs niñxs. Tengo catorce; entre sobrinxs y sobrinxs. AMO el ser Tía.
Soy una persona realizada y quiero dejar mi marca en este, nuestro mundo…esta marca no será por tanto a través de mis propios hijxs, por mi propia elección, y yo estoy de acuerdo con esta decisión.
Entonces ¿cómo es relevante el texto de hoy con individuos quienes como yo debido a una variedad de circunstancias no tendremos descendencia y del cómo tendremos un pacto eterno con Dios?
 "Cuando escuchamos acerca de los trágicos conflictos entre y todxs los descendientes de Abraham, sabemos que tenemos un largo, largo camino para caminar hacia el sueño de Dios, la bendición que yace allí afuera, en el futuro"
He aquí donde la Cuaresma; el viaje hacia la Pascua y más allá se torna interesante. La Cuaresma es una época para enfrentar los tiempos que vivimos como son y el transformarlos en tiempos para vivir reverentemente, deliberadamente y completamente despiertxs. Esto es lo que significa "el vivir en la promesa donde la espera como tal es tan llena de riqueza como lo es el final."
Entonces, allí lo tenemos; nosotrxs, la gente con y sin descendencia necesitamos dedicar nuestras vidas como el llamado de lo que significa ser de una descendencia y el dejar un legado de descendencia en el que la promesa está viva, tan vívido como un arco iris, tan real como el millón de estrellas encima de nuestra cabeza." ("The Late Bloomer," Medicina del Evangelio por su nombre en inglés).
Oración: Estimados, Nosotrxs, La Gente: Hagamos justicia, amemos la misericordia, y caminemos humildemente con nuestrx Dios" estos requisitos para Abraham venidos de Dios suenan simples: "Camina ante mí y se irreprochable."
The Reverend Lizette Merchán Pinilla, M.Div. is a minister in the Kansas-Oklahoma Conference of the United Church of Christ (UCC). She serves as a member of the UCAN UCC–HIV/AIDS Network http://www.ucc.org/ucan, a member of the Leadership team with Proyecto Encuentros de Gracia y Bienvenida http://www.ucc.org/leadership_team_equipo_de_liderazgo.
Team member of the DOC/UCC Colombia partnership http://www.ctucc.org/colombiapartnership supporting the efforts for peacemaking in Colombia, and is the convener of the Tulsa Hispanic Resource Association (social-services organization) https://www.facebook.com/Tulsa-Hispanic-Resource-Association-79480595813/.
Rev. Merchán is also a published writer http://www.ucc.org/worship_samuel, a bilingual preacher and teacher, a social-service provider, an interpreter, a translator, and an inhabitant of the world.
---
Related News
On October 13th, a delegation of UCC laity and clergy are scheduled to deliver more than 7,000...
Read More