Kansas lesbian pastor finding a home in the UCC
One year ago in January, the Rev. Cynthia Meyer preached a sermon in which she came out to her Kansas congregation with the hope that her denomination, the United Methodist Church, would change its position and welcome LGBT people. Placed on a leave of absence as a result, Meyer now finds herself experiencing the hospitality of the United Church of Christ — welcomed here for who she is.
Meyer began serving as interim pastor at Central UCC in Topeka on Nov. 21.
"My first Sunday coincided with the first Sunday of Advent," she said. "The congregation is Open and Affirming for more than 20 years and has welcomed me warmly. I appreciate being in a congregation and denomination in which I can serve openly and authentically."
In January 2016, Meyer told her then-congregation in a Kansas City suburb she was called to "be open and honest" about who she is as a same-gender loving woman in a committed relationship. After a formal complaint by UMC leaders against her, Meyer, ordained 25 years, reluctantly agreed to give up her duties as a UMC pastor.
Numerous UCC clergy from around the country contacted Meyer after her story became public. She had conversations with Kansas City pastors, and the Kansas-Oklahoma Conference Minister, Edith Guffey also reached out to her. "Many assured me that the UCC would welcome me and offer an affirming place for ministry as my authentic self," Meyer said.
"I initially reached out to her simply as support, that you are not alone, that people are with you in spirit," Guffey said. "From all reports, she was a fine pastor doing good work where she was. I'm always on the lookout for good leaders who are deeply committed to ministry."
Meyer doesn't feel like the situation has been resolved with the Methodist church. She remains on an involuntary leave of absence, which began in August and could last until the denomination's next worldwide conference in 2020. And the charge filed against her by judicatory leaders — a "self-avowed practicing" gay clergy member — still remains.
The second-largest Protestant denomination in the United States, the UMC prohibits ordination of LGBT clergy. At its General Conference last May in Portland, that church was set to vote on several resolutions related to sexuality, but the issue was deferred to allow more time for study.
After her Epiphany sermon in which she came out, and until the agreement that lead to her leave, Meyer enjoyed eight months of "full authenticity and openness with the congregation I served and in other settings too, but struggled with the reality of serving under charges and in a denomination that declares people like me to be 'incompatible with Christian teaching' and forbidden from service as clergy."
In the UCC, Meyer realizes the same authenticity, but is fully supported in her ministry. "It's been wonderfully freeing to be fully open about myself and my relationship, now in every setting and with the support of a denomination that recognizes me as compatible, beloved, and able to serve as clergy, able to offer the full services of the church, including officiating weddings for any adult couple," she said.
Excited to learn more about the UCC as she discerns her future, Meyer is beginning a denominational history and polity course. Her congregation's commitment to justice keeps her encouraged. "We are beginning the White Privilege study and many are involved in Topeka JUMP (Justice and Unity Ministry Project), working on issues including affordable housing, public transportation, and accessible mental health services in the city," Meyer said.
"There have been many self-affirming moments in this journey, from the initial talk with Edith Guffey, through conversations with Central leading to our ministry together, then to many connections in and through that congregation," said Meyer who was recently approved for dual standing by a sub-committee of the Kansas-Oklahoma Conference. "The congregation responded with applause and affirmation. That was an uplifting moment."
---
Related News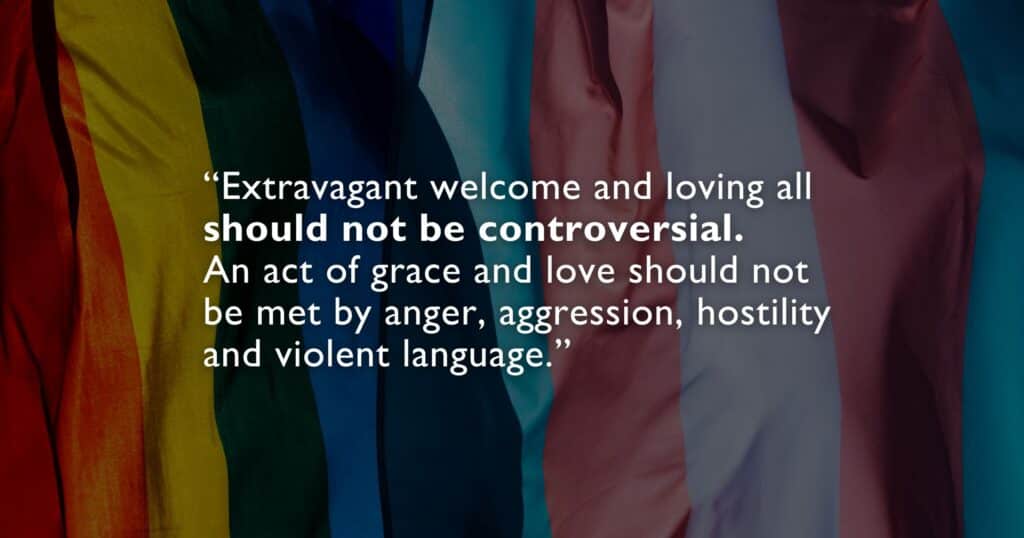 The United Church of Christ National Officers and the Conference Minister of the South Central...
Read More