JPANet October 2020 Newsletter
October Newsletter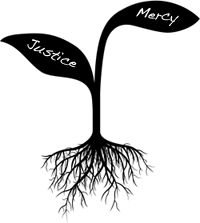 Getting to the Root of It
October is the month for early voting (in most states) and mail-in voting! As you know, there is much at stake in this election. UCC Washington D.C. Office Director, Sandy Sorensen, talks with us this month about the barriers and challenges to voting, but also the importance of doing so. 
The Heart of the Matter
Voting is often described as the heart of the democratic process. The vote is our voice, our foundational entry point into the democratic process. While it is a core dimension of our national identity and the political process, it has not been accessible to all citizens, from our nation's founding. It has taken courageous struggle by disenfranchised citizens to work for constitutional and legislative changed expanding access to the vote.
Voter suppression and restricted access to the polls has taken on many forms over the years. It has included restrictive requirements and processes for voter registration, purges of voter registration rolls, poll taxes and voting literacy tests, intimidation, threats of violence and actual violence in the form of lynchings, hate crimes and police force, and election laws like felony disenfranchisement...(Read more).
---
Justice Events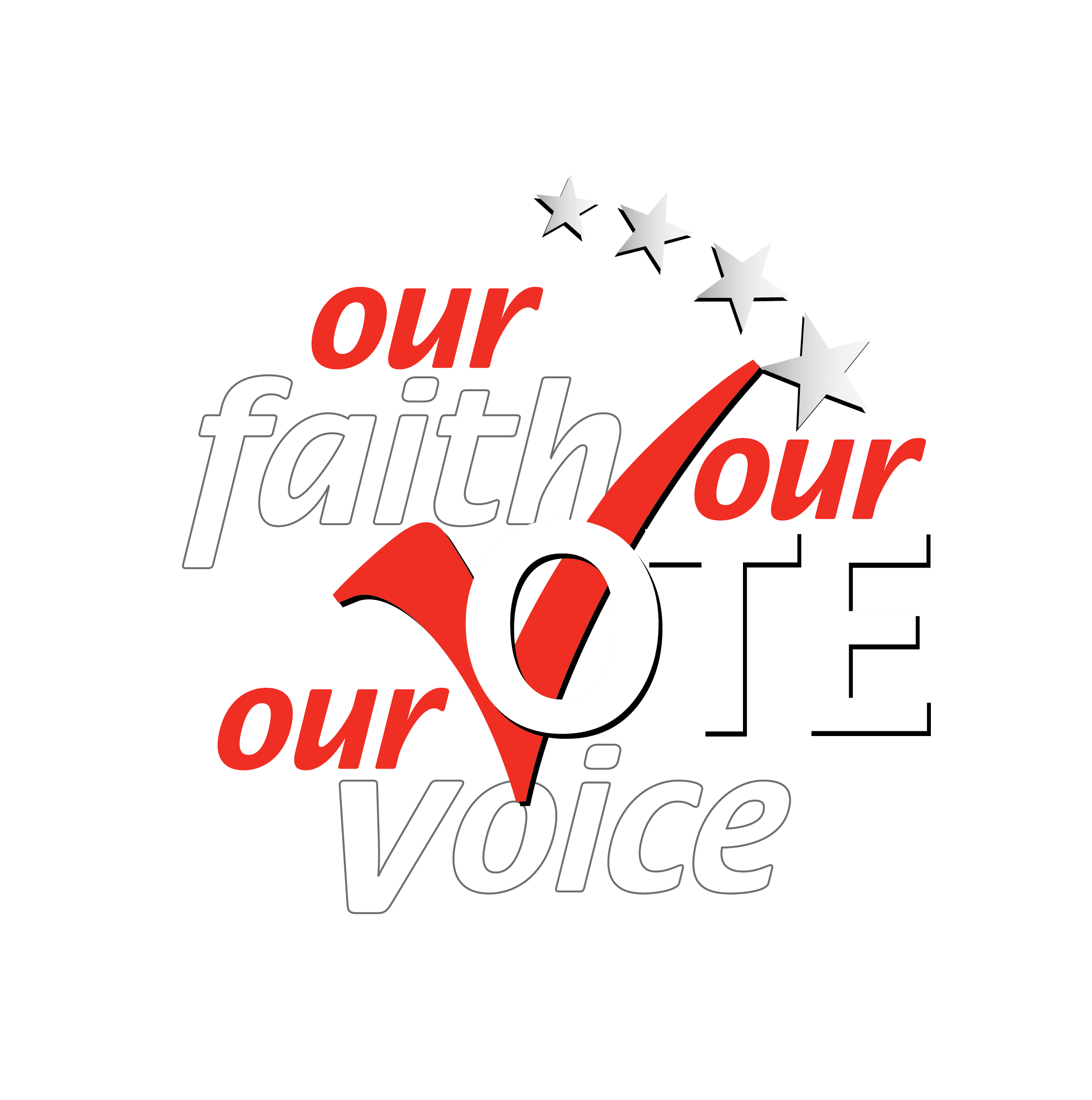 Our Faith Our Vote
The election is in 33 days. Whether you have been engaged for months or are just beginning to think about ways to be involved, it is not too late! Most state voter registration deadlines are in October, so now is the time to be engaged. Here are a couple of action steps you can take:
Visit the UCC Our Faith Our Vote website for resources and action ideas on voter registration, issue education and voter empowerment.
Pledge to be in regular contact with 3 voters between now and the election making sure they have checked their registration and have a voting plan.
Facilitate virtual conversations in your congregation on critical election issues.
Check your state's secretary of state website for details about elections guidelines in your state and create a "voter bill of rights" for your state.
Circulate the Election Protection hotline number: 866-OUR-VOTE.
It's not too late to make a difference!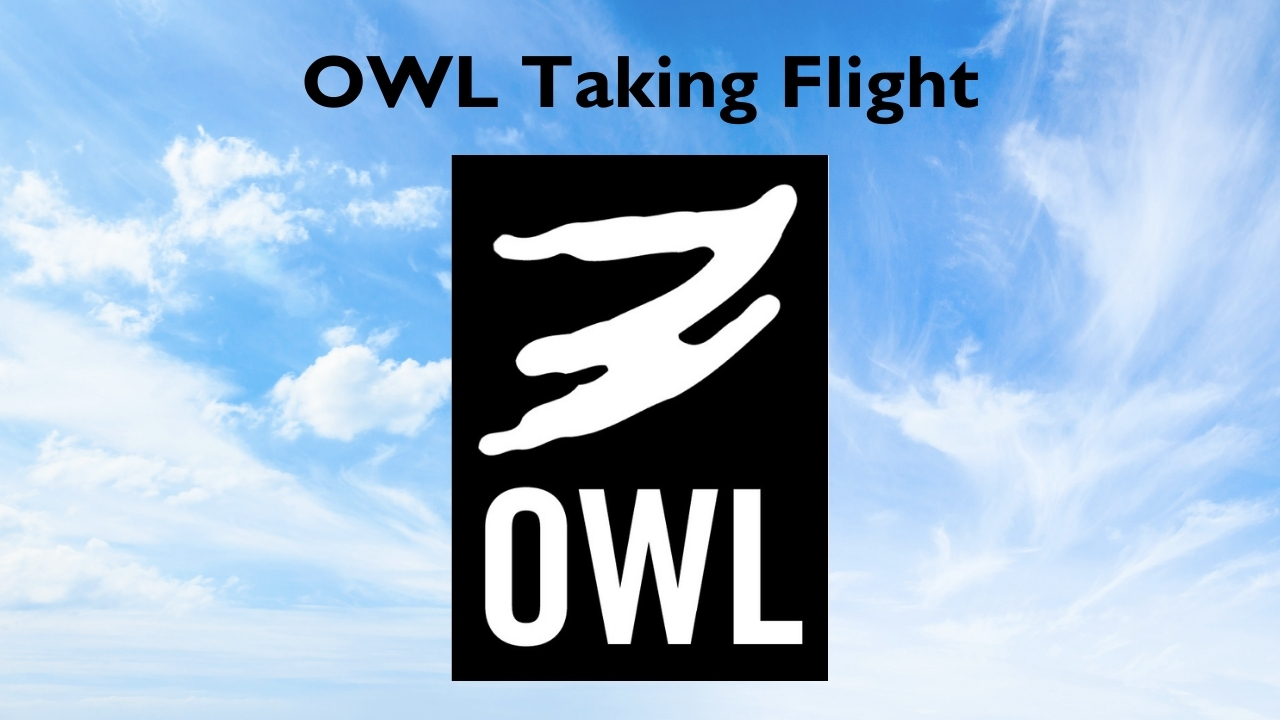 Our Whole Lives and Racial Justice
How do the OWL values and curriculum intersect with anti-racism? Join our Wednesday, Oct. 7 Taking Flight roundtable when a panel of UCC, UUA, and Community OWL trainers of color discuss how OWL facilitators and trainers can create more intentionally anti-racist learning environments. The panel will be moderated by OWL trainer Anil Oommen.
Register here.
Jubilee Weekend – October 16-18, 2020
Join this year's Jubilee Weekend 2020: Curing Poverty, Inequality and the Coronavirus  October 16th – 18th.  Jubilee USA is a leading organization addressing global poverty, debt, and trade and is a long time partner of the UCC.  Sign up your congregation and plan to dedicate this weekend to issues of economic justice along with other faith communities around the country.  Together we will pray and act for global policies that put an end to poverty, inequality, and address the impact of COVID-19. More information is available here. 
National Council of Churches – Christian Unity Gathering
The annual Christian Unity Gathering will take place October 12-13.  This is a time to connect with the wider ecumenical community and together explore what churches must do to address the many challenges we face, and turn back the tide of chaos to embrace Rev. Dr. Martin Luther King, Jr.'s vision of the Beloved Community. Register here
Congo Week – October 18-24
Breaking the Silence: Congo Week is an opportunity to raise awareness about the devastating legacy of conflict in the Congo and mobilize support on behalf of the people of the Congo. Join Global Ministries this week as we offer worship and educational materials relating to partners and issues in Congo. Find more information and resources here.
United Nations Day – October 24
2020 marks the 75th anniversary of the United Nations. Did you know the UCC has a representative to the UN? As a participant in the religious community present at the UN, your representative participates in coordinated activities of the NGO community in relation to a variety of UN programs and conferences. UN Day is an opportunity to organize educational and advocacy events about the UN. Join the 75th anniversary conversations and learn more here.
Join the No Dough for the Occupation Campaign – Boycott Pillsbury
Pillsbury produces frozen baked goods in a factory in the Atarot Industrial Zone, an illegal Israeli settlement in East Jerusalem. This zone violates international law by exploiting land, water, and other resources that were captured by force from their legal Palestinian owners. As part of the call in our 2015 resolution "A Call for the United Church of Christ to Take Actions Toward A Just Peace in the Israeli-Palestinian Conflict" to "boycott goods identified as being produced in or using the facilities of illegal settlements located in the occupied Palestinian territories," we are now encouraging a consumer boycott of Pillsbury products. Get more information here.
Faith Rally: Election Day Home Stretch
Feeling fatigued by this election season? Then, this digital event on October 14th is for you. It will be a time for renewing our energy and focus with so much at stake for our climate and matters of justice. Speakers include the Rev. Gerald Durley of Interfaith Power & Light, the Rev. Lennox Yearwood of the Hip Hop Caucus, and Karenna Gore from the Center for Earth Ethics. Register now!
Volunteer Opportunity to Turn Out Environmental Voters
On Wednesdays, a UCC team from across the country is partnering with the Environmental Voter Project to send text messages encouraging people in twelve states to get their vote-by-mail ballots and then mail them. There will be regular training sessions for new volunteers. If you think you might be interested, email the Rev. Roberta Rominger for more information.
Justice in Action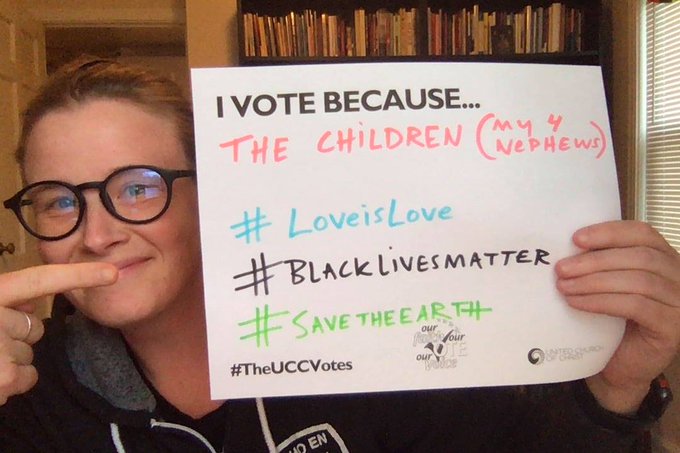 #TheUCCVotes #UCCVotamos
We are in the midst of a crucial election. It's important that we, as people of faith, understand our vital role in the process. We in the United Church of Christ, as followers of Jesus, and seekers of justice are deeply political. Our love of neighbor demands that we care about the issues being addressed by the politicians representing us. Join with us in lifting up these issues. Use this template to post a photo on your social media or send a photo to quinnj@ucc.org with permission to share your photo! We want to know what matters to you. Use the template, or just use a blank paper with the hashtag #TheUCCVotes or #UCCVotamos!
Immigration Updates
The horrific reports of forced hysterectomies of women in Immigration Enforcement and Customs Stewart and Irwin detention centers in Georgia have shocked the country. UCC Domestic Policy Advocate, Katie Adams wrote an article in Ms. Magazine addressing the U.S. Dark Legacy of Forced Sterilization, call your congressperson to hold ICE accountable. In violation of the symbolic protection of sacred space, ICE went on church property at Glenmont UMC in Silverspring, MD on September 10th to arrest and detain asylum seeker Binsar Siahaan, who serves as the congregation's caretaker. Faith and lay leaders, please join this sign on letter to free Binsar and protect the sensitive locations policy.  The Trump Administration is delayed in making a determination on the refugee admissions for Fiscal Year 2021. Over the last 3 years the program has been slashed by 80% see Refugee Council USA social media toolkit and show your support.
Thursdays in Black
In every country, gender-based violence is a tragic reality. This violence is frequently hidden, and victims are often silent, fearing stigma, and further violence. We all have a responsibility to speak out against violence, to ensure that everyone is safe from rape and violence in all places in our societies. You can find more information, resources, and ways to act on our webpage.
Voting: Act of Resistance and Spiritual Practice
The Voting Rights Act of 1965 is a landmark piece of federal legislation in the United States that prohibits racial discrimination in voting. It was signed into law during the height of the civil rights movement on August 6, 1965, and Congress later amended the act five times to expand its protections. The right to vote is a "civil liberty". In 2020, for many within the U.S., especially newly registered voters and seniors whose ancestors resisted white supremacy and used their bodies demanding the right to vote are witnesses and will use their ballot as an act of resistance and a spiritual practice. Use your faith and your vote to protect the right to vote. It is an act of resistance against injustices and within marginalized communities, a spiritual practice. Our Faith Our Vote 2020!
Watch: Freedom Riders: Non-Violent Civil Right Movement
Justice Resources
The Pollinator
The Pollinator is a digital platform of the UCC for the sharing of ideas and inspiration. Its focus is the building of a faith-filled and faith-rooted movement for the care of creation
Witness for Justice
Looking for up-to-date social justice commentary? Check out Witness for Justice, a weekly editorial opinion column written by the staff of Justice and Witness Ministries.
Featured topics:
All Choked Up | The Other Side of the Tracks | Trauma Informed Voting | A Bloody Crossroads: Where Religion and Politics Meet
---
Related News
On October 13th, a delegation of UCC laity and clergy are scheduled to deliver more than 6,500...
Read More