JPANet April 2020 Newsletter
April Newsletter

Getting to the Root of It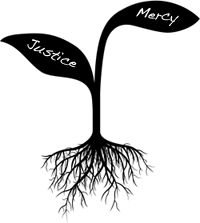 Each month, the Justice and Peace Action Network meets to discuss possible topics for the next Getting to the Root. This month, there was one topic none of us could shake from our minds. We decided to each contribute a short piece related to this global pandemic; things we are thinking about, resources that have helped us, and our hopes for the future.

A unique time such as this requires a unique response. The Justice and Peace Action Network struggled to find one area to address for our Getting to the Root, so we decided to instead share reflections we are each considering in this uncertain time. We hope this allows you to feel a sense of connection to us, and that you may receive some comfort in knowing we are all dealing with things a little differently; and that's ok. (Read more).
---
Justice Events
Join the Webinar: A Faith Response to COVID-19 on April 7
Join for the interfaith webinar, A Faith Response to COVID-19 on April 7 from 4 PM to 5 PM. The webinar will explain important details of the recently passed C.A.R.E.S. Act, the positive provisions, and the key priorities that were left out. We will look at implications of COVID-19 and the recent legislation on a variety of issues and populations, including: incarcerated individuals, immigrants, low-income communities, Native Americans, our health care system, and elections. Congress is already starting negotiations on a fourth COVID-19 package. The second half of this webinar will be an advocacy training about how to set up and conduct virtual meetings with congressional offices. The faith voice is incredibly important in this moment. We hope you will join and spread the word.
UCC Earth Day Book Read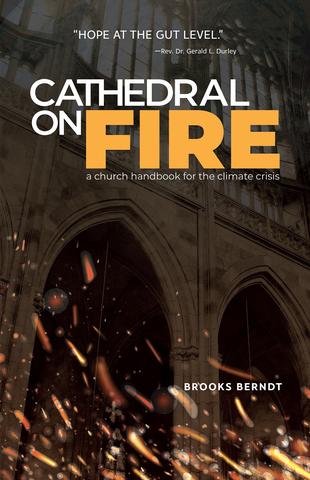 The UCC's Environmental Justice Minister Brooks Berndt has authored a new book entitled Cathedral on Fire: A Church Handbook for the Climate Crisis. Berndt will be facilitating a weekly teleconference discussion of the questions at the end of each chapter along with any thoughts the chapter stir. Register now to join this book group which will meet at 1 pm ET each Thursday from April 23rd to June 4th.
https://UCC.zoom.us/webinar/register/WN_9UN745tnROynNLCuDpasbQ
CANCELED: Ecumenical Advocacy Days
The 2020 gathering of Ecumenical Advocacy Days has been canceled. Please read the letter from EAD Director, Leslie Woods and consider donating to support the work of this conference. Keep an eye on the EAD Website for more follow-up messages, including an online webinar in the coming weeks. Save the date now for EAD 2021, April 16 – 19! 
The Earth Is the Lord's: A Webinar with Benjamin Chavis, Jr
The Rev. Dr. Benjamin Chavis, Jr. coined the phrase "environmental racism" and was central to the launch of the environmental justice movement. In an Earth Day address, Chavis will focus on how faith communities can resist those powers that would seek to rule and desecrate what is not theirs. Register now to join us for this online event at 1 pm on April 22nd.
Census 2020 #BeCounted!
Census data shapes funding decisions that impact the day-to-day lives of people in every community, including transportation infrastructure, education and Head Start programs, school lunches, health services, housing for older adults, and emergency response services. Census date is used by business owners and municipal planners to shape community life, to determine where businesses and services and located, the routes of buses and subways, the number of teachers and schools that serve a community.
People of faith can play an important role in making sure everyone is counted. Our faith reminds us that every person carries within the image of God and every person counts in the well-being of the whole community. Communities of faith are critical in making sure that historically undercounted communities are counted, such as people living in poverty, children under the age of five, immigrant communities, American Indians and Alaska Natives, Latinos, African Americans, and Asian American/Pacific Islanders. The 2020 Census is our chance to shift the historical narrative that has excluded so many from being counted for so long, and move to a more vibrant, inclusive picture of "we the people."
It is now easier than ever to fill out the census right from home! On the phone, by mail, or online at 2020census.gov.
Justice in Action
A Note from Amy Johnson on Our Whole Lives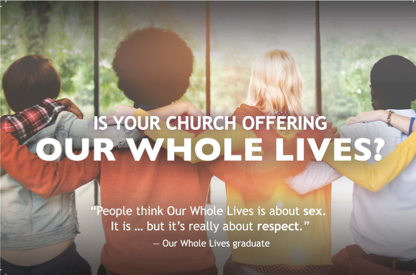 Folks using Our Whole Lives–we have received many questions about OWL programming in light of COVID-19, so we are sharing recommendations here to practice the OWL value of responsibility–especially for those of you not on the listserv:
Recognizing that UCC churches have local church autonomy, we HIGHLY RECOMMEND you immediately postpone any in-person OWL programming.
PLEASE DO NOT offer OWL Online in any capacity–Zoom, Skype, YouTube, FaceTime–please don't.
It wasn't created for or tested for efficacy online.
Its in-person interactions and experiential learning cannot be instantly replicated on an online platform.
More importantly, potential for harm exists online
Lack of privacy is a grave concern, as friends, parents, and siblings may be in the room, off or on camera.
For youth and teen programs, parental permission is required, and that agreement can be broken if friends and siblings listen/view OWL workshops online.
And also, the UCC and UUA must also be responsible stewards of material we've been granted permission to use in print but not online.
If you have questions about this, please contact Amy Johnson, UCC Minister for Sexuality Education and Justice.
Nothing in Our Whole Lives is so timely that it is worth putting lives at risk. Once health officials give the all-clear, you can think creatively about how to complete your program.
Help Plant 50,000 Trees of Life and Healing for the 50th Anniversary of Earth Day
To mark the 50th anniversary of Earth Day by participating in the UCC's 3 Great Loves Tree Planting Campaign. Donate to plant a tree in honor of someone—perhaps, a healthcare professional working on the frontlines of the crisis. In the Bible, trees are associated with life and healing. Each tree planted counts toward the goal of planting 50,000 trees.
Earth Sunday and the Fierce Urgency of Now
Prepare for Earth Sunday with a terrific resource entitled "The Fierce Urgency of Now." It was written in collaboration with Creation Justice Ministries and includes resources for preaching and worship as well as biblical and theological reflections on facing times of crisis.
Use your Voice: Our Faith Our Vote in 2020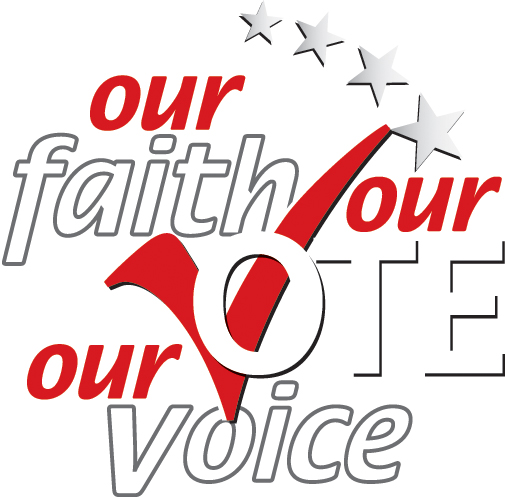 We must remember that we are in the midst of a critical election. With primaries postponed, and pressure rising to switch to mail-in ballots, it is more important than ever that we stay informed. The D.C. Office is here to help with Our Faith, Our Vote resources including our new Civic Action Center. Find out if you are registered to vote, updated dates for elections, who is running for positions in your area, and how you may register or sign up for mail-in ballots online. The way we interact with elections may have changed, but the importance of our participation has not!
Our Faith, Our Vote, Our Voice campaign offers resources to help congregations engage the electoral process in a meaningful, nonpartisan way, through voter education, issue education and voter empowerment and mobilization: www.ourfaithourvote.org. To keep to up to date with the 2020 Our Faith Our Vote campaign, sign up for the UCC 2020 Our Faith Our Vote listserv to receive updates on new resources, webinars and ways to engage your congregation and community in this challenging election year.
In Case you Missed it! Book Discussion with Dr. Jennifer Harvey
The United Church of Christ (UCC) Racial Justice Ministry hosted Rev. Dr. Jennifer Harvey last week for an important and timely webinar. Jennifer is a renowned author, pastor, and theologian. Jennifer addresses issues of racism honestly and openly in order to decenter whiteness. It is through her writing, preaching, teaching and speaking that she invites white Christians in particular into an introspective look at the myth of whiteness as a way to dismantle the reality of white supremacy and nationalism within the U.S. Her work is vital to encourage the Christian Church to actively work for justice for all. If you missed this important discussion, you can view the recording here. 
"Breath to the People: Sacred Air and Toxic Pollution" A Report
At a press conference in Washington D.C. on February 26, 2020 the UCC released a report highlighting 100 air polluting facilities in populated areas across the U.S. With the report, a website was launched featuring the report, an advocacy toolkit, and an interactive map where you can view the polluters in your area. Check it out here! With one click, you can also contact your legislators to tell them to protect vulnerable populations from toxic air pollution.
---
Justice Resources
The Pollinator
The Pollinator is a digital platform of the UCC for the sharing of ideas and inspiration. Its focus is the building of a faith-filled and faith-rooted movement for the care of creation
Witness for Justice
Looking for up-to-date social justice commentary? Check out Witness for Justice, a weekly editorial opinion column written by the staff of Justice and Witness Ministries.
Featured topics:
Stay Home, Stay Engaged | Everyone Counts! | COVID 19: A Time for Global Solidarity | When God is a Guy
---
Related News
On October 13th, a delegation of UCC laity and clergy are scheduled to deliver more than 6,500...
Read More