JPANet: April 2017 Newsletter
April Newsletter
Getting to the Root of It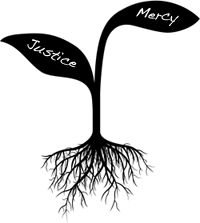 We've asked our staff to help us unpack the complex justice issues that we're working on. Using our General Synod pronouncements as the basis for these reflections, we hope to provide insights into the issues you care about that are rooted in our shared faith, and can inform your advocacy efforts. This month Velda Love, our UCC Minister for Racial Justice, explores Dr. King's warning about the giant triplets Racism, Extreme Materialism, and Militarism.
Confronting Racism, Extreme Materialism, and Militarism
April 4, 1967 commemorates the 50th anniversary of the Rev. Dr. Martin Luther King, Jr.'s speech at Riverside Church in New York City. As I read the transcript and listened to "Beyond Vietnam: A Time to Break Silence," the words and phrases King spoke in 1967 bear striking similarities to what we continue to face in 2017. The persistent extremist rhetoric and legislative actions enacted in the first 100 days by the current president and his administration continue to echo King's warning about the giant triplets Racism, Extreme Materialism, and Militarism. (Read more.)
---
Justice Events


Confronting Chaos Online: How hate speech spreads online and what you can do to stop it
As people of faith we stand up together against hate in our communities, and we can do no less online. Learn how hate speech earns advertising revenue and what communities of faith and individuals can do to stop it.  Join the United Church of Christ Justice and Witness Ministries and the UCC's Media Justice Ministry to explore these issues between 10 am and 2:30 pm Friday, April 21, 2017 in Washington DC.  The timing is well-suited to individuals in Washington to attend Ecumenical Advocacy Days and is open to all members of the Washington interfaith community. Learn more and register.
Ecumenical Advocacy Days 2017 – Confronting Chaos, Forging Community
Join us in Washington, DC on April 21-24, 2017 for the Ecumenical Advocacy Days: Confronting Chaos, Forging Community. Together we will grapple with the intersectionality of racism, materialism, and militarism, and learn more about the impact they have around the world, in our communities, and in our own lives. Through prayer, worship, advocacy training, and networking with other Christians, we will face the current manifestations of these 'triplets' and together advocate for change in public policy that better reflects the Beloved Community about which Dr. King spoke. Join us!
Earth Sunday on April 23rd
The UCC is co-sponsoring materials produced by Creation Justice Ministries for Earth Sunday, which falls on April 23rd. The thematic focus this year is "Environmental Justice with Indigenous Peoples." Access resources and start planning your Earth Day Sunday observance.
Break the Silence Sunday
Break The Silence Sunday is an effort to open up a conversation within the church about rape and sexual assault. The suggested date is the fourth Sunday of April to coincide with Sexual Assault Awareness Month. If that date doesn't work for your congregation, feel free to schedule the observance when it best fits with the life and ministry of your community. Download resources including liturgy, sermon suggestions, scripture reflections, and ideas about talking to children and youth about rape & sexual violence.
April 29th Climate March in Washington, D.C.
The UCC Council for Climate Justice along with Justice and Witness Ministries are official co-sponsors of the climate march in Washington, DC. This march is being organized by the People's Climate Movement which spearheaded the 2014 march in New York City that had 400,000 in attendance. Let us know if you are planning to come, so we can coordinate a strong UCC presence at the march.
Immigrant Rights Sunday
The first Sunday in May has been designated Immigrant Rights Sunday within the United Church of Christ. We urge you to lift up immigrants on this day: to learn about their concerns, honor their contributions to our country and communities, hear their pain, pray for their well-being, and listen to hear where God is leading us regarding issues of immigration. Explore our worship and prayer resources and start planning your congregations Immigrant Rights Sunday observances.
Mental Health Sunday
The United Church of Christ Mental Health Network invites you to highlight mental health on the third Sunday in May or any Sunday that suits your schedule. This is an opportunity for your congregation to begin or to continue to provide education and support to your members around mental health challenges.  Learn more.
Be the Spark for Environmental Justice!
How can we take on the urgent challenges of environmental justice in our time and place? Come to Pilgrim Point Camp in Minnesota May 24-26 to find out! Using stories, the arts, video, and hands-on learning opportunities, this workshop will equip participants to mobilize their communities around issues of environmental justice. Pastors, church members, and members of other communities of faith are all welcome.
---
Justice in Action
Environmental Protections are Under Attack
Our U.S. Senators are preparing to vote on whether to dismantle the Bureau of Land Management (BLM) Natural Gas Waste Reduction Rule. This small measure is essential for protecting the earth and the health of our communities. Urge your Senators to act as responsible stewards for our energy sources.
UCC sends assistance to South Sudan and other African countries
The United Church of Christ responds to the emergency in South Sudan and three other African countries, sending an initial $85,000 in aid to combat a crisis fueled by drought, famine and massive food shortages. Your gifts to One Great Hour of Sharing made this possible. Thank you.
---
Justice Resources
UCC leaders: The earth is the Lord's
The national leadership of the United Church of Christ is speaking out for God's creation. After President Donald Trump abdicated responsibility for climate change with a March 28 executive order that undoes the past administration's climate policies, revives the fossil fuel industry, cuts the EPA's budget and eliminates many climate research programs, this faith community will not stay silent. Read their statement.
Sanctuary: Frequently Asked Questions
Heather Kimmel, General Counsel for the United Church of Christ, addresses the current interest of faith communities in operating as sanctuary churches, the legal risks, and ways churches can minister to undocumented persons. Register via the UCC Insurance Boards to join.
Download our Public Policy Advocacy Guide
The 2017 UCC Public Policy Advocacy Guide provides tips, tools and theological insights for understanding our call to advocacy, engaging in organizing, and getting your message heard by decision makers. This is your one-stop tool for engaging in faith-based advocacy! Download your copy now.
Witness for Justice
Looking for up-to-date social justice commentary? Check out Witness for Justice, a weekly editorial opinion column written by the staff of Justice and Witness Ministries.
Featured topics:
Republic of Fear | That "Adorable" Special Interest Group | Glimpsing a Future without Barriers | In Search of a Moral Health Care System
---
Related News
While I was pregnant with our second child, our local church held an Advent Fair where we all...
Read More