JPANet May 2023 Newsletter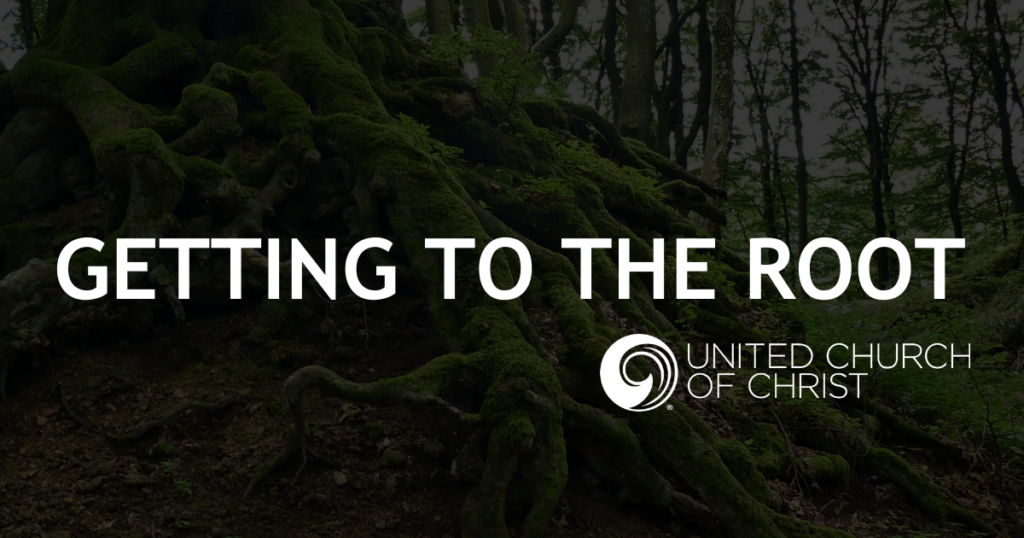 Each month we ask UCC advocates to help us unpack the complex justice issues that we're working on. This month, Dr. Peter Makari, Global Relations Minister, Middle East and Europe, Global Ministries of the United Church of Christ and Christian Church (Disciples of Christ) shares the meaning and history behind the Nakba as we recognize the 75 anniversary.
The Nakba­, Then and Now
This May 15, Palestinians commemorate 75 years of displacement and dispossession. The Nakba, or "catastrophe," is how Palestinians remember and refer to the events surrounding the declaration of the establishment of Israel in May 1948, when more than 400 Palestinian towns and villages were destroyed, and more than 750,000 Palestinians became refugees, fleeing to the West Bank, Gaza, Jordan, Lebanon, Syria, and other countries. Those original refugees and their descendants today number more than 5.5 million people, according to the United Nations Relief and Works Agency (UNRWA), which was created in 1949 to serve the needs of Palestinian refugees. Many of them still live in overcrowded semi-permanent refugee "camps" in the Middle East with no clear future, despite UN resolutions affirming their rights to return and compensation for their losses. Read more.
Justice In Action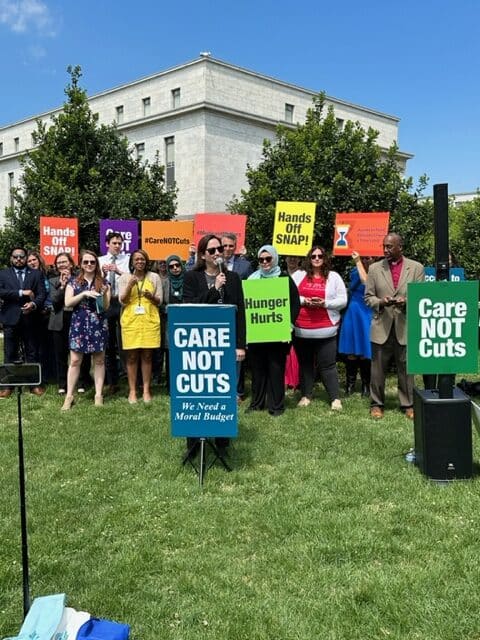 Saying Loudly to Congress: Care Not Cuts
As conversations on addressing the debt ceiling continue in Congress, UCC advocates are showing up to speak out against proposed cuts to critical human needs programs. On April 19, UCC Washington D.C. staff joined with anti-hunger organizations and members of Congress in support of protecting Supplemental Nutrition Assistance Program (SNAP) benefits. SNAP is just one of the vital programs being threatened for cuts in proposed debt limit plans.
On April 26, the UCC cosponsored a vigil and press conference to highlight the importance of human needs programs like SNAP, housing assistance, and Medicaid, all being threatened in debt limit conversations. A Just World for All is one that prioritizes human needs over tax cuts for the ultra-wealthy and corporations. You can join us by taking action and telling your legislators: care not cuts!
Thank You for Joining Ecumenical Advocacy Days!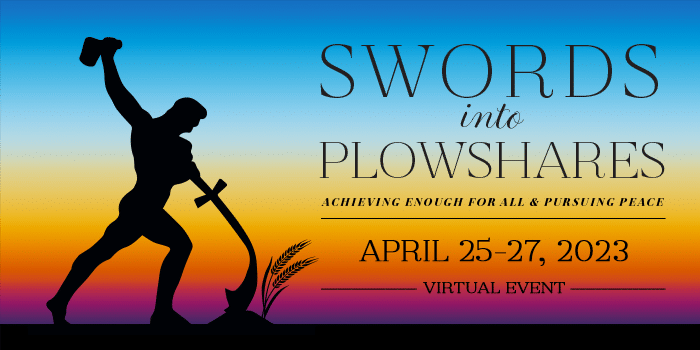 Last month, UCC advocates joined from across the country to participate in this year's virtual Ecumenical Advocacy Days conference. Three days of worship, skill-building workshops, fellowship, and a major virtual lobby day all centered around the theme, Swords into Plowshares: Achieving Enough for All and Pursuing Peace, made for a robust and exciting conference. Thank you to all who participated!
If you were not able to attend the conference, you can still join us in making an impact and taking action with EAD's advocacy ask. Send messages to your legislators now!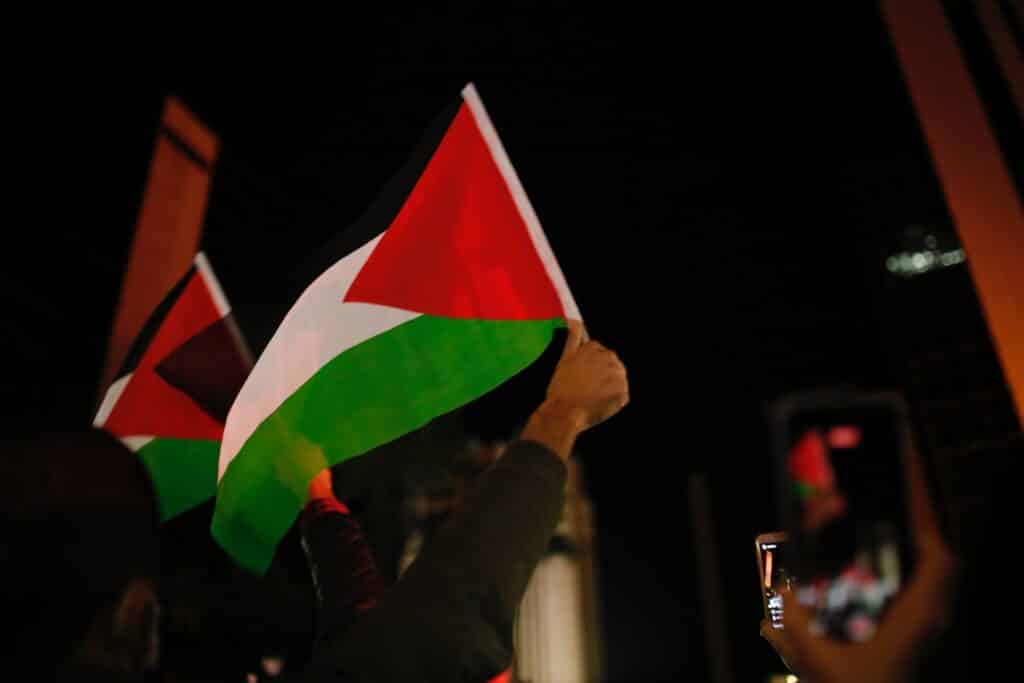 Apartheid-Free Communities – Take the Pledge!
For decades, the Palestinian people have faced Israeli occupation and systematic human rights abuses that constitute the crime of apartheid. The UCC has joined with other U.S. faith groups and organizations to build an apartheid-free world, starting with our own communities. Learn more and take the pledge today!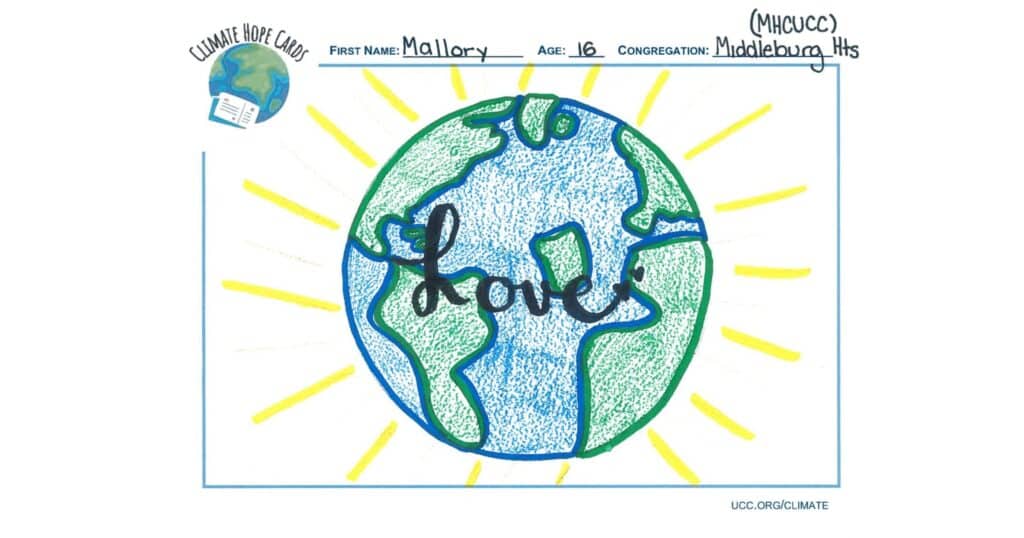 The UCC's Climate Hope Cards Campaign Kicks Off!
The UCC Climate Hope Cards Postcard Campaign has kicked off! On Saturday, folks from across the country learned about campaign logistics, hoped-for policy outcomes, and the campaign's spiritual grounding. A recording is now available on YouTube for anyone who missed it. While registration is still open for congregations wishing to participate in the national postcard drive, time is short! Preprinted postcards will be shipped out soon.
Justice Events
UCC Webinar: Stop Cop City—A Moral Call
In Atlanta, faith leaders are seeking to prevent the destruction of the Weelaunee Forest for the building of a police training center in a predominantly Black community. In doing so, they honor Manuel "Tortuguita" Terán who was killed by the Georgia State Police while protecting the forest. Learn about how to join in solidarity with this struggle through a May 10th webinar featuring three faith leaders. Register now!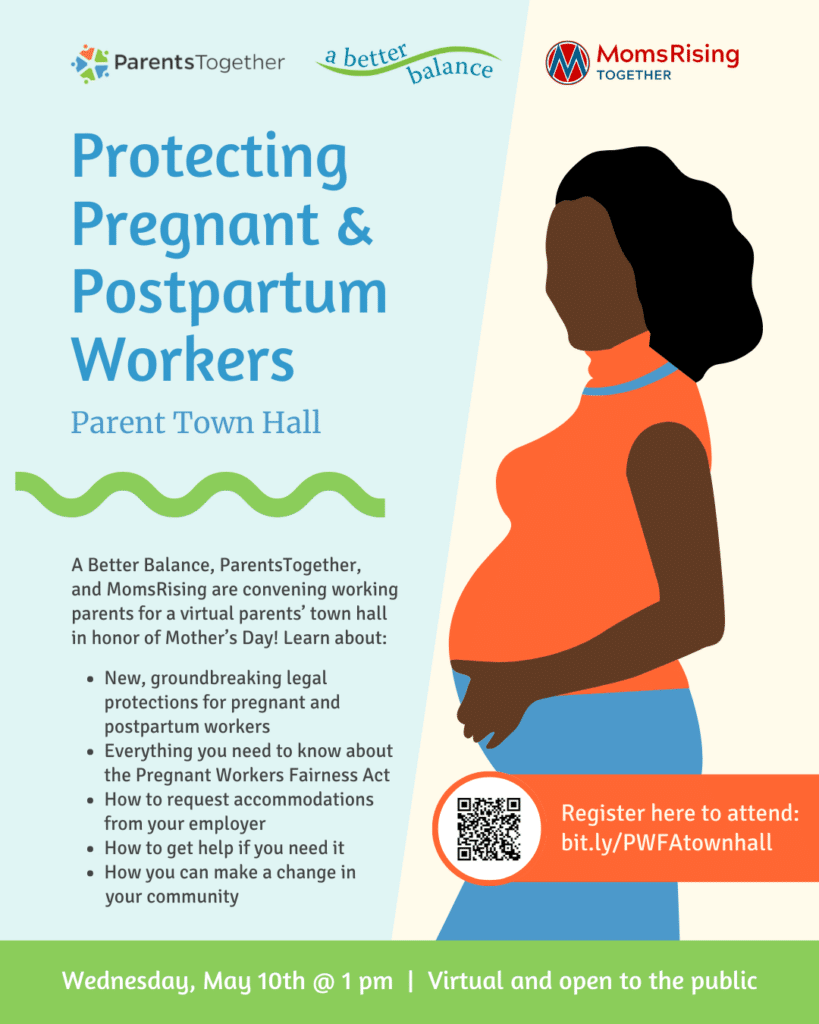 Protecting Pregnant & Postpartum Workers: Parent Town Hall
Join the leading national parent and family advocacy organizations A Better Balance, ParentsTogether, and MomsRising for a virtual town hall in honor of Mother's Day! They'll discuss everything you need to know about the Pregnant Workers Fairness Act. Learn more and register here.
No Faith in Fossil Fuels: A Climate Finance Summit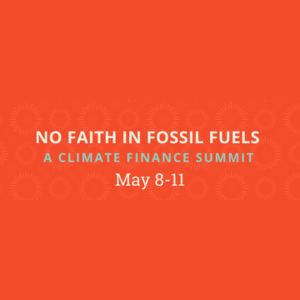 From May 8-11, people of faith will gather virtually to learn about how financial institutions continue to invest in fossil fuels and how we can hold these institutions accountable. This four-day summit will amplify the voices of frontline leaders whose communities bear the direct brunt of financial decisions made by Chase Bank, Bank of America, Vanguard, Black Rock, and others. Register today!
Webinar: How to Get Energy Efficiency Grants for Congregations

The U.S. Department of Energy has announced an initiative to fund energy-efficiency improvements in the nonprofit sector, including houses of worship. It is expected that in June the grant application process will open. Daniel Bresette from the Environmental and Energy Study Institute (EESI) will walk us through the process in this webinar on June 1 at 5 pm ET. Sign-up now!
On Mother's Day: Faith Leaders Call to End Gun Violence

By distorting sacred scripture and religious traditions, Christian nationalism is fueling the epidemic of gun violence. Over 550 faith leaders have signed onto a letter calling for Mother's Day, May 14, 2023, to be a national day of prayer, mourning, repentance, and contemplation to address the problem. Join UCC leaders and add your name!
Justice Resources
DC Action Center
Each week, the D.C. Office creates an action alert based on what is happening at that time in Congress, and offers you the opportunity to contact your legislators with just one click! You can find all the alerts here.
The Pollinator
The Pollinator is a digital platform of the UCC for the sharing of ideas and inspiration. Its focus is the building of a faith-filled and faith-rooted movement for the care of creation
Witness for Justice
Looking for up-to-date social justice commentary? Check out Witness for Justice, a weekly editorial opinion column written by the staff of Justice and Witness Ministries.
Featured Topics:
Reproductive Rights ARE Human Rights | Resisting the Single Story in the Church | Stand
---
Related News
Each month we ask UCC advocates to help us unpack the complex justice issues that we're...
Read More