John Deckenback remembered as faithful servant to church and family
Rev. John Deckenback at an installation service in Pennsylvania/Photo via Penn Southeastern Conference UCC
The United Church of Christ said goodbye to one of the pillars and elder statesman of the denomination, as friends and family came together at Evangelical Reformed United Church of Christ in Frederick, Md., to celebrate the life and ministry of the Rev. John Deckenback.
The long-time conference minister of the Central Atlantic Conference UCC died suddenly on July 19, and amid tears and grief, his family and colleagues shared a multitude of heartfelt stories of Deckenback's commitment to his family, faith, and justice causes around the planet during the nearly 2-hour funeral service.
Deckenback's wife, the Rev. Carolyn Roberts, detailed the "kind, stubborn and smart" soul of her late spouse. "Many mornings in the outgoing mail, I would see cards that had letters of condolence or support, handwritten to someone in the conference that he penned the previous evening," she said. "His support of my ministry, his incredible pride in our sons and their wives, and his joy with each of his grandchildren speak of his love for each of us."
"I am blessed beyond measure to have shared so many years with him, and selfishly wished for more," Roberts said. "He is on the other side of life as we know it, but he could not be in better hands."
Deckenback's sons Aaron and Jeffry led those gathered at the Monday, July 25, service in saying goodbye to their beloved father, who with his broad shoulders and relentless drive took on injustices against society's oppressed and marginalized throughout the world, who loved to laugh, and who is already missed by family and friends.
Other speakers eulogized Deckenback as a larger-than-life presence in the church who was always respectful of his peers and colleagues, even when he disagreed with them, as a person whose voice conveyed encouragement, blessing and nurturing, and as someone who always made time for others.
"If the foundations of our denomination shake just a little bit today, it's because one of the pillars of the church is gone," UCC General Minister and President the Rev. John Dorhauer said.
The Rev. Edward Davis, conference minister of the Southern Conference of the UCC, said Deckenback's life was a testament to service.
"It was [John] who helped me to understand service at my first Council of Conference Minister's meeting," Davis wrote in a letter to the Southern Conference. "It was John who hosted our staff in Baltimore to share learnings about how best to serve a Conference. It was John who pulled me aside while traveling in the Middle East to tell me that ministry is not just with your people alone but with the world. It was John who — during my grief of losing my son — got the Board of Directors of the Central Atlantic Conference to hold me in special prayer and support.… His mentoring, caring and healthy dialogues will be missed."
"This man was a great servant," Davis said. "His ministry was global, but his heart touched individuals."
The Open and Affirming Coalition of the UCC joins the wider church in mourning Deckenback's death, remembering him as one of the LGBT's community's "first and best allies" in the struggle for equality. "In 1972, he stood with his friend and seminary classmate Bill Johnson as Bill sought ordination as the first openly gay minister in the United Church of Christ. Later that year, John was one of the founders of our Coalition," said Andy Lang, executive director of the ONA Coalition. "Over the following 44 years, John was always there for us: struggling with us for our rights in the church and in civil society, supporting us when we experienced defeats and losses, and celebrating with us as we grew in confidence and strength."
The Rev. Barbara Kershner Daniel, pastor of Evangelical Reformed, said that Deckenback "believed that all of us have been anointed to bring good news to the poor, to proclaim release for those in prison and on the margins of society, to confront the powers of evil — and he did everything he could to empower us for this ministry," she said. "John believed you had a call, and that you had to answer that call."
Carolyn has asked that, in lieu of flowers and other gifts, contributions be made in Deckenback's memory to the General Synod 2017 Fund and the Friends of the Conference fund (via the conference office), and to Evangelical Reformed UCC. The Central Atlantic Conference is the host conference for the upcoming General Synod in Baltimore. Additionally, the denomination is planning a memorial service in honor of Deckenback on Sept. 17, with a location and time to be determined.
Said Daniel, "Let us be the church we are called to be, the church John lived for, the church John inspired us to be."
---
Related News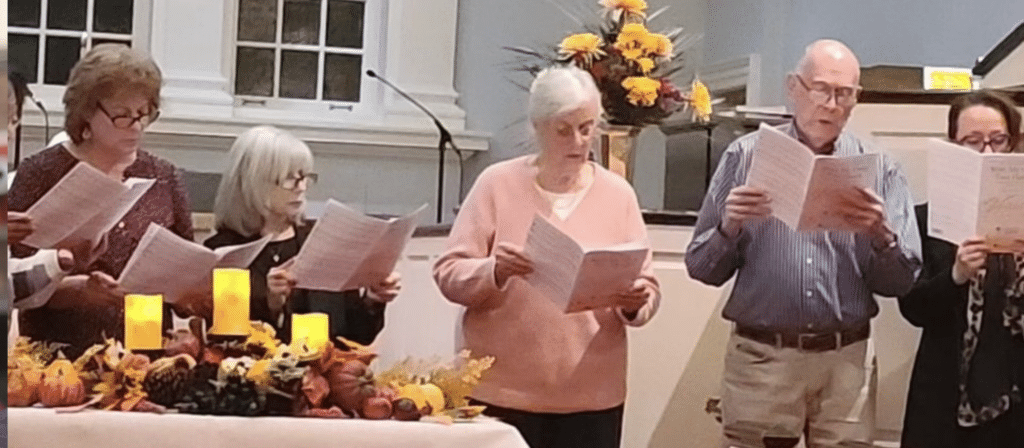 Many United Church of Christ congregations across the country participated in interfaith...
Read More