Vicissitudes and Indifference
Listen to the podcast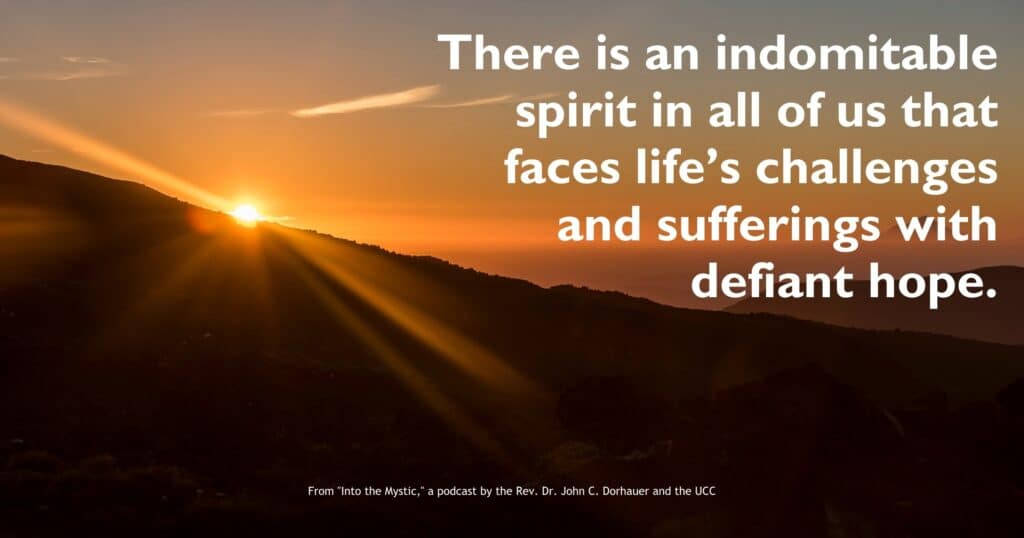 Read the transcript
I recently came across this sentence while reading an article online: In Cynicism, adiaphora is an indifference to the vicissitudes of life.
Yeah, don't ask. I'm a nerd.
But it got me to thinking.
So much of literature and religion and philosophy and art focuses, if not obsesses, on the vicissitudes of life – the swarming, almost conspiratorial onslaught of obstacles and challenges that seem intended at undoing us.
But to talk of conspiracy and intent is to imply agency. More appropriate is what Hamlet referred to in his oft-quoted soliloquy – "the slings and arrows of outrageous fortune." When viruses hit and create a global pandemic, there is no agent of origin with nefarious intent whom we can identify as the culprit of such a vicissitude. It is one of, albeit among the most pernicious and deadly we have ever known, the great misfortunes of life with which we all have to deal.
In utter defiance, and with clear bravado, the former operatically trained singer turned pop-vocalist Pat Benatar summed up our collective attitude to the vicissitudes of life with this line: "Go ahead and hit me with your best shot."
There is an indomitable spirit in all of us that faces life's challenges and sufferings with defiant hope and an orientation towards conquering whatever comes our way.
Paul writes in Corinthians his own taunt, his own prose of defiance: "O death, where is thy sting; o grave, where is thy victory?"
Echoing that sentiment and defiance, John Donne penned this line in one of his more noted sonnets: "Death be not proud; though some have called thee mighty and dreadful, though art not so."
With much dryer wit and humor, less defiance and more irony – but still with the confidence of one who will not be undone – Emily Dickinson wrote this: "Because I could not stop for death, he kindly stopped for me."
Matthew writes in his gospel "fear not them which kill the body, but are not able to kill the soul."
And in Romans, Paul writes that he is persuaded that "nothing can separate us from the love of God; neither death nor life."
Faith is a marvel. It really is.
It stands in the face of death, of travail, of suffering, of pandemic, of injustice and refuses to give up.
In one of the most powerful lyrics I have ever heard recorded anywhere, Jackson Browne writes an homage to the oppressed and long-suffering indigenous peoples of Central America in his relatively unknown song "My Personal Revenge." This is a lengthy quote, but well worth hearing – and I invite you to go to YouTube and listen to his recording of this powerful, haunting melody:
My personal revenge will be the right
Of our children in the schools and in the gardens
My personal revenge will be to give you
This song which has flourished without panic
My personal revenge will be to show you
The kindness in the eyes of my people
Who have always fought relentlessly in battle
And been generous and firm in victory
My personal revenge will be to tell you good morning
On a street without beggars or homeless
When instead of jailing you I suggest
You shake away the sadness there that blinds you
And when you who have applied your hands in torture
Are unable to look up at what surrounds you
My personal revenge will be to give you
These hands that once you so mistreated
But have failed to take away their tenderness.
And so, vicissitudes and indifference. That is what I am thinking about today. I am no Cynic – but like one I carry with me an adiaphorous indifference and firm resistance to the vicissitudes of life. May the slings and arrows of outrageous fortune that you must confront be met with the kind of faith that, like Paul, knows that nothing in this world can separate you from the love of God on this, our journey Into the Mystic.
---
Related News
One hundred and twenty-five years ago, the United States was in the throes of a most vibrant...
Read More