Prayer of Ignatius
Listen to the podcast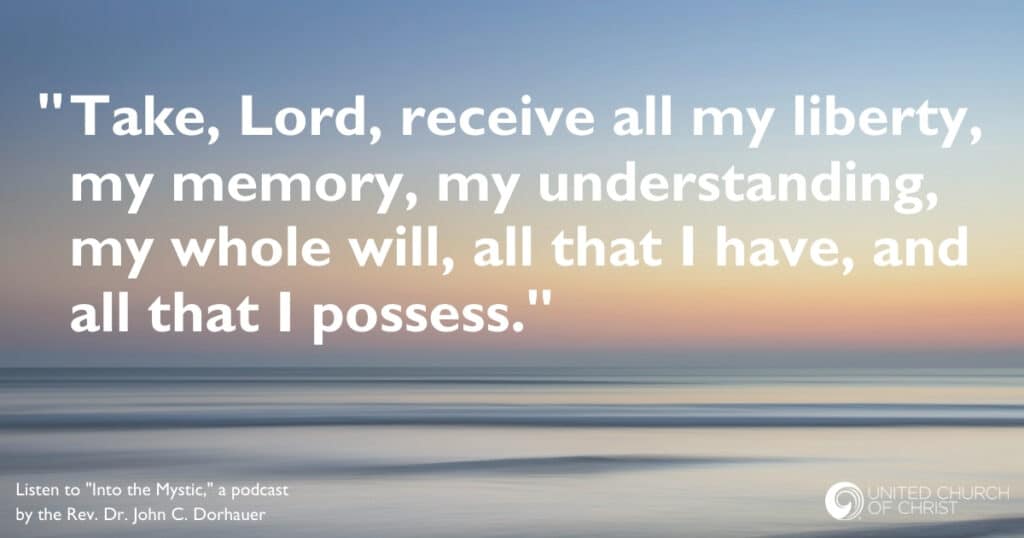 Read the transcript

I invite you into a season of Lenten discernment.

Take, Lord, receive.
So begins the prayer of Ignatius of Loyola.
Every year, as Lent rolls around again on the calendar, I find myself rehearsing again the words of his beautiful prayer. It is the prayer of humility – a prayer both of recognizing that, as the Psalmist wrote, The Earth is the Lord's and the fullness thereof and of admitting that in the end all we need are God's love and grace.
Here is the prayer in full:
"Take, Lord, receive all my liberty, my memory, my understanding, my whole will, all that I have and all that I possess. You gave it all to me, Lord; I give it all back to you. Do with it as you will, according to your good pleasure. Give me your love and your grace; for with this I have all that I need."
I have yet to reach a place of spiritual maturity or fulfillment about which I could say that I have offered back to God all my liberty, memory, understanding, will – all that I have and possess. I repeat the prayer as a Lenten practice as a reminder of pathways I must choose daily. I see this less as an abandonment of the gifts I have been given by God than as a practice of asking what can I do with these gifts that would honor the God whom I have come to know as love.
I don't give away my liberty, I ask what is it I can achieve with it that fulfills God's vision of Shalom. If I claim my liberty as a way of excusing rude or abusive behavior, something we have seen plenty of in these days, then I am not honoring the one in whose image I am created.
I don't give away my will, I choose to substitute the passions I have for personal glory and amplification of my accomplishments – things anyone can do with their will – and instead ask myself what the gospel would call me to.
I don't give away my memory, a precious gift that I use to commemorate loved ones, but invite myself to consider how that memory can create within me desire and longing for the way that make for peace in the world.
All that I have and possess can be actualized as an agent for God's will. And anything I have or possess that hinders or inhibits God's will becomes a burden I would be wise to eschew. I once saw a poster that had this quote from Luke T. Johnson: "Anything I have or possess that someone else needs already belongs to them."
Lent for me is about exploring how all that I possess serves the will of God; and how much of what I own actually possesses me and prevents me from responding fully to the call of God to build a just world for all.
My favorite scripture passage is, usually (yeah, it changes at times) Luke 12:32: "Do not live in fear, little flock; it has pleased God to give you the kindom." I think of that every time I read the final line of this prayer of Ignatius: "Your love and your grace are enough."
How we relate to what we possess can shape our spiritual health and well-being. Lent for me is always a time to evaluate that. Whose needs are being served by what I claim as my gifts from God?
I invite you into a season of Lenten discernment. Do an inventory of your gifts and possessions – and ask yourself which of them can and do help you to build a world of love and justice; which hinder that; and which, if they do hinder, can be used differently for the glory of God.
May your journey bring you new light and peace, more joy and enrichment for the soul, and find you an agent of God's transformative love on this, our journey Into the Mystic.
---
Related News
The care of God's creation is a central calling of Christians that has found unique...
Read More