Into the Mystic: Mercersburg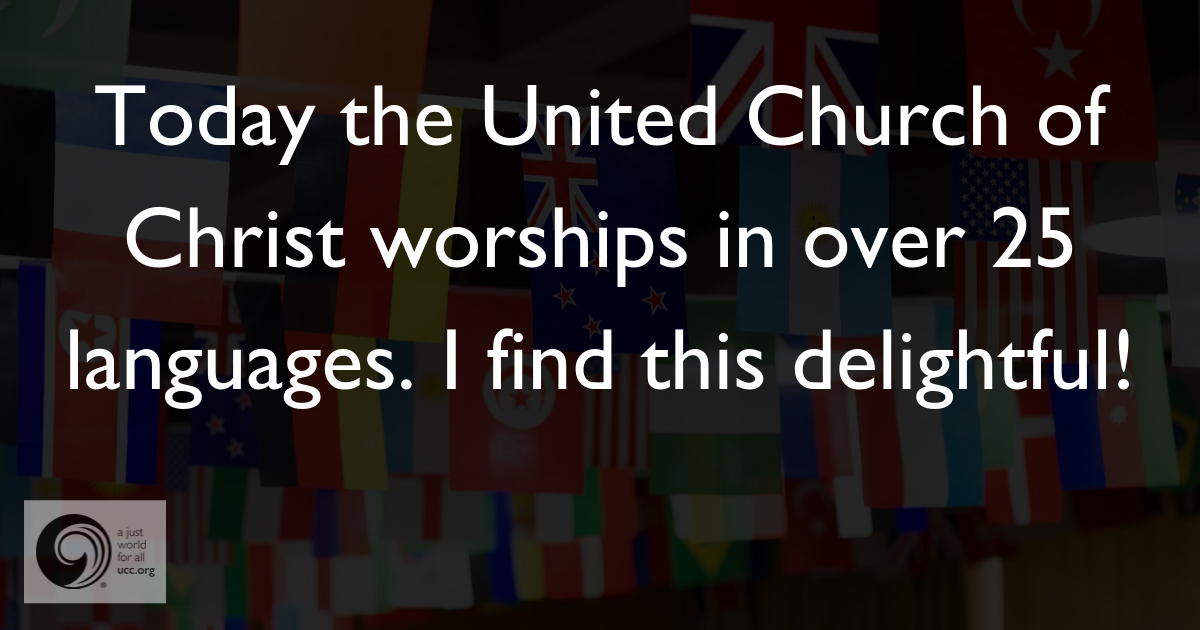 No Matter How You Worship, You Are Welcome Here
In central Pennsylvania there are a group of churches doing their best to keep a practice of the faith and an authentic expression of our worship active and alive. They are part of a lingering group of what we call the Mercersburg theology. Recently, I had an opportunity to spend a weekend among these churches, and to worship with them on Sunday morning.
Two things before I say more about that.
First, one of the beautiful things about traveling around the country and the world to experience the full articulation of the gospel that the United Church of Christ expresses is that rarely do I find two churches who do the same thing. Sometimes, the differences are subtle and nuanced. Sometimes, the contrast is sharp. Being a church body that empowers each community of faith to find their own pathway to their sacred means that there is a high tolerance for our differences. Some of those are theological. Some are political. Many, though, are liturgical. We all worship differently.
Second, I have always argued that worship is nothing more than an attempt to create space in which the gathered can have an authentic encounter with the sacred. How we get there always has to be conscious of culture and theology. The colonial model of mission was to force both a theology and a culture on the newly evangelized community. That will almost always do exactly the opposite of what worship intends – it will inhibit the chance that an authentic encounter with the sacred occurs.
Good worship artists, leaders, and practitioners – be they preachers, prayers, musicians, lay leaders, etc. – are aware of this. The word liturgy derives from two Greek words that mean "work of the people." Worship that is authentically crafted emerges organically from the people. It is not an imposition of a way that comes from a people, a culture, and a context not familiar to the gathered.
Now, to East Petersburg PA where I was recently, on which trip I experienced my first Mercersburg worship. It was about as high church as you get in the United Church of Christ. There was chanting in response to prayers; times of intended silence; kneeling during certain prayers; a pulpit, altar, and baptismal font enclosed within a communion rail at which the worshipers knelt for communion all separating the worshipers from the worship leaders; beautiful stained glass windows on one side of the sanctuary and a large, clear window on the other pointing the gathered to their mission field in the world.
At the end of the morning, I had experienced something deeply moving that did indeed connect me to my sacred. It was a precious moment that reminded me how diverse we are when we gather to sing our praises to God.
For too long, imperial Christianity wanted to impose a way on the converted.
For too long, our colonial footprint required adherence to methods that worked for white Europeans. Today in the mainland of the US the United Church of Christ worships is over 25 languages. I suspect that in any language, there will be things that happen in any worship service that any of us would recognize. I also know from traveling as much as I do there will be something in every community that gathers that is unique to them.
I find this delightful. And if I may, I suspect so does the one to whom we lift our songs of praise.
There are few things more valuable than belonging to a community that gets you. And when that community gathers with you to praise the Maker in ways that bring you closer to your sacred – life if good. May there always be a place for you to gather within a beloved community where as one you can worship your Creator on this, your journey Into the Mystic.
---
Related News
On October 13th, a delegation of UCC laity and clergy are scheduled to deliver more than 6,500...
Read More