Into the Mystic: Memories of a Merry Christmas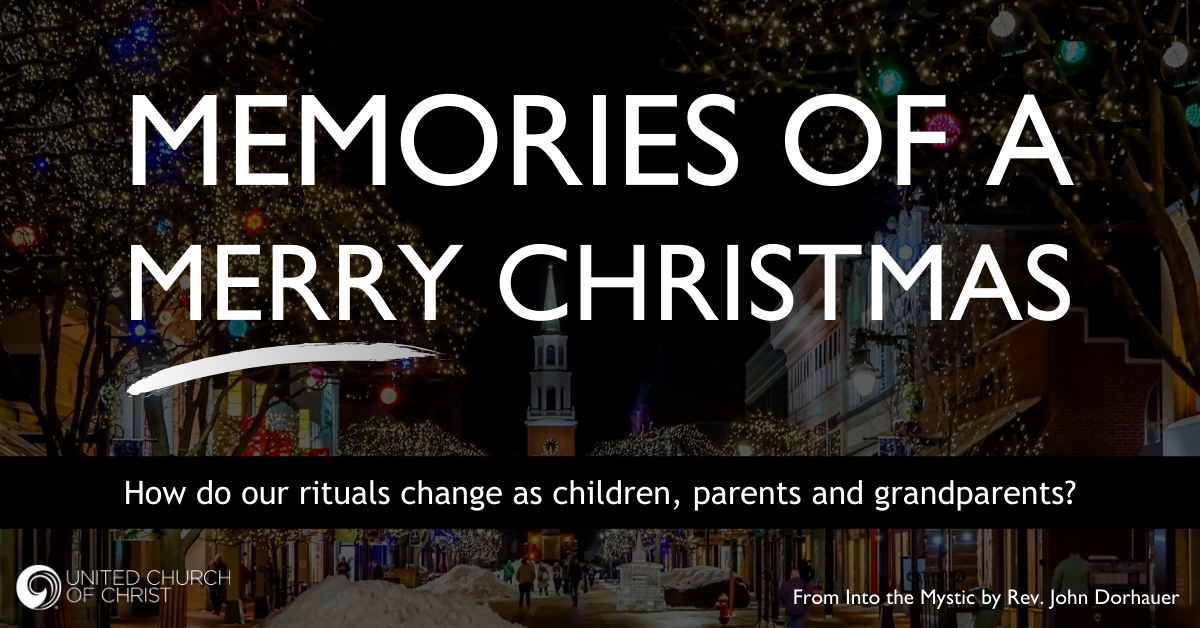 Generation to generation, the traditions of Christmas are passed on. In what ways does your family share and pass on the experiences of love and light during the Holiday season?
First I was a child.
Christmas was:
car trips in the neighborhood and exciting to the homes that went all our decorating;
visits to the mall to sit with Santa and read our list of hoped for presents;
watching Charlie Brown and Rudolph and Frosty and the Grinch;
Decorating the tree with tinsel and popcorn and rings of green and red construction paper taped into long ropes;
The trip to grandma and grandpa's house on Christmas Eve for an amazing dinner and our first round of presents;
Midnight mass, struggling to stay awake but thrilling at the singing of the Christmas hymns;
Falling asleep wanting to stay up and meet Santa, and waking up amazed at what he had been able to pull off again;
Being called into the living room with siblings and seeing the wonder of wrapped packages of joy;
Ripping open boxes and thrilling with excitement with what each one contained.
Then I was a parent.
Christmas was:
The joy of shopping months in advance, knowing that you were going to give to a child the joy you once knew;
Putting lights on the house and digging ornaments out of the closet and watching the children delight in decorating the tree;
Sitting with a child in your lap as they watch Charlie Brown and Rudolph and Frosty and the Grinch;
Putting a stamp on the letter your child wrote to santa;
Attending Christmas concerts your child sings or plays at, finding new joy and pride in that;
The greater joy of watching your child laugh through Christmas morning, smiling and laughing at what you so carefully chose to delight them.
Now I am a grandparent.
Christmas is:
Watching your grandchild pull one ornament after another off a tree they decorated to show you all the ones they love the most, including the one your own Mother gave him;
Watching your children find delight in bringing joy to their children and knowing they learned how to be a good parent from you;
Driving the neighborhood streets with a small voice from their carseat in the back ask you if you see THAT house and THOSE lights;
Still watching Charlie Brown and Rudolph and Frosty and the Grinch with a third generation sitting in your lap;
Getting a zoom call on Christmas morning from Chicago and letting your grandchildren take all the time they need to show you what santa brought them;
Listening to your two year old grandchild sing a sloppy but beautiful version of Jingle Bells.
From generation to generation, our rituals of joy are passed on. May the circle of life continue as we seek new ways to tell the stories of love and light coming into the world on this, our journey Into the Mystic.
---
Related News
On October 13th, a delegation of UCC laity and clergy are scheduled to deliver more than 6,500...
Read More