A Joyful Noise
Listen to the podcast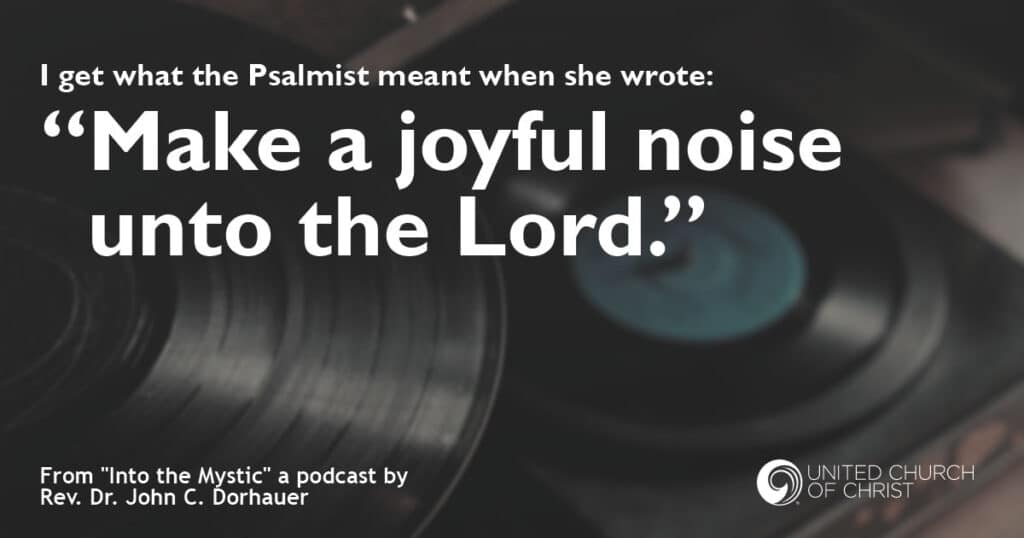 Read the transcript
I take my music in large doses, and delight in the many forms it takes.

There are few times during a day when I don't have music playing. I say knowing that I spend a a lot of times in meetings, and of course I am not playing music when I am in a meeting. But other than that….
If I go for a walk, I have my earphones playing.
If I go for a drive, the stereo is playing.
If I'm in the woodshop my bose speaker is playing loud enough to be heard over the power tools.
If I'm in the pool room playing billiards, the turn table is playing an album.
If I'm reading or writing or answering emails or working on my computer or laptop, music is in the background. I concentrate better with it.
I'll listen to anything, with two exceptions. No country of disco for me. Bluegrass and Folk and Pop and RandB and Blues and Classical and Jazz and Funk and Hip Hop and Hymnody and Broadway and Reggae and anything else – except country and disco.
I love to sing along – and the more alone I can be the louder I will get. I like to add harmonies to the tunes I am hearing. I dabble in making music as a rank amateur on a few varied instruments – almost always playing only for myself. I'll sing in a choir and hold my own – but singing alone in public scares the bejezus out of me. Can't do it. Tried a few times – never again.
I find music utterly sacred. Sure, I love music and enjoy it – but it's the spiritual connection that drives my passion for it.
There are times when a familiar song or hymn just catches my breath and tears form – and its nothing more than the sheer beauty of it: a well-written melody or an artistically crafted lyric can evoke strong and powerful emotion in me.
I get what the Psalmist meant when she wrote: "Make a joyful noise unto the Lord." Of all the things I miss practicing COVID worship (and I love COVID worship – but that's another reflection for another day), by far the thing I want most to do again is sing in worship. Opening the hymnal, site-reading the bass line, joining with the gathered in common song – I sure miss that. It's been almost a year since I have done that.
That joyful noise sustains me. I take my music in large doses, and delight in the many forms it takes. When done well, it expresses my pain, it lifts up my spirit, it discovers my hope, it heals my wounds, it mystifies my assurances and assumptions, it articulates my joy, and it renders me speechless as the ineffable finds form in lyric and melody.
For every Ludwig or Joni, every Dylan or Adele, every Satchmo or Ella, every Aretha or Miles – I give God thanks. May sonorous chords, synchronous rhythms, delightful harmonies, poetic lyrics make for you beautiful music on this, your journey Into the Mystic.
---
Related News
While I was pregnant with our second child, our local church held an Advent Fair where we all...
Read More