Profligate
Listen to the podcast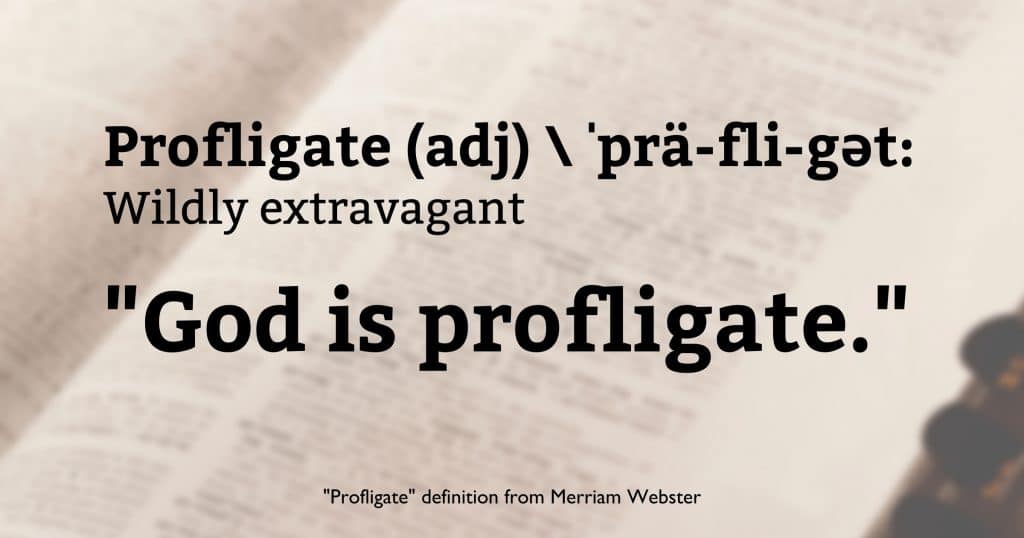 Read the transcript
Profligate.
That's now a word we hear very often.
And I don't think I have ever heard anyone use it to describe God.
But that's exactly what I'm going to do right now.
We are living in and through a season in which we need God to be profligate. And the good news is we have enough history with God to imagine she has that capacity.
There are, truth be told and stories having borne witness to this, some things with which God tends to be excessive – perhaps a better way to talk about God's profligation.
When it comes to love, God is profligate.
When it comes to grace, God is profligate.
When it comes to forgiveness, God is profligate.
When it comes to providing us with moments of profound joy, God is profligate.
When it comes to those mansions being prepared for the likes of us, God is profligate.
When it comes to supplying nature with all that is needed to sustain us on this mortal coil we call Earth, God is profligate. Our trust in God to actually be profligate with those gifts is belied by our covetousness and greed – but it doesn't change the fact that the Earth is a generous provider.
There really is a good case to be made for God as profligate.
And, as I said, we are living through a time when being the beneficiaries of that excess ain't such a bad thing.
But there is a what if question being begged here?
What if we, created in the image and likeness of this God – suddenly adapted our own posture of profligacy?
Could we be excessive with our love?
Could we extend grace beyond grace?
Could we learn to forgive not seven time, but seventy times seven times?
Could we become over and over again the source of someone else's joy?
The return on investment for this excess would overwhelm us.
Or so I believe.
When was the last time you were called profligate?
I know, it was the same as the last time you heard someone call God profligate.
But that doesn't mean we can't adopt that approach to life.
More Love.
More grace.
More joy on this, our journey Into the Mystic.
---
Related News
Throughout the holiday season—from Thanksgiving, through Advent and Christmas, to the New...
Read More